Stringer Proposes Sandy Audit Bureau
July 29, 2013 6:56 pm Last Updated: July 29, 2013 6:56 pm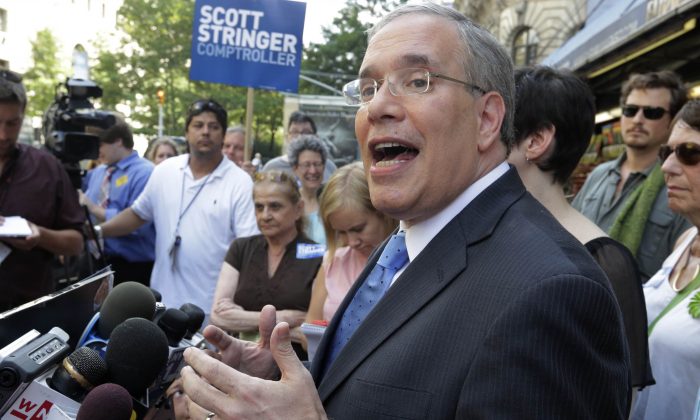 NEW YORK—As New York City continues to recover from Hurricane Sandy, the city will have to manage roughly $15 billion in federal aid.
Democratic Comptroller candidate Scott Stringer proposes a Hurricane Sandy Audit Bureau within the Comptroller's office to ensure businesses and families will get the aid they are entitled to, as well as to reduce fraud.
"The Comptroller's Office is uniquely positioned to serve as the city's watchdog over all Sandy related funds," Stringer said in a statement.
The office of the comptroller is tasked with "perform[ing] operational audits of City agencies to determine whether goals are being met and funds are used effectively and efficiently," according to the comptroller's website.
The Sandy Audit Bureau would focus specifically on all Hurricane Sandy related matters.
In addition to the audit bureau, the public could view how the city is spending the federal aid with a "Sandy Tracker" similar to that used in 2009 to track federal stimulus money.
If elected, Stringer would like to set up a 24-hour hotline to report Sandy-related fraud in collaboration with the city's Department of Investigation (DOI). 
DOI currently handles fraud by city employees (including the NYPD), and city contractors. DOI was in charge of monitoring construction oversight at the World Trade Center following the disaster of September 11, 2001.
Current comptroller John Liu, who is running for mayor, has not set up an audit for Hurricane Sandy aid.
Gov. Cuomo appointed PricewaterhouseCoopers to monitor how the federal aid is spent. FEMA and CDGB also carefully look over how money is spent. On the city level the Mayor's Office of Management and Budget conducts extensive reviews, similar to that required at the federal level.