Stringer Drafts Plan for 'Green' City Bonds
September 24, 2014 8:12 pm Last Updated: September 24, 2014 8:12 pm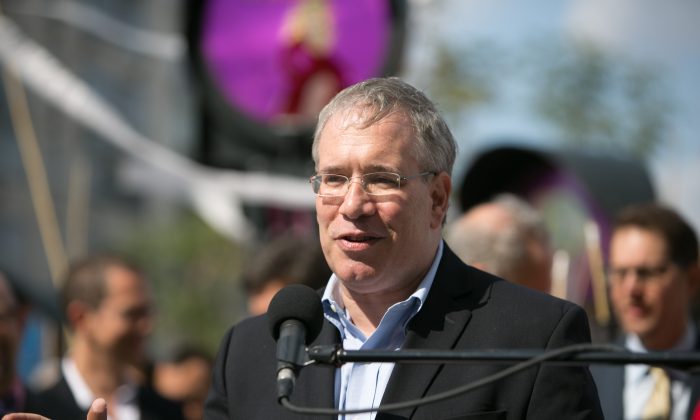 Comptroller Scott Stringer outlined how New York City could sell hundreds of millions in "green" bonds—where raised funds are earmarked for eco-friendly projects—in a report released Wednesday, coinciding with the wave of climate change activism during NYC Climate Week. 
The report follows Sunday's publication of "One City," a 100-plus-page plan by the mayor's office envisioning how New York City could cut down 80 percent of its carbon emissions by 2050.
Stringer proposes that $100–200 million of the $650–$800 million in debt issued by the city per year and "a significant part" of the $1.5 billion issued annually by the Municipal Water Finance Authority be substituted with green bonds. 
The program aims to make it easier for investors to funnel capital into eco-friendly projects. It doesn't raise additional funds for new projects, as the city has strict caps on how much debt it can issue.
"It's not new bonding for projects we haven't already planned," said Eric Sumberg, a spokesman for the comptroller. "It's about finding a way to code, track, audit and report on bonding within our existing capital program structure." 
If approved by the city's Office of Management and Budget, the program would be a part of the $30 billion in bonds that the city plans to issue in the next four years, and the first green municipal bond program in the nation. 
"When New York City leads, others follow, and a Green Bond program would continue New York City's tradition as a leader in environmental policy and municipal finance," Stringer said in a statement. 
A Short History 
The World Bank issued the first green bonds in 2008, and the market for these newfangled debt-instruments has grown precipitously ever since. Thus far in 2014, $26.14 billion in green bonds have been issued, according to the Climate Bond Initiative. 
Municipal green bonds were first issued in the United States by Massachusetts in 2013, selling $100 million as part of $600 million debt-issue, and sold $350 million more in green bonds in June. 
Municipal bonds made up 1.83 percent of Standard & Poor's Green Bond Index, bondbuyer.com reported Tuesday. 
Proceeds from the green bonds would be spent only on projects that are coded "green" by the Office of Management and Budget. The criteria for a green project is still being formulated, but could include projects devoted to retrofitting buildings, waste management, renewable energy, and habitat restoration. 
"With Green Bonds, the city would borrow for environmentally beneficial capital projects by tapping into the growing pool of 'double bottom line' institutional and individual investors," the report reads. "…investors who not only seek quality returns, but who also want to invest in particular types of environmentally friendly projects." 
Apart from the targeted use of bond proceeds, green bonds are nearly indistinguishable from similarly graded securities, and have been treated as such by the market. Bond experts say that investors aren't paying more for green securities than regular ones. 
"There's a general belief that you're paying more for this extra bit of green, even though you're not," said Stuart Kinnersley of Nikko Asset Management, in an interview with the Economist.