The COVID-19 outbreak in central Hebei Province continues to worsen. In order to prevent the spread of the disease into Beijing, 300,000 migrant workers living in the neighboring town of Yanjiao were recently banned from entering the capital city. Unable to go to work, these people are having a tough time trying to make ends meet amid the pandemic.
Yanjiao is a town under the administration of Sanhe City in Hebei, bordering Tongzhou district in Beijing. Yanjiao is about 21 miles away from Beijing and is the closest area outside Beijing's administrative district.
These young migrant workers in Yanjiao are called "bei piao" in Chinese. They came to Beijing to work but could not afford to live in the city. Instead, they collectively live in Yanjiao where housing is affordable and the commute to Beijing is close.
Officials in Hebei Province have confirmed hundreds of COVID-19 cases. But Chinese citizens have expressed incredulity at official figures, given the Chinese regime's past coverups.
Due to the latest surge of COVID-19 infections in Shijiazhuang city, Hebei, many areas of the province have announced lockdowns, including Shijiazhuang, Xingtai, and Langfang.
COVID-19 is caused by the CCP (Chinese Communist Party) virus, commonly known as the novel coronavirus.
Quarantine and COVID-19 Testing for Residents in Sanhe City
A local real estate agent in Yanjiao, surnamed Zhao, spoke with The Epoch Times on Jan. 15. He said that the town will be locked down until Jan. 20.
He said that local authorities have not made an announcement on the current situation, but all residents in Langfang have to undergo nucleic acid testing. Sanhe city (where Yanjiao is located) is administered by Langfang prefecture. Then, they will need to quarantine at home for seven days. Zhao just took the nucleic acid test.
Sanhe's epidemic prevention and control team issued a notice on Jan. 12, which declared an emergency deployment of the first round of nucleic acid tests for the entire city. The notice stated that residents must quarantine at home for seven days after taking the test. Then after the isolation period, one will get tested for a second time.
The announcement also stated that starting from noon on Jan. 12, residents will be strictly monitored as they are not allowed to leave their homes, except for essential workers such as those in healthcare. This group of people would need a special pass, a valid nucleic acid test result, a letter from the employer, a personal ID and photo in order to exit and enter their community.
In addition, people from medium- and high-risk areas are not allowed to enter Sanhe city.
On the same day, Sanhe's epidemic prevention and control team issued a notice about a resident, surnamed Zhang, who tested positive for COVID-19 and shared the same office with a person from Gu'an county who also tested positive. Gu'an county is also under the jurisdiction of Langfang.
The notice provided a list of Zhang's activities and his whereabouts from Jan. 5 to Jan. 10, in an effort to start the contact tracing process. Those who may have been in close contact with Zhang during that time period must notify local authorities, the document stated.
300,000 Migrant Workers Stranded in Yanjiao
A real estate agent in Yanjiao, surnamed Wang, told the publication that starting from noon on Jan. 12, all buses and trains going between Yanjiao and Beijing stopped operating. Residents are allowed to enter but not leave their communities. During this period, real estate transactions such as renting and buying a home are suspended, but will resume after the lockdown is lifted.
About 300,000 migrant workers living in Yanjiao ride the bus to Beijing to get to work every day.
A Chinese netizen felt sorry for the people in Yanjiao and talked about the difficult situation in Hebei and Beijing on social media.
Another netizen shared how a colleague has not been able to return to work since the city was shut down on Jan. 12.
There were other netizens who expressed concern that workers may not get their year-end bonuses and could lose their jobs if they can't return to work.
The company that runs Beijing's public transportation also announced on its Weibo account that 21 bus lines that run across Beijing and Hebei would stop operating on Jan. 13 and said that ground crew (many of whom are migrant workers) should work from home.
A video that's been circulating online shows local community leaders guarding and scolding a group of people, saying that government regulations prohibit them from entering or leaving the community unless they can show proof that it's a family emergency.
In order to prevent Hebei residents and migrant workers from entering Beijing, some people said that local authorities installed a barbed wire fence along the west bank of the Bai River, which separates Yanjiao from Tongzhou city. Security personnel are also being stationed in the area.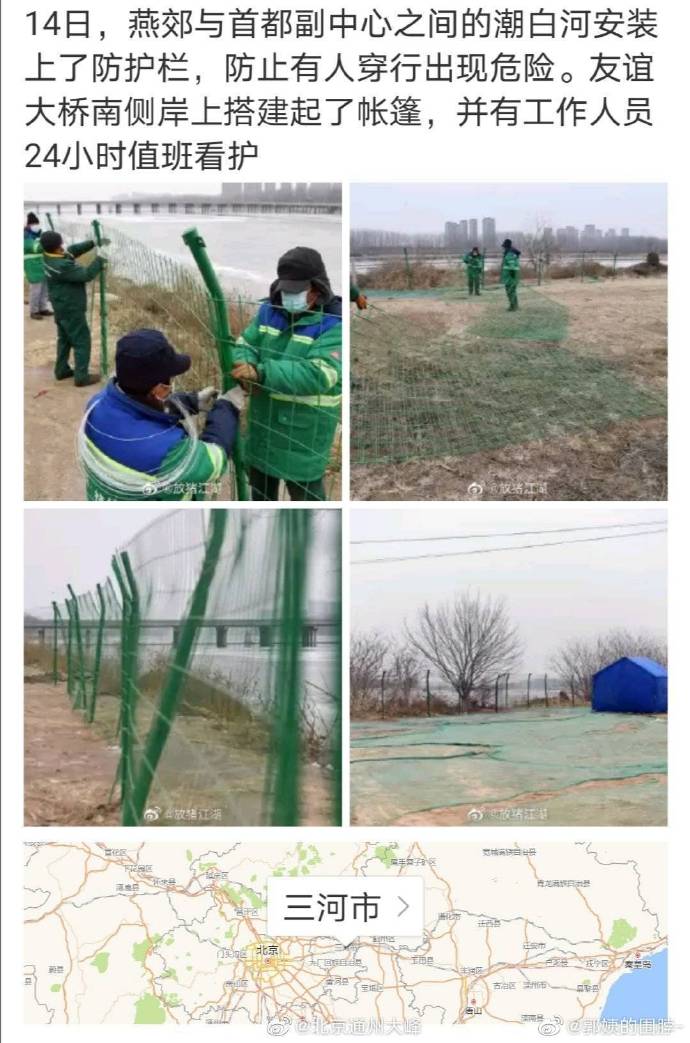 Some social media users criticized the decision to install a fence. One netizen said: "How serious it must be [for the people] to flee, braving the severe cold. [And now authorities] installed barbed wire. Such suffering for our country and our people."
Another video shows that after Yanjiao was locked down, a large number of people were waiting to be let out of a community in the early morning hours of Jan. 13. They were upset over the lack of electricity, water, and gas.
Also, on Jan. 13, hundreds of residents in the Fucheng community gathered to protest against the lockdown and demanded an explanation from local authorities. The incident was caught on video.
Food Prices Soar
A resident surnamed Zhang, who owns a business in Langfang, told The Epoch Times on Jan. 15 that one or two cases were confirmed in the city more than ten days ago, but local officials did not make an official announcement. Now that Langfang is locked down, residents are required to register if they need to leave their housing communities, he said. The local supermarket is still open, but food prices have increased by 20 to 30 percent, Zhang added.
Zhang said that he had just done the second round of nucleic acid testing on Jan. 15. It's only the beginning of the new year and he is worried that the COVID-19 outbreak has become serious in Hebei Province. He said he felt helpless.
Official Data
The official announcements on the COVID-19 outbreak in Hebei does not cover the entire province and has so far focused on Shijiazhuang, Xingtai, and Langfang. In fact, The Epoch Times found out that Dingzhou, a county-level city in Hebei, is also under lockdown.
Dingzhou resident surnamed Liu told this publication that local authorities did not confirm any COVID-19 cases, but his village has already been locked down. Roads were closed off and only one exit was left open. He said that residents who leave the village will not be allowed to return, and social interaction with neighbors is forbidden.
"My sister-in-law works in Shijiazhuang. She can't come back now. My brother can't take care of himself. He is almost out of food. He is quite known to the local people. I have a relative who lives close to my brother's village, and he would come in through that entrance and help to cook for my brother," he said.
He added: "My nephew got a job in Shijiazhuang, and my sister-in-law went to see him. They have already undergone the second full examination [for COVID-19]. My elder brother said that they probably won't be able to return to Dingzhou before the Chinese New Year." The Lunar New Year falls on Feb. 12.