A Tennessee woman said a stranger at a McDonald's drive-thru paid for her breakfast, but when she found out the reason, the whole experience "touched her heart."
Heidi Goforth said in a July 28 Facebook post that after ordering food for her son, she approached the drive-thru window to pay. She was surprised to hear from the cashier that the bill had already been paid.
Goforth looked at the receipt and saw a note, which said that the woman in front of her is the mother of a member of the Air Force. The note suggested her son was away on duty and the woman wrote that since she couldn't treat him to breakfast, she decided to buy it for another stranger's son.
"My son is in the Air Force I can't buy him breakfast so I bought yours.," the note read.
Afterwards, Goforth posted a photo of the receipt on Facebook.
"Good morning! I just had this happen to me," Goforth wrote in the caption, adding, "It touched my heart so much!"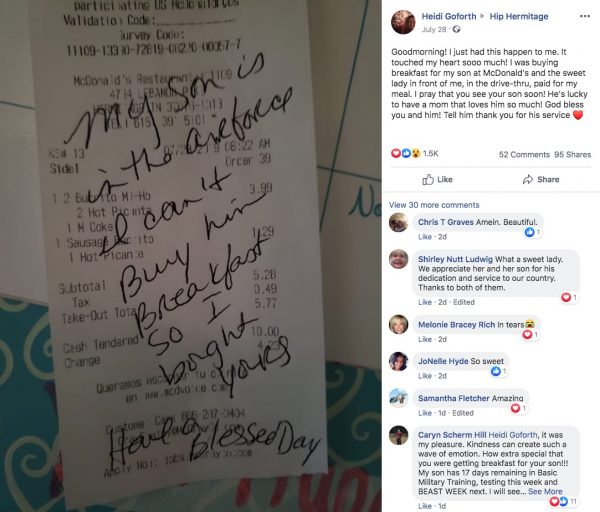 "I was buying breakfast for my son at McDonald's and the sweet lady in front of me, in the drive-thru, paid for my meal. I pray that you see your son soon! He's lucky to have a mom that loves him so much! God bless you and him!" Goforth wrote. "Tell him 'thank you' for his service."
Caryn Scherm Hill, a Facebook user claiming to be the Air Force mom, saw the post and replied, "It was my pleasure. Kindness can create such a wave of emotion. How extra special that you were getting breakfast for your son!"
Hill went on to say that her son is in Basic Military Training and has another 17 days to go. "Some didn't make it through basic training but I am so proud they tried," she wrote, referring to the Air Force candidates who weren't inducted. "God Bless those that protect us and all those that tried!"
The Air Force mom wrote that she was moved by what Goforth had written.
"My husband texted me the news clip while I was working [the] night shift," Hill wrote, adding, "I cried like a baby when I read the comments from you and others! Not an hour goes by that we don't think of our son. He is going to laugh when he reads this."
Goforth replied to the message, writing, "I wanted you to know how much you touched me! I cried all the way home! I couldn't imagine giving my son up like that, even though he is 17! I am so grateful that this has gone viral. I think it touched me so much because I had a younger brother in the navy but he is no longer with us. And I could physically go home to my son and you couldn't."
"God bless you and your family!" Goforth added. "Your son is a lucky man!"
Policeman Leaves Pregnant Waitress $100 Tip
The story follows a case where a police officer in New Jersey left a generous $100 tip—along with a touching note on the check—after learning that his server was pregnant with her first child, according to the father of the waitress.
Brian Cadigan, of Sewell, N.J., shared the story on Facebook over the weekend, posting a photograph of the extraordinary receipt that was reportedly issued at the Lamp Post Diner in Gloucester Township, on Friday, Feb. 15, at 12:39 p.m.
Cadigan said the officer—who wanted to remain anonymous, according to a Fox News report—left the $100 tip on a $9 check and capped the touching gesture off with a note, "Enjoy your first, you will never forget it."
A waitress got a $100 tip on a $9 salad but the story gets even better.

NJ.com စာစုတင်ရာတွင် အသုံးပြုမှု ၂၀၁၉၊ ဖေဖော်ဝါရီ ၁၈၊ တနင်္လာနေ့
'Just Doing Their Jobs'
Cadigan wrote in the post, "You always hear about how bad the police are, how they treated you like dirt, how they are on a power trip."
"Yes I am sure there are some bad apples," the waitress's father continued, "but most of them are just doing their jobs, they deal with the worst of society every day and have to keep going back [every day] and deal with it all over again."
Cadigan then praised the police for the things they do that "most people will never know about" before describing his daughter's encounter with the police officer.
"My daughter is a waitress at a local diner, she is also 7 months pregnant and working still to save as much money as she can," Cadigan wrote, adding that she "was working the lunch shift when a Voorhees Twp police officer came in, he was pleasant, and had his lunch by himself."
After finishing his meal, the police officer signed the bill, Cadigan wrote, and "left her a $100 tip on a $9.00 ticket and the note simply said 'Enjoy your first, you will never forget it.'"
"What a wonderful person to not only leave a VERY generous tip, but a lovely message," he wrote. "I don't know you [Mr.] Police Officer, but you made my little girl cry, and made her year. Thank you, I always had the utmost respect for Officers, but you went above and beyond not just an officer, but a beautiful human being. God Bless."
The post received a flurry of comments from Facebook users.
"God Bless You," wrote one person, "and thank you for your big heart and your service for us.🙏❤️"
"We love our police officers, and they are always cast in a bad light, sometimes justifiably," Cadigan told Fox News. "I'm just glad that people see that they are real live human beings behind the badge, and strive to do good."