Storm Eleanor struck the UK on Tuesday night, Jan. 2, bringing hurricane-force winds and power cuts to thousands of homes.
Gusts reached up to 100 mph at Great Dun Fell, the second highest mountain in the Pennines, while residents at Orlock Head in Northern Ireland experienced winds up to 90 mph, the Met Office said. Winds were recorded as reaching up to 73 mph in Northolt, northwest London.
As Storm Eleanor moved in from the Atlantic overnight, the Met Office warned that flying debris could endanger lives.
#StormEleanor paid us a visit last night. She turned out to be a disruptive guest. pic.twitter.com/sfrXWr57Fg

— Michael Walby (@whereswalby) January 3, 2018
People living next to railway lines have been urged to secure their outdoor belongings after Network Rail staff found two trampolines on the tracks near Aylesbury in Buckinghamshire late last night.
"It is incredible to think that a trampoline could fly through the air on to the railway but here we have not one but two at the same location," Mark Killick, chief operating officer for Network Rail's London North Western route said in a statement.
"This is an ongoing problem for us which poses an obvious safety hazard and inconvenience to passengers," Killick said. "We would appeal to people living by the railway to ensure items such as trampolines, gazebos, marquees and tents are tethered, so they don't end up on the railway during high winds."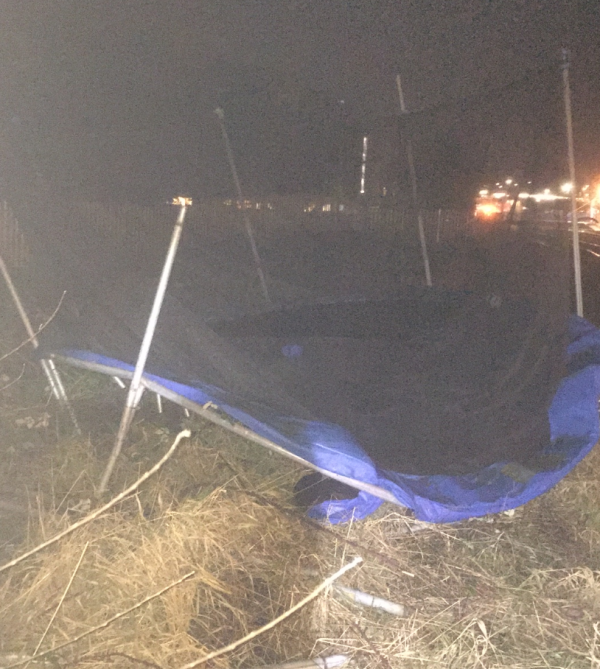 Some power lines in Northern Ireland were brought down by falling trees and had their poles broken by the high winds.
According to Northern Ireland Electricity Networks, about 3,000 homes are without power, and 20,000 properties have been restored with electricity.
In England, about 1,200 homes in Devon, Somerset, and Cornwall were affected by power cuts, and hundreds of properties in Doncaster have no power, the BBC reported.
Many flood warnings have been issued across England, mostly in the southwest of the country.
The Met Office has issued a yellow weather warning for wind for the UK until 7:00 p.m. tonight.
"Strong winds will continue through much of today. Storm Eleanor is now over the North Sea and although winds are not expected to be as strong as during Tuesday evening and last night, it has left a swath of strong winds in its wake," the warning reads.
"Some delays to road, rail, air and ferry transport are expected with some journeys taking longer. Delays for high-sided vehicles on exposed routes and bridges are also possible, and there is also the potential for some short term loss of power supplies."
Satellite imagery shows how #StormEleanor developed overnight. The low has now moved into the North Sea but it'll remain a #windy day for many pic.twitter.com/OeGQO3Afpq

— Met Office (@metoffice) January 3, 2018
A falling tree injured two men overnight in New Forest, Hampshire when it crashed into their car at about 3:20 a.m. this morning, the Standard reported. Both men were taken to hospital.
Andy Page, Met Office Chief Forecaster, said: "The unsettled theme lingers throughout this week, with further spells of rain moving across the UK from the west as the return to work continues for many. There will again be some snow over the high ground in Scotland."
Many Britons reported on Twitter that the howling winds that kept them awake overnight.
This wind is called storm Eleanor.

Seriously? What kind of 'let me put the kettle on love' name is that?

— #TheYoungest (@AYoungIvz) January 3, 2018
ok I can't get to sleep cos I can literally hear wheelie bins flying down my street because of the wind

— Lois (@loheighway) January 3, 2018
This Storm Eleanor be hitting Birmingham rn…..lightening, rain and crazy wind….these trees be rocking a bit too much for my liking!!

— Stacey ? (@NurseCassin) January 3, 2018
In Ireland, the storm brought heavy winds and flooding, with Met Éireann issuing a status Orange wind.
According to Reuters, 27,000 were without electricity in Ireland.
At one point on Tuesday, about 150,000 homes were without power, according to Ireland's Electricity Supply Board. It said fallen trees on overhead lines were responsible for most of the damage.
Floods in Salthill Galway this evening @GalwayLatinQtr @JOEdotie @Herdotie pic.twitter.com/ty6OdfrtX6

— Galway Latin Quarter (@GalwayLatinQtr) January 2, 2018
Wednesday Mid-Morning Forecast