ORANGE, Calif.—As the spread of the deadly CCP virus continues to devastate societies across the globe, many residents of Orange County, California, have discovered ways to spin gold from straw.
Whether sparing their workers from unemployment, connecting with other isolated Californians, or simply enjoying more family time, many uplifting stories have emerged—further demonstrating a remarkable resilience that can be found in nearly every neighborhood.
While restricted by the March 19 order requiring all Californians to remain in their residences unless tending to essential needs, many have discovered that time at home comes with unexpected benefits, particularly regarding family and community.
Small-Business Owner Makes Big Sacrifice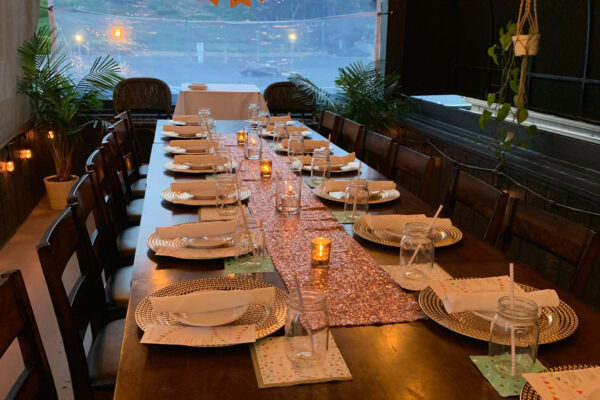 Misty Thorne, owner of Sol Grill in Newport Beach, didn't realize the severity of the situation until a police officer entered her restaurant on St. Patrick's Day to make sure there were no dine-in customers.
She contemplated shutting down the establishment's operations entirely for the two-week quarantine period—but ultimately decided that closing would be too detrimental to her staff's livelihood.
Unemployment and emergency relief funds "could take a while," she felt. Instead of closing, she decided to sacrifice her salary for a month to keep her business running and pay her employees.
"It's very lengthy and confusing for them," Thorne told The Epoch Times.
"And so I asked my partner, 'Hey look, if I forgo my salary for the month, and all the tips that I make, you know, we can distribute them among the staff, so the staff at least makes a little money rather than none.'"
With Thorne obeying the state's mandate for restaurants to offer only take-out orders, business has been much slower.
But many customers "have been awesome," she said.
The restaurant, which specializes in California cuisine, has been running a promotion in which customers can bring empty wine bottles and get them filled up with sangria; the restaurant just asks for donations for the sangria. All the donations generated "go directly to the staff," Thorne said.
Many customers are leaving $20 to $40 tips, she said. And her employees have been really grateful.
"People want to help," she added. "People are suffering. They're struggling financially, emotionally, and physically. They're getting sick—we have people dying—but also people want to give."
Thorne is exhausted from working every day and night to make up for the money she is losing, but does it so she can "give the extra tips that I have to the employees that are still working there in the kitchen."
The silver lining that's come out of this pandemic, Thorne says, is the global compassion she's noticed.
"Globally, we're being extremely supportive of each other," she said. "And I think that we're going to be able to get by through our faith.
"Eventually, we're going to get through this, and it's going to be better. But right now, we're really in the worst, in terms of fear, right now."
Meanwhile, many small business owners and employees are doing the best they can simply to stay afloat.
The U.S. Department of Labor reported that nearly 3.3 million people applied for initial unemployment benefits for the week ending March 21.
For her part, Thorne has "totally banded together" with her employees, and will "make sure that the restaurant stays open" as long as she can.
Single, but Not Alone
"I know, when there's any breakdown, that a breakthrough is on the other side," Maryl Petreccia, an entrepreneur and professional joy expert, told The Epoch Times.
"I've seen that my whole life. And I've endured."
Petreccia, no stranger to loss and uncertainty, has made a living by teaching people "how to deal with heart-wrenching loss and plot a new path to reclaim joy," according to her website.
"If I hadn't been married to an infectious disease specialist, I would have thought this is just another virus, like a flu," Petreccia said.
But she knew better early on in the outbreak. She and her late husband, David, who died in 2014, often had conversations about the possibility of a worldwide pandemic.
David was a widely recognized infectious disease specialist based in Orange County; his mentor was Dr. Anthony Fauci, who is leading the U.S. government's task force to control the virus.
"And so I really listened to him [Dr. Fauci], mostly because I know how highly regarded my late husband was, and I knew that that's who he respected and who he would call when he had something that stumped him," she said.
"This particular one, I knew that this was much bigger—more like SARS, if not worse—than a regular flu that we just don't have the vaccine for," she added.
The SARS outbreak had adversely affected her import business in the early 2000s.
But "no matter how bad it got, there was always a way through the other side," she said, adding that "there was always a gift that we could find inside of the breakdown."
Because the CCP (Chinese Communist Party) virus, commonly known as novel coronavirus, isn't something anyone can control, the professional joy coach has decided to take what she can control and make the most of it.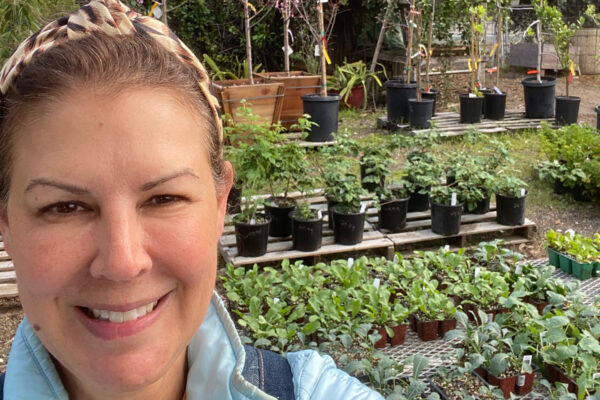 "We need to make it a point to find ways to uplift our hearts and our spirits, because being down and being in grief is the logical default way to be," said Petreccia.
"To actually operate from hope, and from love, we actually have to be proactive, and we have to say 'No' to the default and 'Yes' to generating what we want our experience to be."
She accomplishes this through meditation, music, playing the piano, and gardening.
It "is so important for us to really get connected, to putting our feet on the grass, touching the earth, looking, and being present to the flowers and the plants, because they nurture us," Petreccia says.
Every day, she hosts meditation and yoga sessions on Instagram Live, in an effort to create connection and community among her followers.
Those online sessions always start with a "bad joke of the day," she laughed.
"So, being connected to my community, and being there for them, and them being there for me, is so important for all of us to do. And there are a lot of us that live alone," Petreccia said.
Staying connected to others during this time is critical, she said. As a widow, she feels that it's important for other singles and those who live alone to do the same—even in the online dating world.
"That's a community, too," she said. And while they may not be able to hang out right away, they can have "virtual dates" for now.
Patricia stressed the importance of connecting with others.
"We need to cultivate connection," she said. "Like, we can't wait for people to find us. We need to make it a point to be productive and find people in our community, find love, find the conversations that we need to feel better."
Even though she lives in physical isolation, the online community that she's created has made her feel not "at all alone"—in part because she is "connecting to my communities, my bridge group, my friend group."
"And I am also very connected to the thought leaders that are also bringing love and light to each other," she said.
"So we're connected. Because one of the critical things I realized: We have to connect to people that will empower our resiliency."
A Family Grows Closer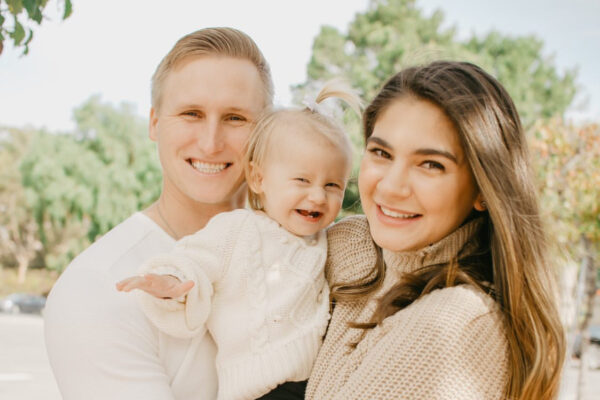 Until two weeks ago, Ernest Till and his wife Athena would drop off their 16-month-old daughter Sienna during the day at her grandparents' house while the couple went to work.
But that changed when Till's employer, Lincoln Financial, mandated that the employees begin working from home as a protective measure against the spreading CCP (Chinese Communist Party) virus, commonly known as novel coronavirus. The order restricted the Tills, both working professionals, to the family home in Rancho Palos Verdes, along with their young daughter.
"Since we've been both at home for the past two weeks, her … speech has progressed," Till told The Epoch Times.
"She is saying more words like 'bird,' since we take her to the park every day—because now we get to hang out with her all the time."
Till, 31, says that day-to-day life under quarantine has actually brought his family closer together.  Now, the Tills spend their time going on daily walks and making home-cooked meals together.
He added that they are also "reading more books and just doing more stuff," with their daughter, "other than just watching TV."
"I think we get so caught up in conference calls that we kind of don't give her the full time," Till said. "So I think we're doing a lot of that lately, and I think we're going to definitely continue that."
Their daughter is "the happiest little girl," now that she gets to spend her entire day with mom and dad.
The shelter-in-place order has reminded the senior sales representative not to take those precious moments with loved ones for granted, even when there are daily stressors emanating from the office.
"You got to intertwine that [quality time] into your relationships," he said. "At least do it once or twice a week. And we're going to definitely continue."
Something that's helped him stay connected with friends, many of whom are also facing similar challenges, is sharing online "quarantine memes," he said and doing "Instagram challenges."
One viral trend on Instagram concerns people recording themselves doing push-ups—then challenging their friends to do the same by tagging them in their stories.
"It's silly, but it's promoting health, so I like that," he said.
Till first realized the magnitude of the pandemic when he went to his local Ralphs grocery store and found himself "not seeing any toilet paper, any milk, any meat on the shelf."
"That, to me, was like, 'This is different than anything else,'" he said.
As a precaution, the young family has begun taking garlic pills and Vitamin C pills "every single day" to boost their immunity—something they never thought they would be doing.
"For once in U.S. history, we all kind of stopped to worry about our overall health and well-being, and I really do enjoy that," Till said. "Despite the economic troubles this is causing."
Throughout Southern California, people are experiencing difficulties most have never seen during their lifetimes.
But Thorne, Petreccia, and the Tills have all found ways to make things better—for family, friends, and employees—encouraging others to do the same, during these profoundly troubling times.