NEW DELHI—There is nostalgia in every nook and corner of old Delhi's Khari Bouli dry fruit market that is the biggest wholesale outlet of Afghan dry fruits in India.
Being the capital from where the Mughals ruled pre-colonial India, the market has centuries-old relations with Afghanistan and dry fruits have particularly ruled the trade.
After the partition of India in 1947, dry fruit traders migrated from the major markets of the Afghan dry fruit trade of undivided India, from the cities of Peshawar and Quetta (now part of Pakistan), and set up their businesses in Khari Bouli.
Out of $507 million (3,700 crores) worth of imports from Afghanistan to India, fruits and nuts alone contributed $315 million (2,300 crores) in 2020-21, according to India's Union ministry of commerce's trade database.
Almost a mile through the crowded lanes of Chandani Chowk that overlooks the ramparts of the Red Fort, from where India declared its independence, the Khari Bouli market is lined with unending rows of shops selling dry fruits and spices, some of them spilling into the streets with hawkers and vendors trading under the sun, unmindful of the constant high-decibel noise and aromas from everywhere.
Pawan Deep Singh, 23, sits just at the entrance of his shop, cross-legged, reclining on a wall with pictures of garlanded Sikh gurus above his head and an array of dry fruits displayed in the front, while a big billboard in the street declares "Kabul Di Hatti," meaning a shop from Kabul in the Punjabi language.
The shop "Kabul Di Hatti" of Pawan Deep Singh, a wholesale retailer of dry fruits in the Khari Bouli market of old Delhi's Chandani Chowk area on Sept. 3, 2021. Singh's family fled from Kabul 40 years ago. (Venus Upadhayaya/Epoch Times)
"My grandfather and forefathers were from Kabul. Forty years ago, my father came to Delhi. My grandfather's relatives were already killed. Due to threat to our lives, we fled Afghanistan," said Singh, whose family had a ration shop and a home at Karte Parwar in Kabul.
When Singh's family fled, they had to leave everything, including their home—which they couldn't sell—behind.
"Life is most precious," he said.
Singh's father did odd jobs first, and gradually, they started their own retail outlet of dry fruits.
"People like Afghan dry fruits because they are pure. People have a notion that the oil is extracted from the American almonds before they are sold into the market," said Singh, adding that with the Taliban takeover, the Afghanistan–Pakistan borders were closed, which boosted dry fruit prices due to fear of uncertainty.
The Taliban closed all imports and exports to India and shut down the two transit routes via Pakistan through which trade occurred, according to Aug. 20 reports in Indian media.
Near Singh's shop, the Khari Bouli market branches into many small lanes that run into dingy markets with small and large shops of various kinds of food products. On the opposite side, a board on the top of a gate announces "Ishwar Bhavan."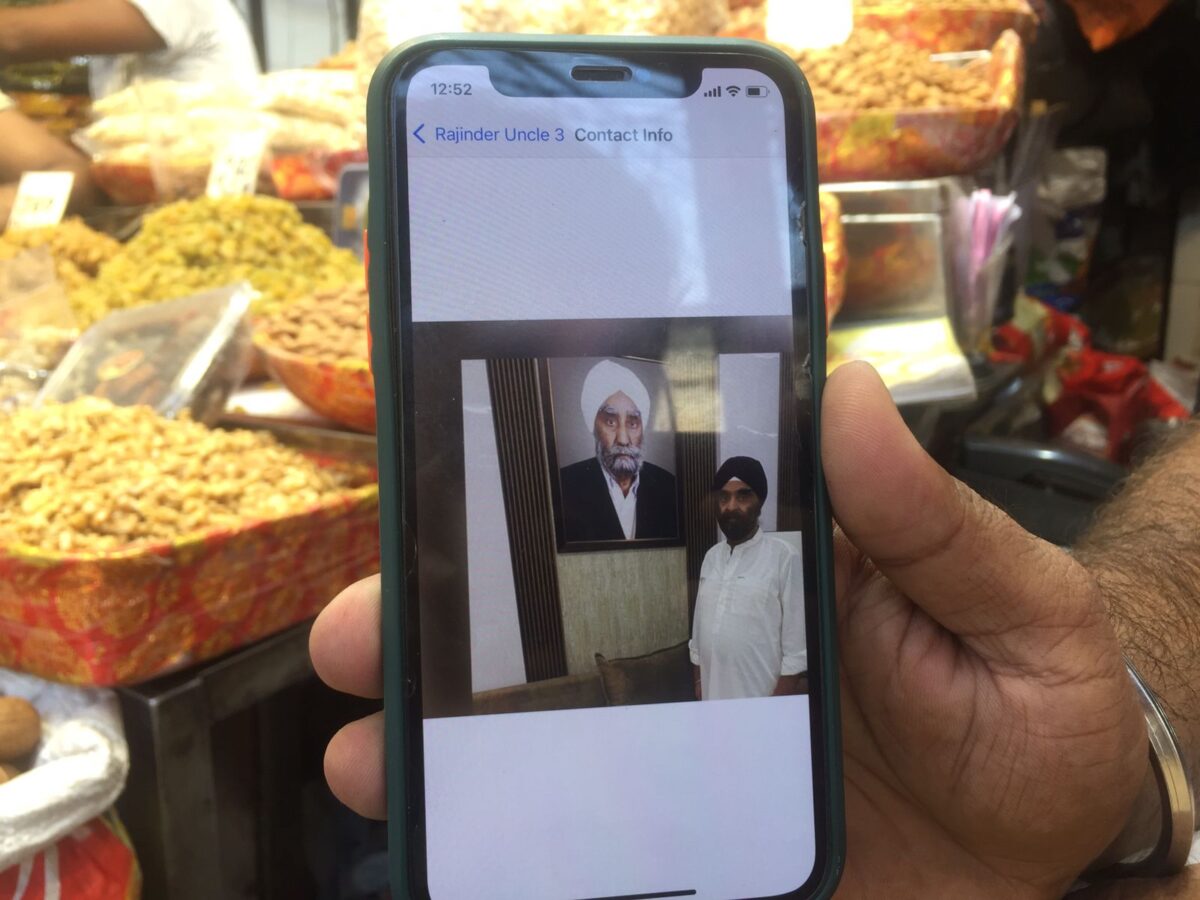 Inside a narrow and dimly lit lane leads to wholesale retailers of dry fruits, some of which come only from Afghanistan. In his shop, Singh points out black resin or Kali Darakh.
Traders in Ishwar Bhavan list figs (Anjeer), Golden resin (Abjoosh), Green resin (kishmish), Khumani (dried apricot), pistachios (Pishori Pista), and more than 10 varieties of almonds as the favorites from Afghanistan. They told The Epoch Times that around 85 percent of the total dry fruits in the market come from Afghan farms.
Yogesh Agarwaal's forefathers were wholesale retailers of dry fruits in Khari Bouli since 1942. They supply dry fruits across India.
Agarwal sat in his shop called the Drotley in Ishwar Bhavan—while an Afghan man in a gray cotton Afghani suit sat inside his shop chatting on the phone, hiding his face from the camera. Agarwal says the man is a dry fruit trader.
"Only when the relationships between the two countries completely stop will there be a problem. The problem was around Kabul. Dry fruits come mainly from Kandahar, and they are safe according to Afghan traders," said Agarwal.
Until the Wagah border between India and Pakistan is open, things will work out, he said.
Agarwal was responding to fears of a complete halt to trade between India and Afghanistan, as happened when the Taliban ruled Afghanistan from 1996 to 2001.
After the ouster of the Taliban, India and Afghanistan signed the Preferential Trade Agreement (PTA) in 2003 that allowed India to provide 50 to 100 percent duty concessions on various Afghan products, including specific dry fruits.
Since then, trade has increased several-fold and traders from both sides have traveled to each others' cities. In particular, the number of Afghan traders living in Khari Bouli has increased, according to the Hindustan Times, an Indian newspaper.
In the aisle where Agarwaal sat in his shop, toward the far end, a billboard says "Afghani." Meanwhile, traders sitting near the street pointed out a staircase leading to rooms upstairs—a guesthouse that accommodates Afghan traders.
"Many Afghan traders want to set up their own shops and offices, but as of now, they bring the dry fruit samples and fix the price, following which local traders import their dry fruit. The Afghan traders stay in the market till the consignment is sold, and they receive the payment," Kapil Gulati, who runs a firm called Kandhar Trading, told The Hindustan Times.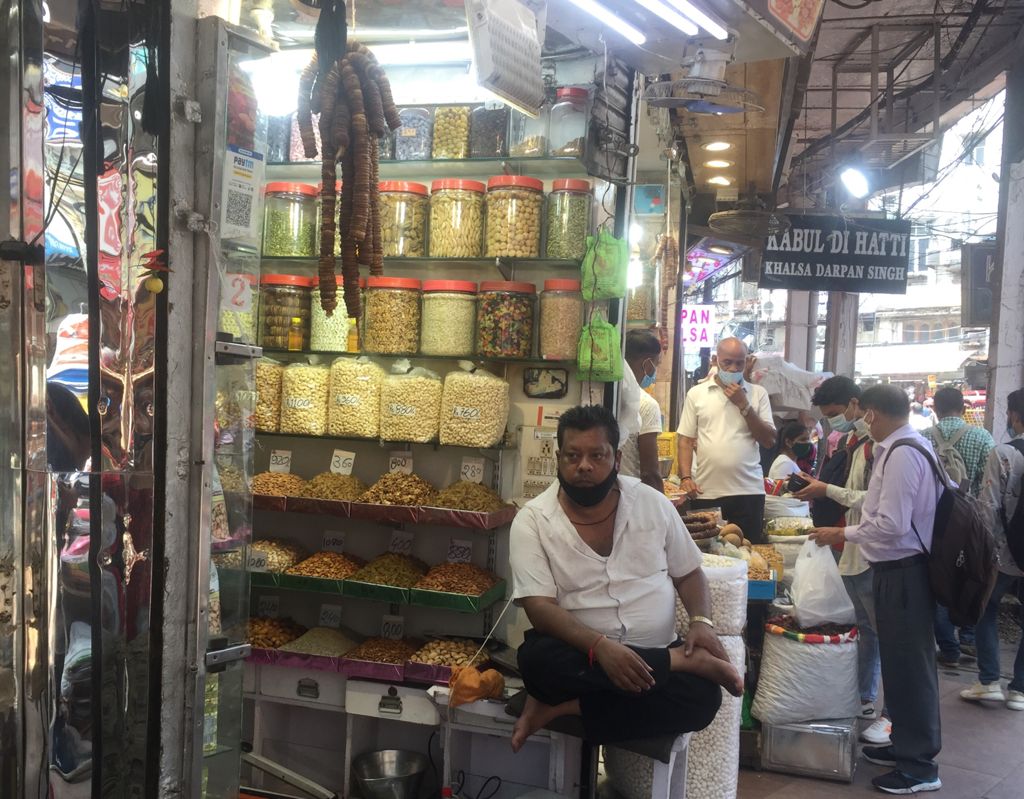 The aisles from Ishwar Bhavan are so narrow and dingy that only one person can walk through them at a time, yet a constant flow of men loading and unloading dry fruits went with a mechanistic speed.
At Ravi traders, two workers speedily loaded Afghani resins from their shop for order, while a man sitting at a tiny shop next door that sells only cloves was glued to his mobile phone.
"This is peak season, the time when we receive the fresh crop of dry fruits from Afghanistan. After the current crisis in the country, the biggest problem is the collapse of banking services due to which we can't do the financial transactions with traders there. Also, we are unable to carry out the necessary paperwork, as many officials in the Afghan government are still not working," said Gulati.
"Some traders from Afghanistan, who were in the market for business, have got stuck in Delhi after the Taliban took over the country."
Traders said the market hasn't been affected that much by the border shutdown and the political uncertainty in Kabul because India now imports dry fruits from other countries as well, such as the United States, Chile, and Peru.
However, Dr. Ajay Sahai, director general of the Federation of Indian Export Organisation, told India Today that if routes don't open, Indian traders will have to look for alternate suppliers.
"We are keeping an eye on the developments in Afghanistan. Imports from there come through the transit route of Pakistan. At the moment, the Taliban has stopped the movement of cargo to Pakistan, so imports have virtually stopped," he said.