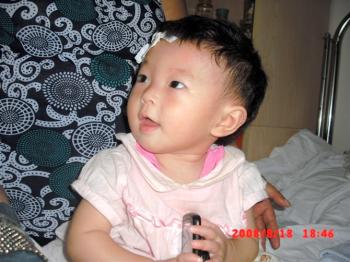 Since China's contaminated infant formula milk powder scandal was exposed in September, more than 240,000 babies have been diagnosed with kidney problems due to drinking the milk powder.
Parents accuse the authorities for its corrupt food safety inspection system and its failure to do justice and provide proper compensation. Having been denied all official channels of petitioning, the parents started to unite their forces in an effort to initiate a class-action lawsuit against the baby formula manufacturing companies. They call their alliance the "Home of Stone Babies (HSB)," referring to the babies who developed kidney stones after drinking the contaminated milk powder.
On the HSB website, parents posted many pictures of their sick babies and told their tragic stories. Listed here are three examples.
Case 1. Yang Xin, Hangzhou City
Born on November 15, 2007, Yang Xin was fed with Sanlu formula milk powder since he was one month old. In early May 2008 he developed a fever and had frequent bursts of crying. On May 26 he was diagnosed with urethral infection, and diagnosed with kidney stones on September 16. Doctors said the baby needed surgery, but the baby's immune system was too weak for surgery at this time.
Case 2. Zhang Jiani, Fujian Province
Born on November 11, 2007, Zhang Jiani started to drink Sanlu formula when she was only a couple of weeks old. On June 17, 2008, she was diagnosed with kidney stones, hydronephrosis and high blood pressure, and her life was in danger. Doctors surgically removed the stones from her left ureter. Little Jiani then stayed in a Shanghai hospital from June 24 to August 25 for further treatment, but now both of her kidneys are still filled with stones. The medical treatment has cost her family about 80,000 yuan (approximately US$ 10,000).
Case 3. Ma Tianxin, Guangdong Province
Born on August 24, 2007, Ma Tianxin first received the Sanlu formula at three months old. In September she had dropsy and difficulty urinating. Then she was admitted to a hospital where she was diagnosed with kidney stones. A handful of the stones were removed from Tianxin during surgery. She has been in poor heath since, with frequent lung inflammations. Later she was found to have developed new stones her ureter.

While the babies suffer physical pains, their parents are tortured by sadness and indignation. The authorities have done nothing to help the victims, the parents said.
"At one time the government promised to waive all fees for babies suffering from kidney stones due to tainted formula," said Yang Yong, father of Yang Xin. "But they broke their promise. Now nobody responds to me when I visit the Provincial Department of Public Health."
Like many other families, the Zhang Jiani's family has been overwhelmed by medical bills. They are seeking governmental assistance to deal with the financial burden, but in vain. "The government only cares about the manufacturers, milk farmers or workers in the Sanlu Group," said Zhang Ping, Jiani's father, while he looked sadly at his little daughter lying helplessly in a hospital bed. "Nobody cares about us—the 240,000 victims and their families. Until today the government has not given us a clear answer as for how they intend to handle this." He said some families he knew have to give up medical treatment for the baby because they could no longer afford it.
Tianin's father Ma Hongbin said what concerned him more than the hospital bills was the future health of the babies. "But the government has never showed any concerns over this, and has never promised any assistance for these babies," Ma said.
Chinese authorities published a list of 22 problematic milk powder manufacturers, but some parents revealed that brands not on the black list also caused kidney stones in their babies. Milk powder manufacturers are said to threaten internal inspectors who issue unqualified certificates for their own products.
Zhao Lianhai, father of a "stone baby" and spokesperson of HSB, said the actual number of victims is far higher than the 240,000 that Chinese official media reported. "The authorities are doing what they did with SARS breakout," Zhao said. "Covering up the truths will put the entire world in danger."
Melamine, the contaminant found in the tainted the baby formula, is a toxic chemical normally used to make plastics.