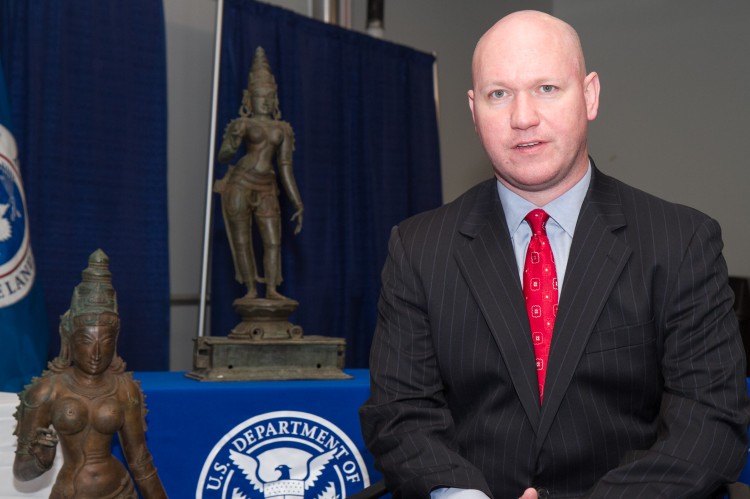 NEW YORK— Five looted Indian sculptures worth at least $5 million were seized at Port Newark Wednesday by Homeland Security Investigations (HSI).
The items were allegedly stolen by Subhash Kapoor. According to HSI, Kapoor was an established Manhattan antiques dealer who allegedly looted more than $100 million worth of Indian cultural artifacts. He was extradited to India this past July, and is currently facing legal prosecution there.
"Kapoor is one of the most prolific commodities smugglers in the world today," said James T. Hayes Jr., special agent in charge of HSI New York. "We urge the art community to help us identify artifacts sold or donated by Subhash Kapoor so that we can ensure their legitimacy."
One of seized sculptures, a 14th century bronze Parvati statue, is estimated to be worth at least $2.5 million. The other four artworks were bronze figures from Tamil Nadu.
Although the Parvati statue had been listed in the International Criminal Police Organization's stolen works of art database, the Parvati managed to pass through the hands of six dealers under the guise of several false sources of origin documents. Its last dealer lived in Europe.
Investigators urge collectors and museums to scrutinize their collections and contact HSI with any information they uncover.
Kapoor had previously sold and donated items to museums such as the Metropolitan Museum of Art, the Norton Simon Museum in Pasadena, Calif.; and the Smithsonian Institution's Freer Gallery of Art, and the Arthur M. Sackler Gallery in Washington.
The Metropolitan Museum of Art held 81 artifacts from Kapoor that were either purchased or donated. Five of Kapoor's donations were forgeries, according to The Observer.
A large part of recovering the rest of Kapoor's stolen artifacts lies in the hands of the art community.
The previous item seized from Kapoor's group brought in calls from law firms representing private collectors soon after the information was publicized.
"We publicize a lot of these cases as a way of asking for dealers to help identify items they've sold or donated to smugglers," Hayes said. "The community has really responded to the concerns; we look forward to receiving more information about other arrivals."
At this stage of the investigation, it is unclear whether the statues' previous owners and dealers were aware the pieces had been looted.
The Epoch Times publishes in 35 countries and in 19 languages. Subscribe to our e-newsletter.
Please send news tips to nyc_news@epochtimes.com