Initial signs of a bounceback in global stocks proved temporary as indices across the world continued their downward slide on fears about the fast-spreading coronavirus.
Wall Street indices gave up some initial gains mid-morning Feb. 25, with the S&P 500 and the Dow Jones both down 1.16 percent as of 11:10 EST, while the Nasdaq dropped 1.24 percent.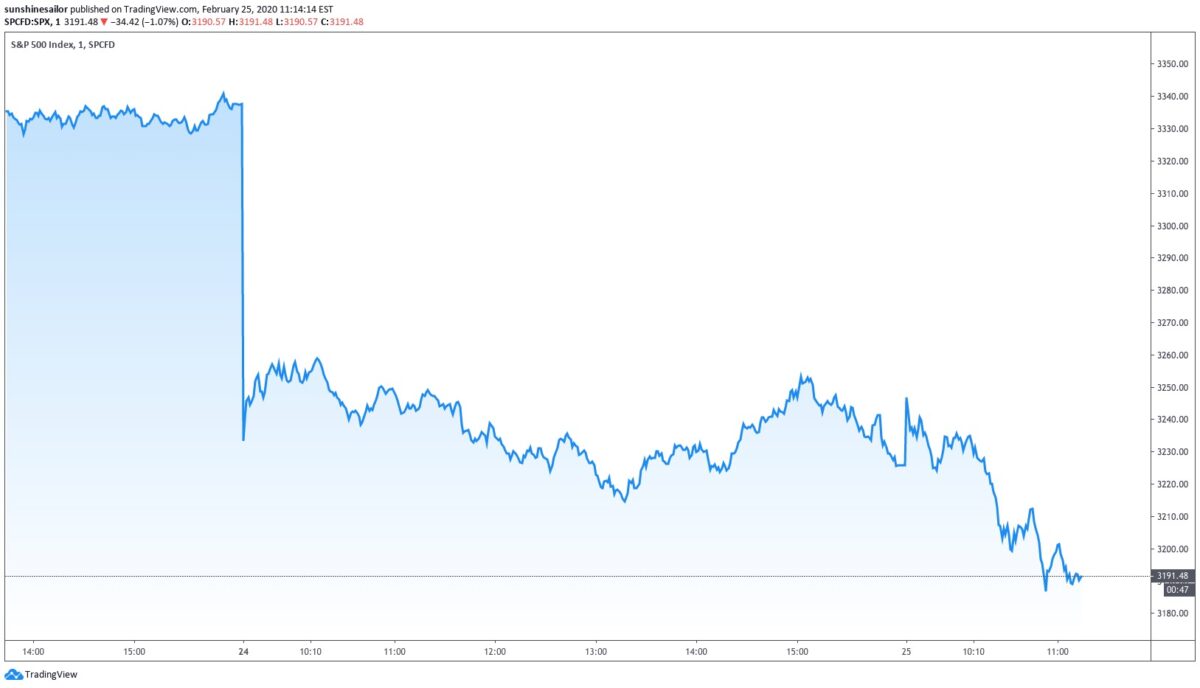 U.S. equities have suffered their biggest losses since mid-2016, amid fears that the coronavirus may be morphing into a pandemic that could cripple global supply chains and have a bigger-than-expected economic impact.
"In the short run, the financial markets tend to be driven by greed and fear. And on Monday, fear dominated. The overriding fear is, of course, the coronavirus," said Robert Johnson, professor of finance at Heider College of Business, Creighton University. Johnson said the rising nomination prospects of Sen. Bernie Sanders (I-Vt.) may have exacerbated Feb. 24's market headwinds.
"But another factor is the fear that investors see with a potential Bernie Sanders presidency and the implications of Medicare for All. Look at United Healthcare (UNH) that fell nearly 8 percent. Many investors are panicking and assuming the worst about both a potential global pandemic and U.S. political risk," Johnson told The Epoch Times via email.
On Feb. 24, the S&P 500 fell 111.86 points, or 3.4 percent, while the Dow Jones plummeted 1,031.60 points, or 3.6 percent.
The drops represent the biggest single-day percentage falls for both indexes since Feb. 8, 2018.
"While Monday's drop is the third-largest point drop in Dow in market history, it doesn't even register as a top 20 percentage drop," Johnson said, putting Feb. 24's market moves in a historical perspective. "One problem with people focusing on the Dow is that they focus on point drops. A 1,000 point fall from 29,000 represents a 3.5 percent drop, while in 1987, a 500-point drop represented a 22 percent decline."
'Very Strong' Economic Fallout
European shares recorded their worst one-day loss since June 2016 on Feb. 24, as reports of new virus hotspots outside Asia mounted.
The pan-European STOXX 600 index initially rose 0.6 percent on Feb. 25, before falling about 0.3 percent as markets digested the economic impact prospects of the virus. Futures contracts of the STOXX 600, which are forward-looking and can help gauge investor expectations for upcoming market moves, similarly spiked on market open before rebounding and stabilizing around the level of Feb. 24's close.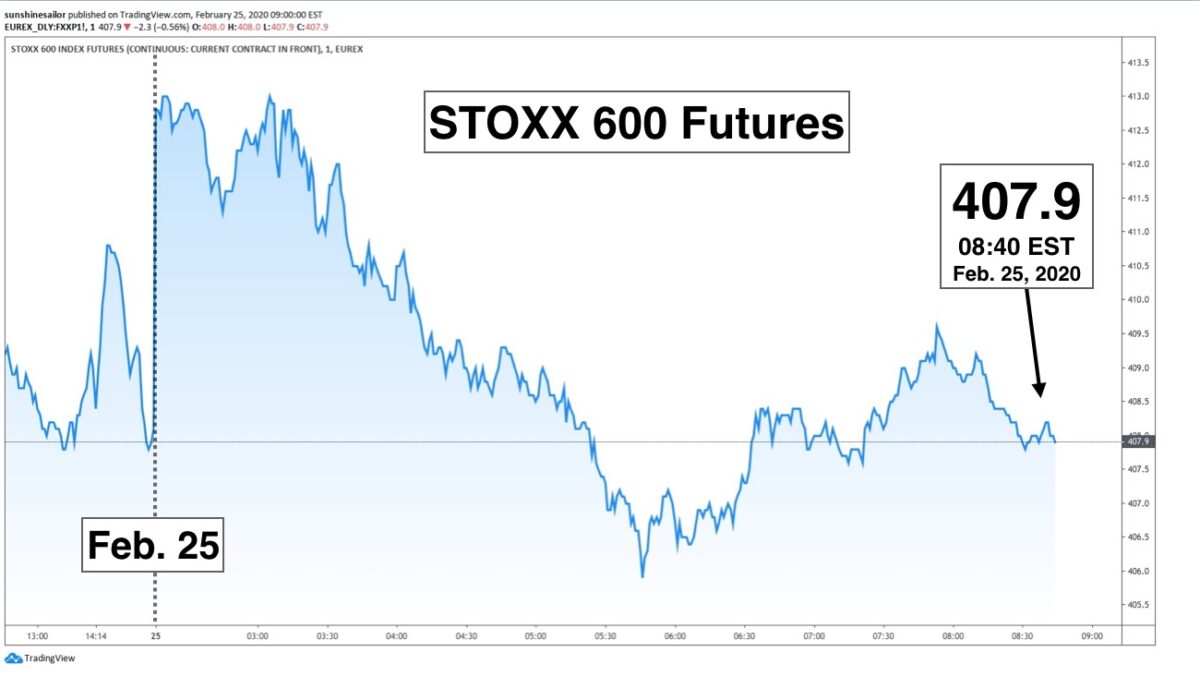 MSCI's All Country World Index, which tracks shares across 47 countries, was down 0.33 percent by 07:37 EST. The index suffered its biggest daily drop in two years on Feb. 24.
Italy, Europe's biggest COVID-19 hotspot, has put dozens of towns on lockdown in an effort to stem the spread of the disease, with officials reporting the country's seventh virus-related death.
Italian Prime Minister Giuseppe Conte has warned that the economic fallout from the outbreak would be "very strong," but said he was confident the contagion would come under control soon.
The FTSE MIB, a key Italian stock index, was down 0.81 percent at 08:20 EST on Feb. 25.
'Quite Large' Number of New Cases in South Korea
On Feb. 25, South Korea's hard-hit market managed to close 1.18 percent up, with the Korea Composite Stock Price Index gaining 24.57 points.
The country has the third-highest national total of coronavirus infections, behind China and Japan, with the majority linked to the city of Daegu.
"In Daegu, the number of new cases that are being confirmed by tests is quite large, and if we fail to effectively stem community transmissions in this area, there would be a large possibility [that the illness] spreads nationwide," South Korean Vice Health Minister Kim Gang-lip said in a briefing, according to The Associated Press.
Japan's Nikkei was down 3.4 percent Feb. 25, catching up with the global sell-off after having been shut on Feb. 24, while Shanghai blue chips eased 1.6 percent.
Reuters contributed to this report.