NEW YORK CITY—The jury in the Ghislaine Maxwell sex-trafficking trial in federal court had its third full day of deliberations on Dec. 27 after a Christmas break, with no verdict reached.
The jury's day began at 9 a.m. EST and at about 10:30 a.m., a note was sent to Judge Alison Nathan requesting different colored Post-It notes, different colored highlighters, and a poster board.
The jury additionally requested the transcript of the testimony of Matt, a former boyfriend of "Jane"—the first alleged victim to testify in the trial.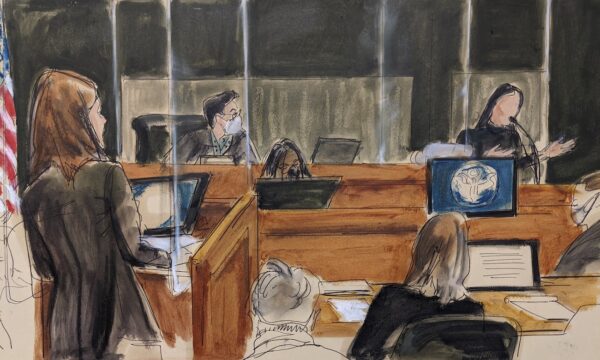 The jury also requested the definition of the word "enticement." That word is used in two of the six sex-trafficking charges against Maxwell and her alleged role in aiding in her ex-boyfriend and convicted sex offender Jeffrey Epstein in his sexual abuse of girls.
Nathan looked up legal precedent for the word and both teams of attorneys agreed to it.
At about 11:05 a.m., the jury sent another note, requesting the transcript of the testimony of Gregory Parkinson, of the Palm Beach Police Department. Parkinson was the crime scene manager when the search warrant for Epstein's Florida residence was executed in 2005.
Just before 3 p.m., the jury asked for the transcript of the testimony of David Rodgers, the second of Epstein's two pilots who testified.
Each time Maxwell was in the courtroom, two U.S. Marshals—one male and one female—were seated nearby.
At 4:30 p.m., the jury sent another note with a detailed question about one of the elements in one of the charges. Each team of lawyers huddled at their respective tables to come up with an answer.
While awaiting proposals from the teams, another note arrived from the jury, asking to end the day at 5 p.m. Nathan agreed.
Eventually, each team submitted their answer, which had opposing views and a debate ensued for 20 minutes, including the defense's questionable placement of commas in the note.
Nathan was a bit befuddled by the question asked by the jury. "I cannot answer this ambiguous question," she said.
Ultimately, Nathan agreed to the prosecution's request that the jury follow the specific instructions they were given previously.
At the end of the day, Nathan instructed the jury that, if they don't reach a verdict on Tuesday, they should be ready to work until 6 p.m. each night from here on in, unless there proves to be hardship.