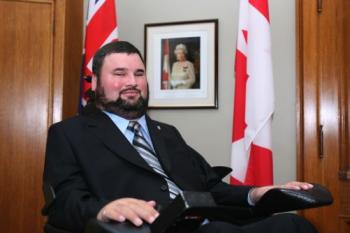 Linda McIntosh first met Steven Fletcher about a year and a half after the car accident that changed his life forever. She was Manitoba's education minister and he came to ask her to fix some government policies and legislations affecting people disabled by catastrophic injury.
Mr. Fletcher was 23 in 1996 when the accident left him a quadriplegic, paralyzed from the neck down. While driving to work at a Manitoba gold mine, he swerved to avoid hitting a moose but instead struck a second moose that was just behind. His spinal column was severed. He was a geological engineer, just one year out of university.
"Steven defied all the odds," said Ms. McIntosh. "The usual thing that happens is that you die. But he didn't die. So what do you do if you don't die?"
What Mr. Fletcher did was become the first Canadian Member of Parliament with a permanent disability, and the world's first C4 quadriplegic elected to a national legislature. Following the federal election in October he was appointed Minister of State for Democratic Reform.
'What do you do if you don't die?'
"What do you do if you don't die?" is the title of Ms. McIntosh's biography of Mr. Fletcher.
Being paralyzed, Mr. Fletcher's career in the mines was over. He had also been a kayaking champion and canoe instructor with a passion for the wilderness; that, too, came to an abrupt end.
"He spent the first year or so just wanting to die. It was a ghastly, horrible period because he couldn't die," Ms. McIntosh said.
Once he realized that he had no choice but to live, "he decided that if he had to live he was going to live fully, and that started the long process of trying to get back into the world."
Mr. Fletcher decided that he could still contribute with his brain. "But he had to fight, fight, fight everything — bureaucracies, the insurance company, medical system — to get out into the world to begin living an independent life, which is of course how I met him."
After a year in the hospital, Mr. Fletcher decided he did not want to be transferred to an institution to live out his life. He looked to Ms. McIntosh to help put rules in place so he could live independently under self-managed healthcare.
Mr. Fletcher returned to school and obtained a masters' degree in business administration, something he had planned before the accident. He was twice elected president of the University of Manitoba's Students' Union and later twice elected president of the Progressive Conservative Party of Manitoba.
Ms. McIntosh was one of several friends who encouraged Mr. Fletcher to run for federal office. After living through the system, he had abundant knowledge of healthcare, insurance, and government. He also knew that some of the changes had to be made at the federal level.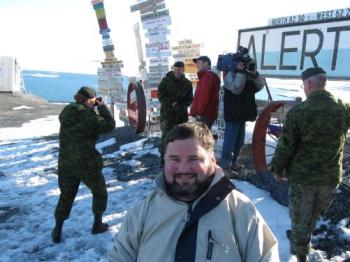 Mr. Fletcher represents the Winnipeg riding of Charleswood-St. James-Assiniboia. From 2004 to 2006, he was Opposition Health Critic. After the Conservatives were elected in 2006, he became Parliamentary Secretary to the Minster of Health, and now, at 36, he is a junior cabinet minister.
'Your life isn't all about you'

Mr. Fletcher requires round-the-clock care. He controls his electric wheelchair by pushing on the headrest. A steel bar connects the back of his skull to the top of his spine, so he can only move his head about 30 degrees left and right.
But he can "do amazing things on the computer" by simply moving his head slightly in any direction, said Ms. McIntosh, thanks to his "head mouse," which looks like a little silver dot stuck to the middle of his forehead.
Mr. Fletcher's story is one of hope, faith, determination, and family support "in every way possible that it's just unbelievable," said Ms. McIntosh.
His general approach in life, she said, was to "do everything within his power to help bring forward policies, laws, attitudes that would enable people of differing abilities to be seen as whole people . . . to give people the opportunity to succeed, and foster independence and self-sufficiency."
He was elected based on his abilities, not because he was disabled, and "he considers that a huge victory," said Ms. McIntosh.
But there have been times when Mr. Fletcher did not feel like his life had much purpose. "It's hard to be consistently positive and count my blessings," he wrote in a passage in the book.
He recalled that he was once talking about this with a close friend, Liisa, who said, "Steven, your life isn't all about you or what you want. What can you do for others?"
That was a bit of an "ah ha" moment, said Ms. McIntosh. "You never know why a person who might have died is left to live. . . . Even though [you are] not healthy, perhaps somebody else will benefit from [your] life being the way it is."
Ms. McIntosh knows of people who have gotten themselves back together because of Steven's example and counselling. "But he'll never talk about that," she said.
"[His example] has opened the door for others to follow. And I think he's sort of an unsung hero because people don't realize the significance of what he's done in terms of educating the public. It's not sexy but I just think he is amazing, just absolutely amazing."