Stephen Paddock, the gunman who reportedly killed at least 58 and wounded hundreds more in a late-night attack on a Las Vegas country concert, has been described as a wealthy, multi-millionaire real estate investor with a penchant for gambling.
His brother, Craig Paddock, said he made much of his money via investing in real estate, The Associated Press reported on Monday afternoon. Eric Paddock, another brother, said Stephen worked as an accountant for many years.

Stephen Paddock, who lived 80 miles away from Vegas in Mesquite, Nev., recently sent a walker via mail to his 90-year-old mother, AP reported.
Neighbors told the New York Times that he drew little attention to himself, living with his girlfriend, 62-year-old Marilou Danley.
Paddock, who was retired, had not shown strong political or ideological beliefs when they interacted with him, the Times reported, citing relatives.
More than 19 rifles were found in his hotel room, law enforcement officials told media outlets. He shot and killed himself on the 32nd floor of the Mandalay Bay hotel—the same place where he opened fire on concert-goers.
"I can't get into the mind of a psychopath at this point," Sheriff Joseph Lombardo of Clark County said.
"It wasn't evident that he had weapons in his room," the sheriff said. "It has been determined that he had employees going to and fro from his room, and nothing nefarious was noticed."
"Where the hell did he get automatic weapons? He has no military background or anything like that," his brother, Eric, said. "When you find out about him, like I said, he's a guy who lived in a house in Mesquite and drove down and gambled in Las Vegas."
Eric last spoke with Stephen about how the family fared during Hurricane Irma, which hit Florida in September. "He texted me to ask about my mom after the hurricane," Eric Paddock told reporters. "He sent her a walker."
The barrage of gunfire from a 32nd-floor window of the Mandalay Bay hotel into a crowd of 22,000 people lasted several minutes, sparking panic as throngs of music fans desperately cowered on the open ground, hemmed in by fellow concertgoers, while others at the edge tried to flee.
More than 500 people were injured—some by gunfire, some trampled—in the pandemonium adjacent to the Las Vegas Strip as police scrambled to locate the assailant, Reuters reported.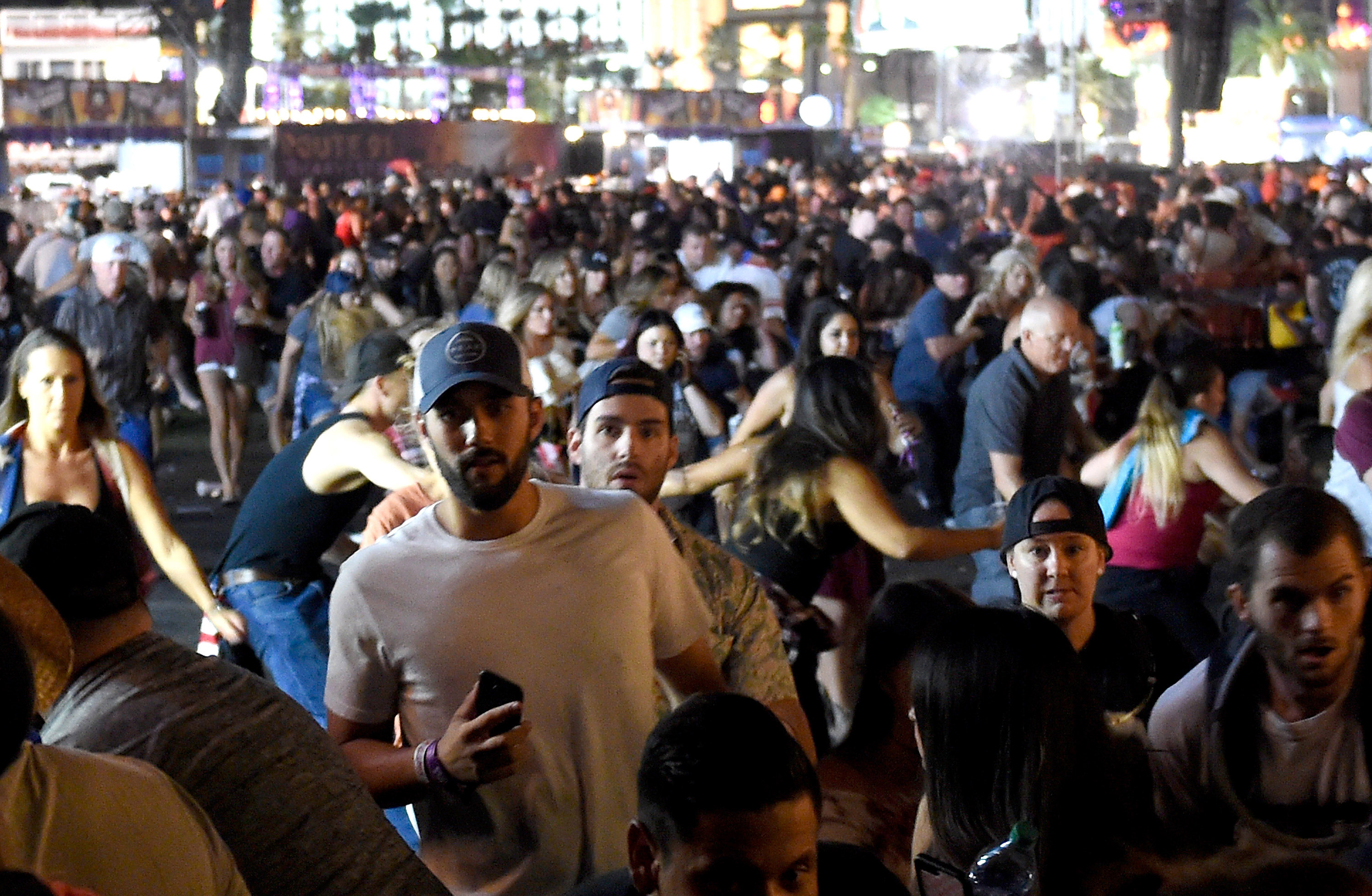 Federal officials said there was no evidence linking Paddock to terrorist organizations.
"We have determined to this point no connection with an international terrorist group," Aaron Rouse, special agent in charge of the FBI field office in Las Vegas, told reporters.
U.S. officials discounted the claim of responsibility for the attack made by ISIS in a statement.
Lombardo said that Paddock's arsenal included multiple machine guns, according to a law enforcement official.
Eric Paddock told the Times that his brother "had nothing to do with any political organization, religious organization, no white supremacist, nothing, as far as I know. And I've only known him for 57 years."
U.S. law largely bans machine guns.
His brother told the Times that he was a wealthy individual who liked gambling and playing video poker.
"He didn't have active employment. His life is an open book," the brother said. "It's all in the public record. He went to college, he had a job. You'll find out."
Reuters contributed to this report.