Stench of Sewage Sparks Protests in Guangdong
March 13, 2013 1:51 pm Last Updated: October 1, 2015 10:51 am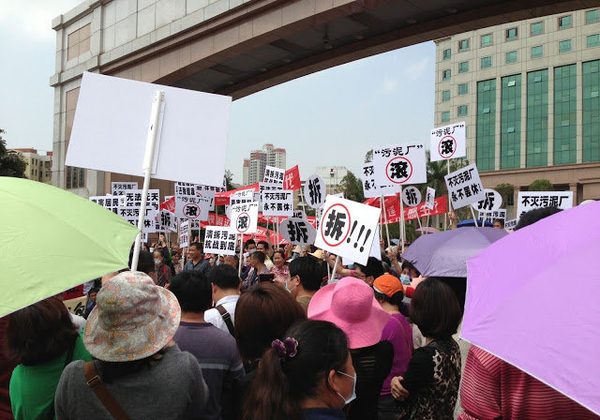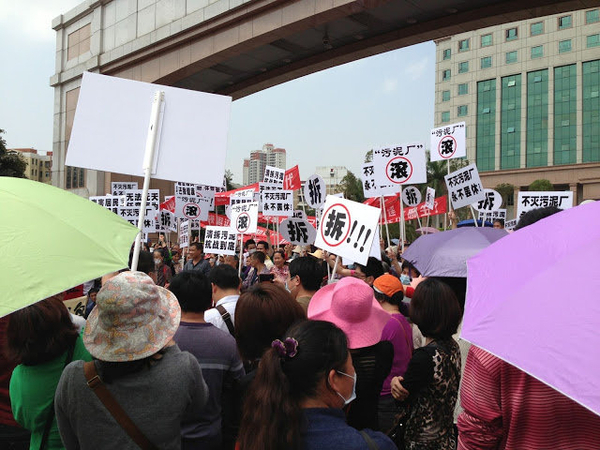 Thousands of residents gathered in Songgang Township, Guangdong Province, to protest against a foul odor being emitted from a local sewage treatment plant.
"Since before the New Year," says Ms. Huang, a resident, "there has been a fetid odor that smells like dead bodies. We don't dare open our windows, but the smell comes in anyway."
In an interview with The Epoch Times, Ms. Huang explained how on March 11, her mother had been near the plant. "She felt pain in her nose, throat, and head. She was wearing three layers of mouth masks, but they still didn't block out the smell."
The following day, residents took to the streets: gathering outside the town hall and blocking off National Highway 107, bringing traffic to a standstill. Local authorities responded by sending a large number of armed police with dogs to the scene, who watched over the protest and closed the roads.
A photo posted on www.oeeee.com, a state-affiliated website, shows that Yanchuan Sewage Dehydration Plant was built in a densely populated area containing schools, hospitals, and many residential buildings.
The treatment plant has been reeking for over a month. Residents have repeatedly petitioned the local government, hoping for a solution to this air pollution problem.
A plant spokesperson said it was approved by the municipal government, but no official approval documents were available, according to a report by Shenzhen Economic Daily.
The report added that the plant was asked to stop its trial operation by the environmental protection agency, but had recently started operating again in secret.
A resident named Mr. Chen told The Epoch Times that the latest protest was planned because local authorities had not dealt with the issue. He estimated there were 8,000 to 10,000 people, many with banners, demanding that the plant be shut down.
The banners carried various slogans, such as "Stop Yanchuan Sewage Dehydration Plant covertly releasing odors," "Give me back my fresh air," and "Protect Songgang's ecological environment."
At around 4 p.m., the environmental protection agency's local deputy director met with some of the protesters. Mr. Chen said they were asked to wait for a decision by higher authorities. "These officials kept on saying 'We can't make the decision,' in order to drag things out," he said.
On March 7, many parents of children at nearby Yanshan elementary school protested outside of the treatment plant; students there had suffered dizziness, vomiting, and nose bleeds. The school is less than 400 meters away from the plant, and has about 2,000 students and teachers.
Translation by John Wang. Written in English by Cassie Ryan.
Read the original Chinese article.
The Epoch Times publishes in 35 countries and in 19 languages. Subscribe to our e-newsletter.