A Pittsburgh Steelers linebacker has a response for fans who burned their Steelers gear: don't buy it back.
Last month, after a slew of players took a knee for the national anthem—or simply didn't come out of the tunnel for the song—a number of fans destroyed their jerseys and gear, while saying that they won't watch another game again.
According to coach Mike Tomlin, the Steelers tried not to get involved in politics and didn't show up for the national anthem. Offensive tackle Alejandro Villanueva came out on the field and stood for the anthem with his hand over his heart.
Linebacker Vince Williams, in a tweet, lashed out at those fans who set their gear alight.
"If you burned your [expletive], don't buy it back #bandwagonclosed," the linebacker tweeted this week.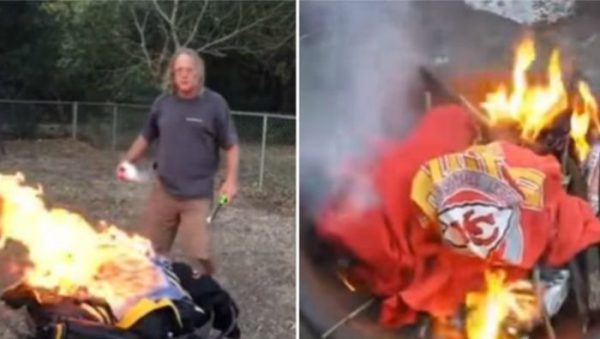 Many fans took it as a form of protest, prompting a few to burn their Steelers jerseys and jackets in viral videos.
In one viral video, a Pittsburgh Steelers fan—who said his name is Robert L. Williams, a master electrician from Texas, said he's "done with the NFL."
He took out "a $450 leather jacket" with the Steelers logo on the back. "Watch me burn it," Williams stated. He also took out his hats and sweaters. "My great uncle's bones are lying in the bottom of Pearl Harbor," Williams added. "You do not disrespect the flag and the country, and the Constitution … and why we have our freedoms," he said. "So, watch this stuff burn."
A few days after the anthem response was botched, Tomlin issued a few comments to the media. "In regards to the anthem, these are divisive times," Tomlin said during the conference, NFL.com reported.
But he added that the players "are not interested in making statements" and won't be "goaded into a demonstration," according to the Pittsburgh Post-Gazette.
"The idea was to be unified as a team when so much attention is paid to things dividing our country, but I wish we approached it differently. We did not want to appear divided on the sideline with some standing and some kneeling or sitting," quarterback Ben Roethlisberger said on the website in a personal statement.
In Week 4, the entire team stood for the national anthem as usual. Across the league, significantly more NFL players stood for the anthem.
The first NFL player to kneel during the national anthem was Colin Kaepernick, who said he did it to protest "police brutality" and "racial injustice." Kaepernick drew the national spotlight with his protest, but has not been hired by any team since becoming a free agent.
Last month, President Donald Trump said that players who didn't stand for the anthem should be fired. In response, at least 200 players protested during the song. Later, Trump tweeted that the NFL ratings will continue to drop if players keep protesting.
Two major sponsors have pulled advertising with the NFL as a result.