In China, it has been increasingly difficult for people from poor families to climb up the socioeconomic ladder than those from rich families. This condition is in direct correlation to the uneven distribution of wealth and a growing gap between the rich and the poor. This is the conclusion of a research project done by economists at National University of Singapore and Chinese University of Hong Kong.
By analyzing statistics on Chinese income from 1979 to 2016, the researchers were able to substantiate their findings with a mathematical formula. The results were published in the American Economic Journal in February 2021.
Since China's economic reform started in 1979, its GDP per capita has increased almost 20 times, according to the World Bank. However, over the same period, China's Gini coefficient rose by 50 percent from 0.31 to 0.47, the latest research said.
In economics, the Gini coefficient, with a value between 0 and 1, is a measurement of income distribution. An increasing Gini coefficient signifies unequal income distribution or wider gap between the rich and the poor.
The research found a direct correlation between China's Gini coefficient and its intergenerational income persistence, which measures the degree of difficulty for generations in the same family to rise in the socioeconomic ladder over time. China's intergenerational income persistence has also increased in China over the past 40 years.
In comparison, 9.8 percent of the poor children born between 1970 and 1980 actually ended up in the top quintile as adults. But this percentage dropped to 7.3 for the people born between 1980 and 1988.
That is to say, China's economic reform resulted in a higher level of income inequality and higher intergenerational income persistence, thus making it more difficult for people born poor to work their way up.
Education Is No Longer a Life Changer for the Poor
Education used to be the major "life changer" for poor children in China. If they could enter top tier universities, they would have a much better chance to move up in the social hierarchy.
In 1990, 22 percent of the students at Tsinghua University, one of China's "Ivy League" schools, were from low-income families. In 2016, it dropped to 10.2 percent.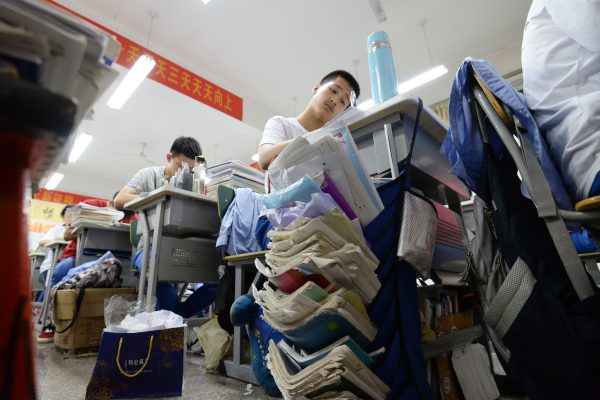 China's college entrance exam is a once-in-a-lifetime event for high school seniors. The score can decide a student's future. A top scorer in the 2017 college entrance exam told the Chinese media that the reason he did well on the exam was because he grew up in a well-off family in Beijing and had access to many resources that are not available to others.
A Wall Street Journal report said that according to AXA Investment Managers, families in top-tier cities spend on average one-fourth of their incomes on child tutoring. This is unattainable for those with lower incomes.
Growing Income Gap
A report by Peking University said in 2015, one-third of China's wealth was owned by the top 1 percent of households, while 1 percent of the wealth belonged to the bottom 25 percent of the households. In 1987, China's top 10 percent owned 25 percent of the wealth and the bottom 50 percent of households owned 25 percent of the wealth.
In May 2020, Premier Li Keqiang revealed that China has 600 million people, about 40 percent of the population, whose monthly income is under $140.
The Hurun China Rich List 2020 saw "the biggest wealth increase in the [entire] 22 years" of the list, despite the pandemic. There are over 1,000 billionaires living in China; that is more than the combined number of billionaires in the United States, India, and Germany.
The Do-Nothing Movement
Feeling a loss of hope, Chinese youth started a "do-nothing" movement, translated literally as the "lie-flat" movement in the spring of 2021. The followers of the do-nothing movement believe that trying is pointless in China, so they no longer want to build a career, buy property, get married, have kids, or spend money. Instead of always being on the go in pursuit of things, they choose to lie down flat.
Mr. Xu, a law professional in China, told the Chinese edition of The Epoch Times that "Chinese people are hard-working. But when your hard work does not bring you what you deserve, inevitably people will feel antagonistic."
In China, salaried workers have to adopt the "996 model," which means the workday begins at 9 a.m., ends at 9 p.m., and one has to work 6 days per week. Trapped in this model, one's upward mobility is close to none.
Real estate brokerage firm Colliers International compared the ratio of average home price to average household disposable income in major cities around the world and found that four Chinese cities have the highest ratio, namely Shenzhen, 27.8; Beijing, 24.5; Hong Kong, 20.4; and Shanghai, 20.3. A ratio above three is considered hard to afford. By comparison, London's ratio is 7.7 and New York is 7.3.