As he did before a U.S. Senate committee hearing on March 9, Norfolk Southern CEO Alan Shaw apologized to residents in East Palestine, Ohio, and surrounding communities during a hearing before the Pennsylvania state senate on March 20.
Unlike his appearance at the Senate Environment and Public Works Committee in Washington, Shaw faced in-depth questioning about the release and burn of vinyl chloride from five cars three days after the derailment.
That decision averted an explosion but created additional health concerns.
"I want to begin today by expressing how deeply sorry I am for the impact this derailment has had on the citizens of East Palestine and the communities in western Pennsylvania," Shaw told the Pennsylvania Senate Veterans Affairs and Emergency Preparedness Committee on March 20.

"I've been to East Palestine and Pennsylvania many times over the past six weeks. I've talked with community leaders, business owners, school officials, faith-based leaders, and others throughout the community," Shaw added.
"They've shared their stories and their concerns about the health of their families, their businesses, and the future of the community they love. I am determined to make this right."
Train Derailment and Aftermath
On Feb. 3, a 151-car freight train operated by Norfolk Southern derailed in a fiery crash in East Palestine, a village of around 4,700 residents in eastern Ohio a mile from the Pennsylvania border.
Eleven of the 38 cars that derailed contained hazardous chemicals, according to the National Transportation Safety Board.
Fearing a major explosion that would spread shrapnel, authorities decided to release and burn vinyl chloride from five cars into a trench on Feb. 6, sending a massive cloud of black smoke into the sky that could be seen for miles and was likened to the mushroom cloud caused by a nuclear weapon.
Before the release and burn residents in a one-mile by two-mile area surrounding East Palestine, which includes western Pennsylvania, were urged to evacuate by Pennsylvania Gov. Josh Shapiro and Ohio Gov. Mike DeWine.

"The vinyl chloride contents of five rail cars are currently unstable and could potentially explode, causing deadly disbursement of shrapnel and toxic fumes," according to a statement from DeWine's office on Feb. 6.
"To alleviate the risk of uncontrollable shrapnel from an explosion, Norfolk Southern Railroad is planning a controlled release of the vinyl chloride at approximately 3:30 p.m. today."
A map showing a red zone and a yellow zone was released by officials. Norfolk Southern said that people who remain in the red area will be exposed to deadly toxins, and those who stay in the yellow area could experience "skin burns and serious lung damage."
"Everyone in Pennsylvania and Ohio who's in this area, you know, you need to leave. You just need to leave," DeWine added. "This is a matter of life and death."
Vinyl chloride is a chemical used to make PVC pipes and other products. The National Cancer Institute notes that vinyl chloride has been linked to cancers of the brain, lungs, blood, lymphatic system, and liver.
DeWine held a press conference on Feb. 8 and announced that the evacuation order had been lifted and that it was safe for East Palestine residents to return to their homes.
Since returning, people in the village and in surrounding communities have reported headaches, nausea, skin rashes, blurred vision, and other ailments.
Questions About Burn and Release
On March 20, Pennsylvania senators repeatedly asked Shaw about the events leading to the burn and release.
"The ultimate decision made by unified command under the leadership of the incident commander was made on Monday, Feb. 6, based on the conditions on the ground as we knew them," Shaw said.
"There was concern about an uncontrolled catastrophic explosion that would shoot harmful chemicals and shrapnel through the area. So the decision made by unified command under the direction of the incident commander was a controlled vent and burn."
Legislators at the hearing expressed displeasure with the decision to release and burn the toxic chemicals instead of exploring other options.

When pressed about who approved the release and burn, Shaw said that DeWine, and state, and federal officials who were part of the command post were involved, but the ultimate decision belonged to East Palestine Fire Chief Keith Drabick.
State Sen. Doug Mastriano was astonished by Shaw's response.
"You're blaming it on a chief in East Palestine, correct?" said Mastriano, who is chairman of the Veterans Affairs and Emergency Preparedness Committee.
"So your cars are on fire, it's your rail, it's your incident and you're going to leave it to a local fire chief who's likely never had to deal with this before?"
"I find it hard to believe that the local fire chief would be the one making the decision to set an explosion off to ignite eight carloads of toxic chemicals," Mastriano added.
Mastriano, a Republican, lost the state's gubernatorial race to Shapiro, a Democrat, last November. In a letter to Shaw last month, Shapiro accused Norfolk Southern of ignoring the command structure in the derailment's aftermath.
"This was based solely on the safety and health of the community," Shaw said about the decision to release and burn the toxic chemicals.
"I think it's important to know the vent and burn worked," he said. "The air testing throughout the process notes that the air is clean. We avoided the potential for a catastrophic uncontrolled explosion."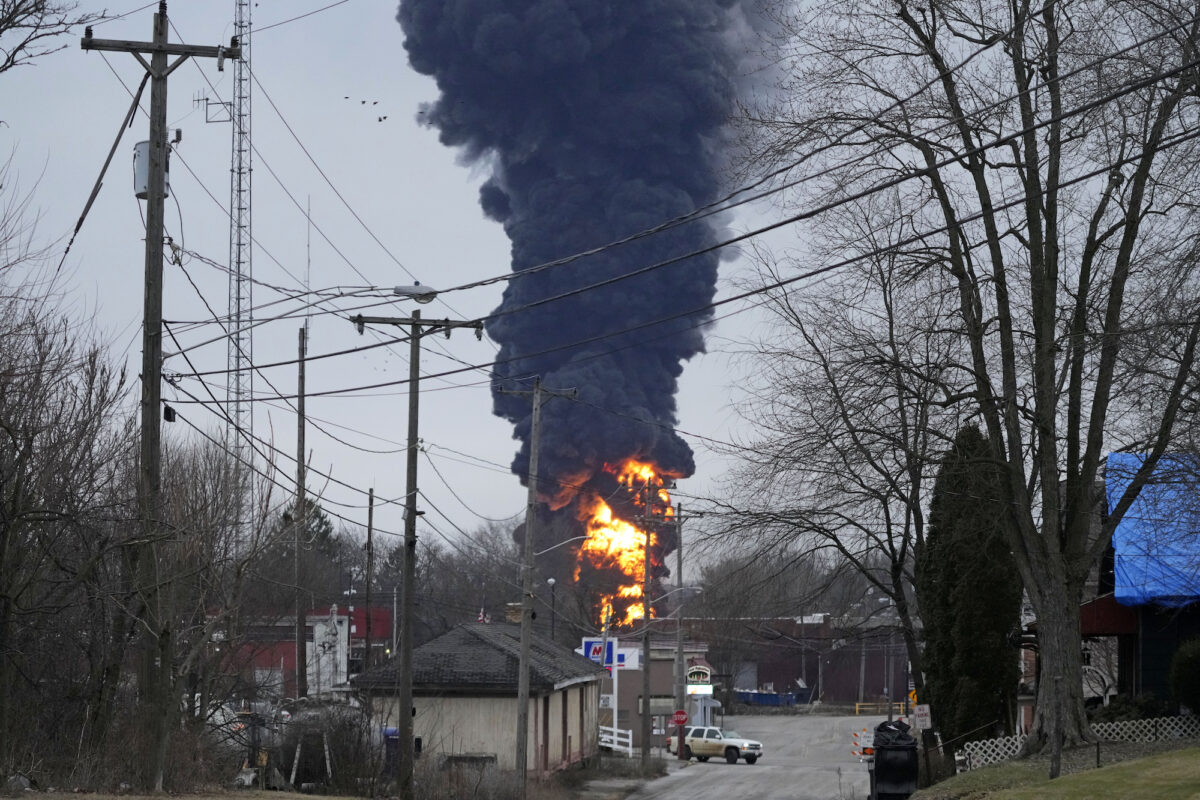 Shaw noted that Norfolk Southern has placed $7.5 million into a fund to provide relief for residents and reimburse emergency and environmental agencies in Pennsylvania.
The railroad's family assistance center, which opened a day after the crash, has served hundreds of Pennsylvanians, Shaw explained.
Norfolk Southern is negotiating with stakeholders to develop a long-term fund that will pay for health costs, environmental testing, and lost property values, he added.
Shaw also told lawmakers that ongoing state and federal tests have shown that the air and water are safe.
"Why is it necessary [to cover health costs] if no one was poisoned?" Sen. Katie Muth, the committee's ranking Democrat, asked.
Health Concerns Linger
Dr. Andrew Whelton—who is a professor of Civil, Environmental, and Ecological Engineering at Purdue University— said that the derailment and the release and burn affects up to 37 million people in a five-state region.
During his first visit to the derailment site, Whelton said his team discovered that "acute health risks remained, even though the narrative was that they were not there."
Local, state, and federal agencies who are testing air, soil, and water for contamination are inconsistent and not screening for multiple chemicals that would be related to the crash, including known carcinogens, Whelton said.
"We have urged these agencies to correct their testing approaches, and we haven't seen that yet," Whelton said. "It's pretty hard to understand what the health risks are for something if you're not testing for them."
After the March 20 hearing, Muth expressed frustration about Shaw's remarks.
"Don't tell me everything's fine and not give us any data," Muth said. "Why do you need all these compensation funds if everything's fine and there's no contamination?"