State officials are waiting for the light of dawn to inspect an erosion scar on the potentially hazardous emergency spillway at northern California's Oroville Dam, the tallest and largest dam in the United States. 
California Department of Water Resources Action Director Bill Croyle says officials in helicopters overflew the spillway Sunday night to visually inspect it. The dam is located is located in the foothills of the Sierra Nevada mountains northeast of the Sacramento Valley. Heavy rain and snowfall this season prompted the overflow. 
Evacuations for at least 188,000 people living below the dam were ordered Sunday after officials warned the emergency spillway was in danger of failing and unleashing uncontrolled flood waters on towns below.
Water levels at the huge dam are continuing to drop and stopping water from spilling over the emergency spillway.
California Department of Water Resources officials say flows into the lake are just under 45,000 cubic feet per second. Outflows remain high at nearly 100,000 cubic feet per second.
"Immediate evacuation from the low levels of Oroville and areas downstream is ordered," the Butte County Sheriff's Office wrote on Facebook last night.
"Operation of the auxiliary spillway [led] to severe erosion that could lead to a failure of the structure. Failure of the auxiliary spillway structure will result in an uncontrolled release of flood waters from Lake Oroville," the sheriff's office said.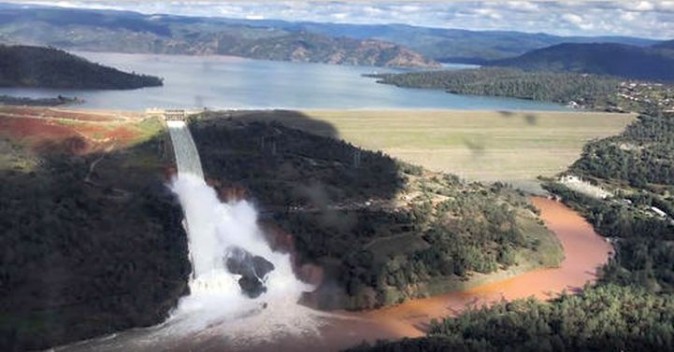 Officials ordered the evacuation because possible failure of the emergency spillway could send a 30-foot wall of water into communities.
State Fire and Rescue Chief Kim Zagaris says at least 250 California law enforcement officers are in the area of the dam and evacuation routes to manage the exodus of residents and ensure evacuated towns don't face looting or other criminal activity.
Meanwhile, a California National Guard official says they will provide eight helicopters to assist with emergency spillway reconstruction at the nation's tallest dam located about 150 miles northeast of San Francisco.
Adjunct General David S. Baldwin said at a news conference late Sunday that the helicopters will also be available for search and rescue Monday near the Oroville Dam.
He added that the California National Guard put out a notification to all 23,000 soldiers and airmen to be ready to deploy if needed.
Baldwin says the last time an alert like Sunday's was issued for the entire California National Guard was the 1992 riots.
AP contributed to this report.