U.S. acting Assistant Secretary of State for European and Eurasian Affairs Philip Reeker dismissed claims that President Donald Trump withheld aid money to Ukraine in return for investigations into Joe Biden and his son Hunter Biden.
Rep. Adam Schiff (D-Calif.), the chairman of the House Intelligence Committee, asked Reeker a series of questions in a closed-door deposition on Oct. 26; a transcript of that interview was released late last week (pdf).
"Let me ask you this way, ambassador [Reeker]: Would you agree that pressuring an ally to conduct political investigations that would be useful to a president's reelection campaign by withholding a White House meeting or withholding military aid would be wrong?" Schiff asked him.
Reeker replied, "I was going to answer. I recall this from my day, it really [is] a hypothetical question. … You are asking me to comment on something that I don't know to be the fact."
House Democrats have alleged that Trump abused his power by withholding aid to Ukraine in exchange for investigations, which he has denied, and Ukrainian officials have also denied, including the Ukrainian president. The Bidens also have denied claims of corruption.
"It is actually not hypothetical at all. But can you agree, as a decades-long State Department official, that it would be wrong to withhold military aid from an ally fighting the Russians for political favors in a Presidential reelection campaign?" Schiff asked Reeker.
"Again, it would depend on the exact context of that and what decisions may go with something like that, so I don't feel comfortable giving a definitive answer to that," Reeker said.
"So you think under certain circumstances, it is okay to withhold …" Schiff said.
"That is not at all what I said, sir," Reeker said, cutting him off.
"You're asking me to give a definitive answer to a hypothetical question."
Schiff, later in the questioning, asked Reeker a similar question about whether Trump pressured Ukraine to investigate the former vice president and his son in exchange for either a White House meeting or aid.
"I do not recall that specifically, no," Reeker replied.
The House Democrats' lawyer, Daniel Goldman, also asked him if he believed Trump pressured Ukraine to investigate the Bidens.
"I did not come to that understanding," Reeker said. "I heard that. I saw that in the press, the suggestions of it."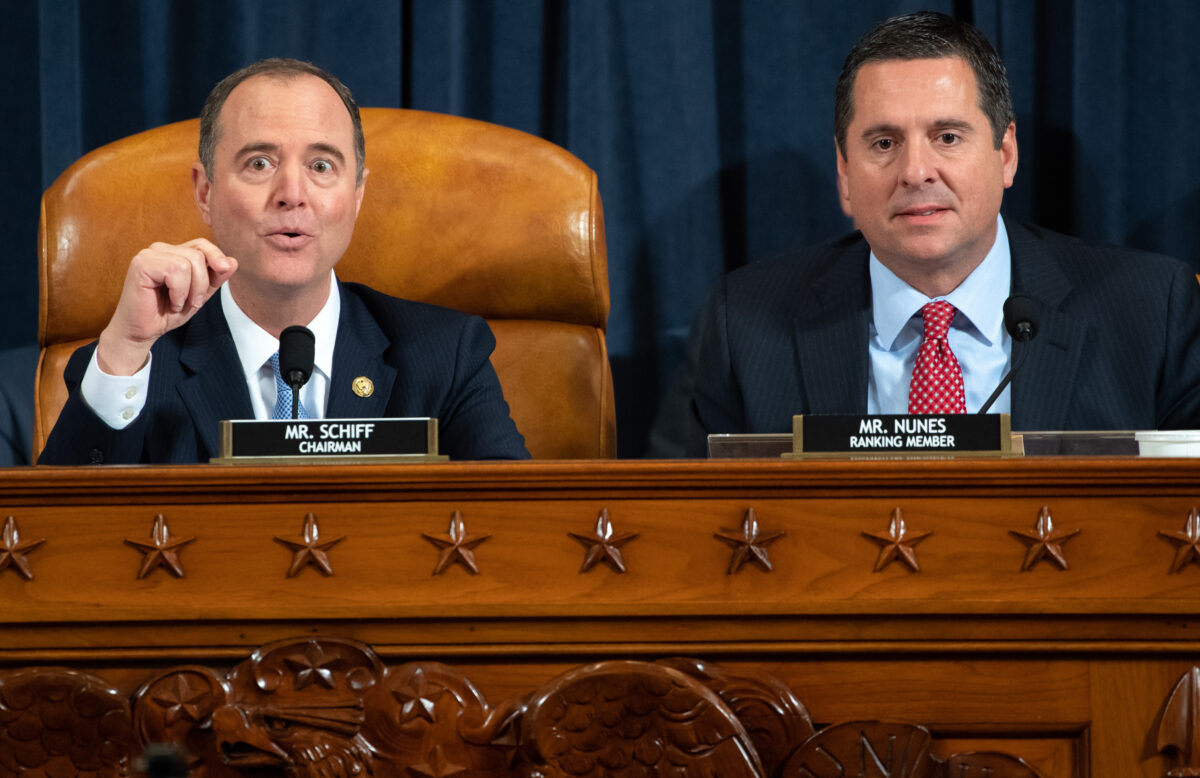 Reeker also testified that there were "outrageous smears and attacks" against Marie Yovanovitch, the former ambassador to Ukraine who was recalled from her post. He also claimed that Trump's attorney, Rudy Giuliani, was providing the president with "a lot of negative views" about Ukraine, which has in the past been notorious for corruption. Giuliani has denied similar claims.
Hunter Biden had sat on the board of Burisma Holdings, a Ukrainian energy company founded by an executive who is currently under investigation for corruption. The younger Biden told ABC News that his position on the board wasn't a politically sound move, but defended his work there.
Some impeachment inquiry witnesses expressed concern that the younger Biden's position would create the appearance of a conflict of interest.
Both Bidens have defended Hunter Biden's work in Ukraine, during a time his father pressured Ukrainian officials to perform certain actions. That included the elder Biden threatening to withhold $1 billion in aid in 2016 unless then-Ukrainian President Petro Poroshenko ousted the country's top prosecutor, Viktor Shokin, who was probing Burisma, and then boasting about it last year during a Council on Foreign Relations event.
Shokin has given sworn testimony that he was "removed at the request of Mr. Joseph Biden." The Bidens and other former Obama administration officials have claimed Shokin himself is corrupt.
Ukraine's new top prosecutor is reviewing the Burisma case and announced recently that Burisma's founder is suspected of embezzling government funds.