The Department of State and the Centers for Disease Control and Prevention are advising travelers to China to use caution following the outbreak of the coronavirus that prompted Chinese officials to lock down Wuhan, where the virus originated, and several other cities this week.
In a travel advisory posted on Jan. 23, anyone who traveled to Wuhan in recent days and feels sick should seek medical care immediately. It also called on people to call ahead to the doctor's office or emergency room to tell them about their symptoms and where they had traveled.
The alert also called on such individuals to "avoid contact with others," "not travel while sick," wash hands often, and cover one's mouth while sneezing or coughing. Travelers to Wuhan should also avoid contact with sick individuals, alive or dead animals, and uncooked meat.
The agencies are calling on Americans to avoid nonessential travel to Wuhan after Chinese officials closed down transportation in and out of the city.
"In an effort to contain the novel coronavirus, the Chinese authorities have suspended air and train travel in Wuhan. Be aware that planned travel within China may be disrupted," the State Department stated.
The Department's alert suggested that the Chinese regime could use the disease outbreak to arbitrarily detain people and violate their human rights.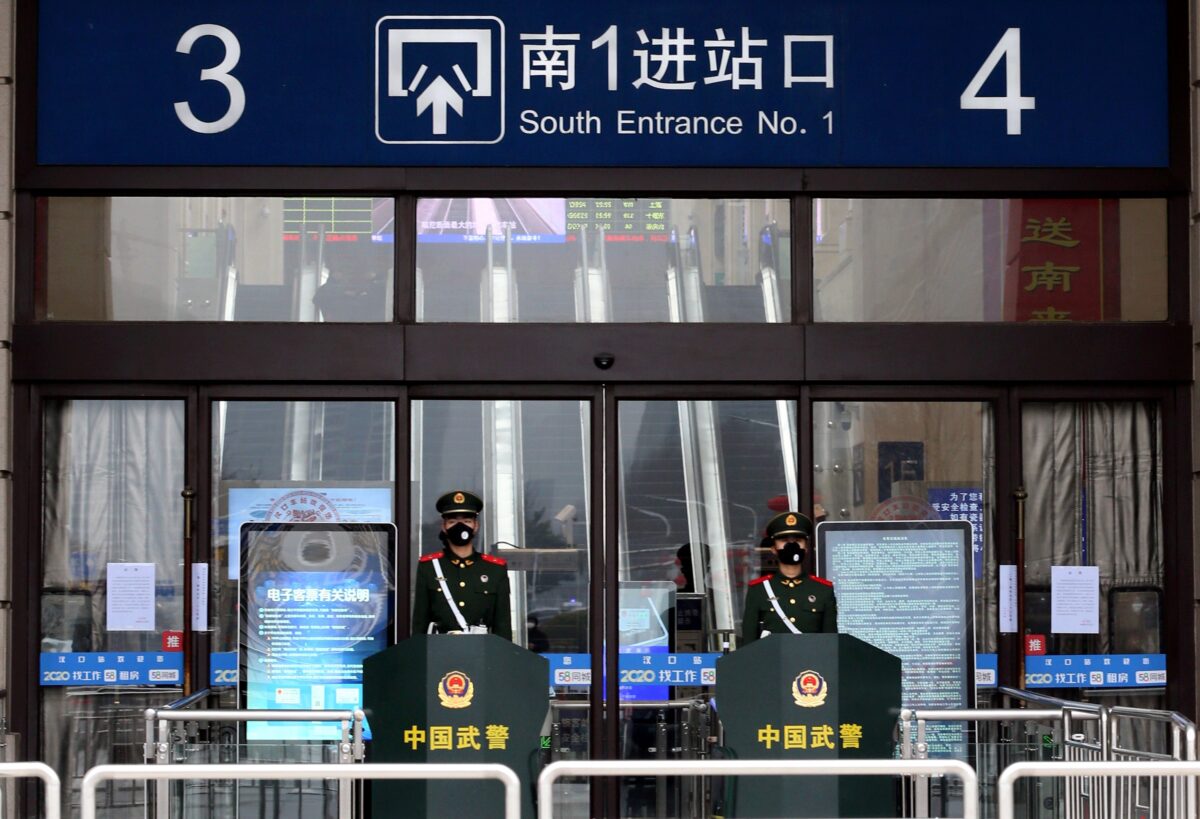 Travelers should "exercise increased caution in China due to arbitrary enforcement of local laws" by Chinese regime officials, who will also enforce "special restrictions on dual U.S.-Chinese citizens," the agency said in its alert.
The State Department warned that the regime "has asserted broad authority to prohibit U.S. citizens from leaving China by using 'exit bans,' sometimes keeping U.S. citizens in China for years."
Chinese Communist Party officials sometimes use "exit bans coercively" in an attempt to pressure U.S. citizens to partake in Chinese regime investigations, "to lure individuals back to China from abroad, and to aid Chinese authorities in resolving civil disputes in favor of Chinese parties."
Americans might also be detained without access to U.S. consular or embassy services and may not be given information about their alleged crime, according to the travel alert. Some may be subjected to lengthy interrogations or detention.
"Security personnel may detain and/or deport U.S. citizens for sending private electronic messages critical" of the Chinese Communist Party, the bulletin said.
"Extra security measures, such as security checks and increased levels of police presence, are common in the Xinjiang Uighur and Tibet Autonomous Regions. Authorities may impose curfews and travel restrictions on short notice."
Officials locked down Wuhan, a city of about 11 million, on Jan. 23, while nearby Huanggang and Ezhou were placed under quarantines hours later.
Meanwhile, according to local reports, a possible coronavirus case was being investigated in Brazos County, Texas.
And in Los Angeles, a passenger on a flight from Mexico City that landed late Wednesday in Los Angeles was taken to the hospital due to concerns that they showed symptoms of the virus.