Labour leader Sir Keir Starmer plans to reform the way the party's leader is elected, but is facing stiff resistance from the left wing of the party, which has warned the move could trigger a "civil war."
The current "one member, one vote" system introduced under former Labour leader Ed Miliband was widely seen as a key factor in the election of Jeremy Corbyn as party leader in 2015, when thousands of far left activists joined and swung the party further to the left.
Starmer has proposed a return to an "electoral college" system made up of the unions and affiliate organisations, MPs, and party members, giving unions and MPs a greater say.
"Our rules as they are right now focus us inwards to spend too much time talking to and about ourselves, and they weaken the link with our unions," he said. "These are two things that have got to change if we are serious about winning the next election."
A Labour spokesman said on Wednesday the planned reforms were about turning the party's focus "outwards."
"What it is about is changing the culture within the party so we are in a situation where we are making sure that, whether it is on the policy measures we have, whether it is on trigger ballots for MPs or on how we elect our leader, that we are in a situation where the focus ensures we are facing outwards rather than inwards," the spokesman said.
But left-wingers have accused Starmer of attacking party members' "democratic rights."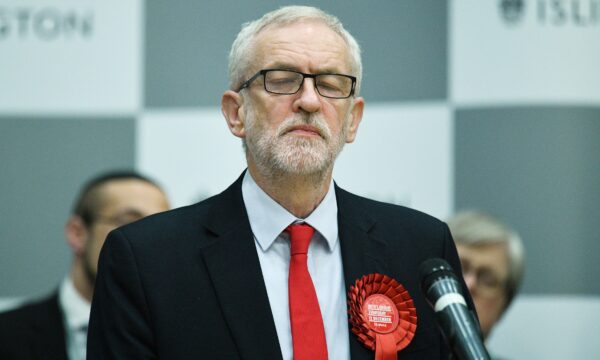 Former leader Jeremy Corbyn, who has been suspended from the parliamentary Labour Party over allegations of anti-Semitism, said, "Removing the current system of electing Labour's leader—again reducing the members' vote to one third while increasing the vote of MPs to one third—would be deeply undemocratic."
"It's time to stop attacking Labour members' democratic rights and take the fight to the Tories," he said.
The Momentum campaign group, which was born out of support for Corbyn's leadership, said any attempts to change the rules at the party conference, which is set to begin later this week, would "mark the start of a civil war in the party."
Momentum vice-chair Callum Bell said: "Grassroots members will have no choice but to mobilise all our strength to fight back against this bureaucratic attack. Conference will get very messy, very fast—and there is no saying who will come out on top."
Despite attempts to present the rule change as increasing the unions' voice, Starmer has also faced resistance from senior figures including Unite general secretary Sharon Graham, who said she believes "huge debates about rules now is a mistake."
PA contributed to this report.