When employees at the Virgin River Casino Starbucks in Mesquite, Nevada, saw images of the man who shot and killed at least 58 people at a music festival on the Las Vegas Strip on Sunday, Oct. 1, they were shocked. The man, 64-year-old Stephen Paddock, was one of their regular customers.
They remembered him as the one who would admonish his girlfriend, Marilou Danley, in public.
They said she would ask to use his casino card, which gamblers at online gambling machines can use to pay for food at the casino, to buy their drinks—always a venti mocha cappuccino for him and a medium caramel macchiato for her.
"He would glare down at her and say, with a mean attitude, 'You don't need my casino card for this. I'm paying for your drink, just like I'm paying for you,' Esperanza Mendoza, a supervisor at the Starbucks, told the Los Angeles Times. "Then she would softly say, 'OK' and step back behind him."
"It happened a lot," she added.
Danley, who Mendoza described as being as tall as Paddock's elbow, was out of the country at the time of the shooting, in which Paddock rained bullets down on a crowd of about 22,000 attending the Route 91 Harvest Festival from a 32nd-floor hotel room in the Mandalay Bay Resort next door.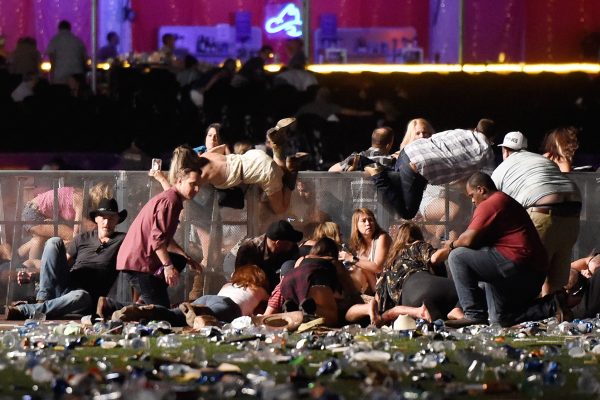 Danley arrived at the Los Angeles Airport from a trip to the Philippines on Tuesday, Oct. 3, and was greeted at the airport by police who wanted to talk to her as a "person of interest."
A motive for the shooting has not yet been established, police said.
Paddock's younger brother Eric Paddock told The New York Times that his brother loved Danley, and said he thought she loved him as well.
"She was probably one of the only people I've ever seen that he'd go out of his way to do a little thing for," he said. "He went out of his way to be nice to her. This is not something Steve does—go out of his way," he said.
"Steve expected people to wait on him for the most part. But he waited on her sometimes. He would do what she wanted to do. He would defer to her in the way that he wouldn't to the rest of humanity. Even me."
A report by Newsweek that said Danley had once been married to two men and had two social security numbers proved to be false.
Newsweek said that it had come to that conclusion based on "many public records," but the initial report "included an error that came to light after publication when a family member came forward."
Danley's sisters, who live in Australia, told Seven Network Australia that Paddock encouraged her to leave the country before his planned attack. They said he found her a cheap ticket to the Philippines and bought it for her.
"I know that she don't know anything as well, like us. She was sent away. She was away so that she will be not there to interfere with what he's planning," a sister, who asked to remain anonymous, told the network. "In that sense, I thank him for sparing my sister's life."
The sisters said Danley was very much in love with Paddock.
From NTD.tv