Starbucks has finally gained a toehold in Italy, where sipping a ristretto or cappuccino at a corner coffee bar has been a time-honored tradition.
And while it may still be too early to judge whether the international coffee giant's move to the land of espresso was a wise one, there was a long line of customers waiting outside the building before the doors opened for the first time.
The company's first Italian branch, dubbed the Milan Roastery, opened Sept. 7 in the historic former post office of Milan's Palazzo delle Poste, designed by the architect Luigi Broggi. It is one of three upscale locations of the company's branches operating under the brand Reserve Roastery, with the other two being in Seattle and Shanghai.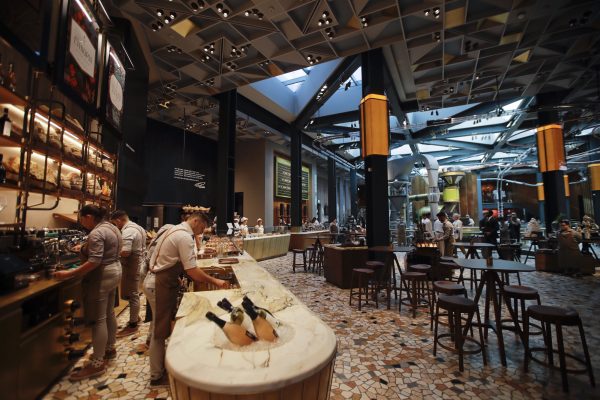 "Once you enter the Roastery, it certainly makes a good impression. It is something impressive with refined taste: the building consists of two floors, divided into different areas with well-finished details," Milan resident Nicola Pavan told The Epoch Times.
For the 31-year-old Pavan, who works as a digital strategist for an international advertising agency, missing the opening day wasn't an option.
"I've lived in the United States, in Australia, and in Canada, and when I found out that Starbucks was opening in Milan, where I've been living for four years, I was happy and excited. Especially because when I lived abroad, I got used to those tastes," he said.
But the experience in the Milan Roastery isn't exactly like the coffee shops in North America.
"The atmosphere is completely different from a classic Starbucks, everything looks much more fancy, hipster, and premium. For me, [it seems] the will of the company was to open a flagship store more than the typical Starbucks," Pavan said.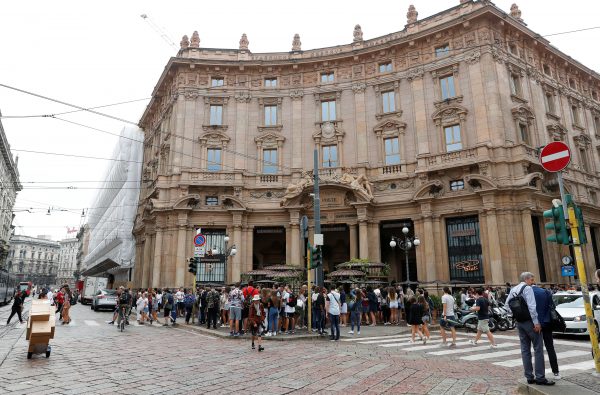 The Milan Roastery is not just a coffee shop. It features a Princi Bakery with a wood-fired oven, marble bars and floor, a giant custom-built coffee roaster, an affogato station where ice cream made with liquid nitrogen is served, and the Arriviamo bar, serving more than 100 cocktails.
What also sets it apart are some of the prices, which are higher than the typical Milanese may be used to: 2.8 euros ($3.2) for a croissant, 6 euros ($7) for a vanilla latte, and 16 euros ($18.5) for a glass of Spritz and a slice of pizza. Local prices are typically more in the range of 2 euros for a croissant, 3 or 4 euros for a latte, and 10 euros for a Spritz and pizza meal.
Jacopo Garone, who said the line to get inside the store on opening day was about 300 meters (almost 330 yards), said the shop is nothing like any local coffee bar, particularly because of the drink choices it offers. The 21-year-old student was surprised that there was such enthusiasm on opening day.
"I would have not expected that people would stand in line for such a long time just to have a coffee, especially in Italy," he said, attributing the excitement to the hype created by effective marketing.
Tommaso Pergolizzi, a 27-year-old art editor and a Rome-born Milan resident, said the opening of Starbucks in Milan is a positive for the metropolis.
"I am expecting that this Starbucks will be a place where people can spend more time than an ordinary coffee place, using their gadgets to work or study," Pergolizzi said. He added that he intends to visit the shop once there is no line to get in.