Starbucks Dreams Big in India
March 21, 2013 11:22 am Last Updated: April 3, 2013 8:02 am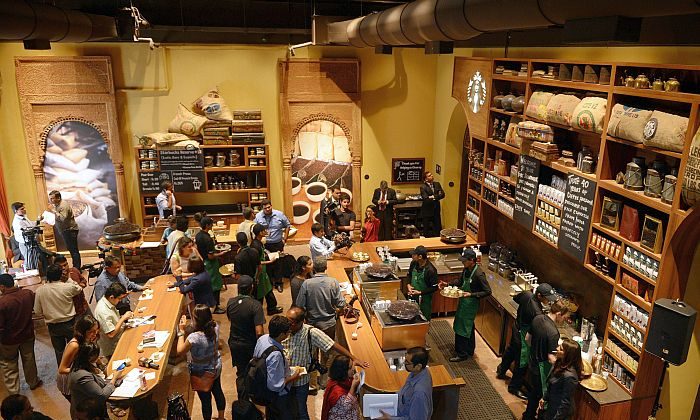 THRISSUR, India—When Starbucks opened the doors to its first store in India last year, it let in a new cultural flavor. It also began to steep itself in a new market—the makings of a rich brew.
Starbucks partnered with Tata Coffee, part of Tata Global Beverages, the largest coffee producer in Asia to open its first store in Mumbai in October 2012. Since then, it has opened seven more stores in large cities around the country.
A habit formed during British colonial days, most Indians prefer tea at a set time of day. But the American love of coffee is spreading through movies, fast food chains, and now through Starbucks.
Saloni Nangia, president of Technopak Advisors, a consultancy firm near New Delhi, told the Seattle Times: "Historically, India was not about materialism or consumerism. It will take years before we can change that culture."
Only 2 percent of Indians can afford a Starbucks latte on a regular basis, according to a Technopak report—but 2 percent of 1.2 billion people is still a lucrative market.
Local players such as Café Coffee Day and Barista Lavazza currently dominate the market.
Café Coffee Day is by far the largest coffee retail chain in India with more than 1,000 locations. But, the Indian love of foreign brands bodes well for Starbucks, as does the fact that youth—the demographic most eager to try the newest and the best of everything—make up a large portion of the population.
The country's cafe sector is worth $230 million, up from $40 million five years ago, according to Technopak. International coffee players, such as Britain's Costa Coffee and the American chain The Coffee Bean & Tea Leaf, also have a small presence.
The thrifty Indian nature was a potential setback for Starbucks, but the Indian stores simply lowered their prices. In Beijing, China, a 12-ounce cappuccino costs $4.34; in Mumbai, it costs only $2.14, according to the Seattle Times. 
"A lot of people were truly surprised by our pricing strategy," said Avani Saglani Davda, chief executive officer (CEO) of the Starbucks and Tata partnership in an interview with the Seattle Times.
While the stores look essentially the same, and the menu still has the staple blueberry muffins and cheesecake, Starbucks has undoubtedly incorporated some Indian flare.
Tandoori paneer rolls, murg tikka paninis, and elaichi mawa croissants are among the Indian Starbucks concoctions. The store interiors are decorated with handcrafted wooden screens, painted vintage trunks, and thick tables of solid Indian teak.
"It is perhaps the most elegant, beautiful, dynamic store we've opened in our history," Howard Schultz, chairman and CEO of Starbucks, told the Associated Press. Schultz said he hoped the effect would be like "walking into a shrine of Starbucks coffee."  
India opened its market to greater foreign investment in the retail and aviation sectors with legislation passed in September 2012. Starbucks isn't the only Western company with its eye on the vast and growing Indian market—Ikea, Tesco, and other companies are expected to soon open branches in India.