A brave Starbucks customer in Fresno, California, thwarted a robbery by slamming a chair on to the head of a gun wielding perpetrator masked as Optimus Prime, according to dramatic footage released by police.
Investigators said that the suspect, Ryan Florez, 30, walked into a northwest Fresno Starbucks at 5:30 p.m. on Thursday, July 20, toting a toy gun and a knife, ABC30 reported. Florez extended a yellow plastic bag to the barista demanding money. 
Seconds later, Cregg Jerri, 58, a customer, is seen closing in on Florez from behind with a chair before slamming the unsuspecting robber on the head.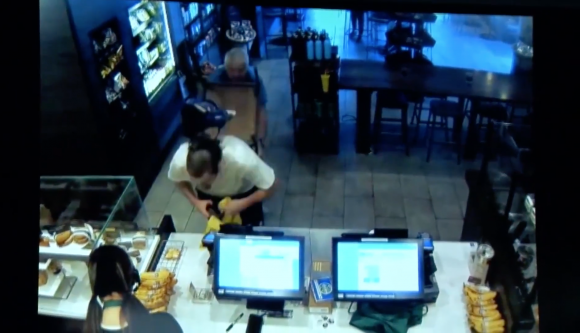 SEE FULL VIDEO BELOW
A struggle then ensued during which Jerri was wounded on the neck. Jerri needed a few stitched to close the wound, according to Fresno Bee. He is expected to be okay.
As the two men wrestled, Jerri took away Florez's knife and stabbed him several times. Florez then ran away.
Florez drove a truck to Dakota and Fruit avenues, where he abandoned it and ran toward a canal. People noticed him bloodied and called the police for help. He told the responding officers that he had been robbed.
Florez was in the hospital Friday recovering from stab wounds from his own knife. He will be booked into the county jail once he recovers.
Fresno Police Chief Jerry Dyer called Jerri a hero.
"It's not something we recommend. In this case, it was a good outcome. No one died as a result of this incident but very well could have. But nonetheless, he's a hero—there's no question," Dyer said.