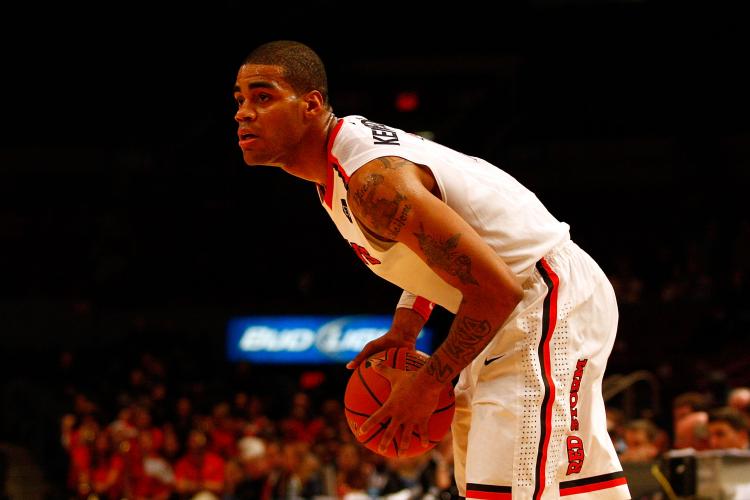 NEW YORK—With a 2–0 start in the Big East, St. John's still needed to prove they were a team to be reckoned with in the conference under new head coach Steve Lavin.
The Johnnies did just that with their 61–58 upset over No. 13 Georgetown at Madison Square Garden on Monday night.
In a back-and-forth game that epitomized the physicality of the Big East, St. John's relied on their senior guard Dwight Hardy in the waning moments of the game.
With 0:42 to play and down one, Hardy drove baseline finishing with a reverse layup to put St. John's (10–3, 3–0) up 57–56. He had 20 points on the night.
The Hoyas (12–3, 1–2) would get two points at the foul line from junior guard Jason Clark to go back up 58–57.
Down by one once more, Lavin would give Hardy the nod again. This time Hardy wouldn't deliver, missing a layup after driving the lane.
Fortunately for the Johnnies, senior forward Justin Brownlee (15 points, 7 rebounds, and 6 assists) was there to clean up the glass and get the put back.
That's from consistently working on crashing the boards in practice.
"We have this thing call triangle rebound. We have to get three on the glass at all times," Brownlee said. "We stress getting to the glass because we're a very athletic team and that could be a very big addition to our team to get on the glass for offensive rebounds."
Up 59–58, St. John's was able to ice the game with a couple Hardy free throws. Hardy finished a perfect 10–10 from the line.
"I had my mind made up that I was going to get to the basket," Hardy said of his drive to try and put St. John's up one. "But if the defense were to collapse, I would have had no problem giving it up to one of the open players."
Hardy and Brownlee's buckets at the end of the game were just a couple among several occasions that gave Madison Square Garden a raucous atmosphere.
While Lavin said he doesn't really notice the atmosphere during the game because he's so locked in, the environment was one of the draws to come back to coaching.
"Growing up in a basketball family, having come into the Garden as an assistant at UCLA, come in as the head coach at UCLA, come in as a broadcaster to do Duke–St. John's games—it's one of the biggest reasons I came back to coaching," Lavin said. "The opportunity to be the head coach at St. John's and have your home court as Madison Square Garden. That's a pinch yourself moment."
So is beating the No. 13 team in the country sitting atop the Big East at 3–0.
But Lavin knows there's still a lot of work to be done.
"As a coach, with our players we talk about just another baby step," Lavin said. "Incremental progress and just back to putting hammer against rock when practicing and watching film tomorrow."
Follow Matt on Twitter at www.twitter.com/MattSugam and tune in every Friday from 6 p.m. to 8 p.m. EST on WRSU-FM as he cohosts Scarlet Fever discussing Rutgers and Big East basketball and football, as well as N.Y. sports.