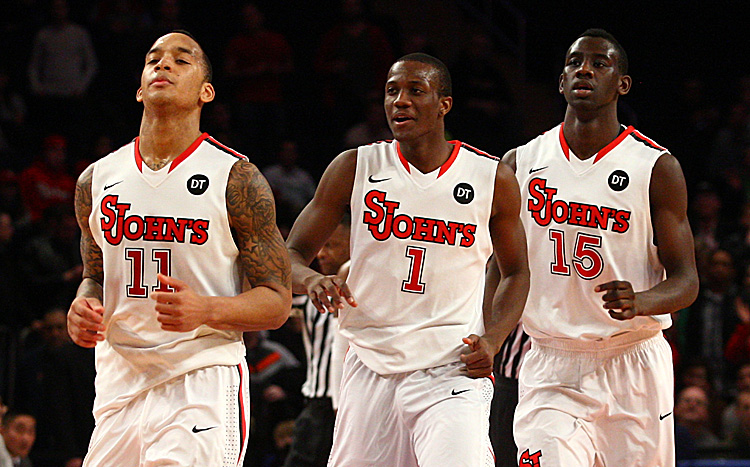 Freshman forward Moe Harkless scored 22 points and grabbed nine rebounds to lead the St. John's Red Storm (13-16) to a 61–58 win over Notre Dame (20-9) Saturday at Madison Square Garden.
The win was the third straight for the Johnnies and snapped a nine-game winning streak by the Irish.
St. John's, which started an all-freshmen lineup for the ninth time this season, never trailed in the contest and led by as many as 14 points in the second half, though they had to stave off an Irish rally late in the game.
With just over 13 minutes left the Irish whittled away a 45–31 deficit all the way down to 59–58 with just 44 seconds remaining courtesy of a layup by Notre Dame forward Scott Martin. The deuce gave Martin a team-high 18 points on the day.
On the Johnnies' ensuing possession, the team ran the shot clock all the way down before forward Amir Garrett found his way through the defense for a driving layup with nine seconds left.
"He made a heck of a shot," said Notre Dame head coach Mike Brey.
The Irish had a chance to tie the game at the other end but the game-tying, 3-point attempt by guard Alex Dragicevich was off.
"We didn't deserve it (an overtime shot)," said Brey who noted the Johnnies got more '50-50′ balls.
Notre Dame finished an abysmal 4/31 (12.9 percent) shooting from behind the arc.
"Obviously the stat sheet shows they weren't able to make their 3s," said St. John's assistant coach Mike Dunlap.
St. John's leading scorer D'Angelo Harrison finished with 15 points and 5 rebounds, while Amir Garrett chipped in 11 points and grabbed 5 rebounds himself.
The Red Storm plays its next-to-last regular season Wednesday evening at Pittsburgh (15-13).