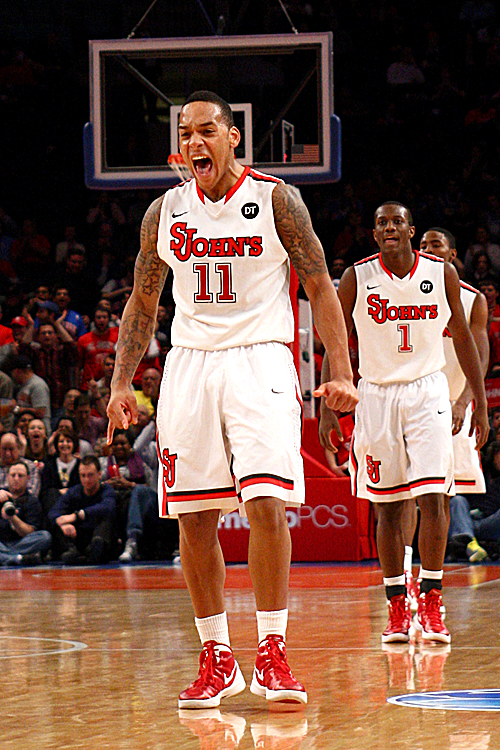 NEW YORK—D'Angelo Harrison scored 22 points and grabbed eight rebounds as St. John's (11-16) edged out the tradition-rich UCLA Bruins (15-12) Saturday afternoon at Madison Square Garden 66–63.
The win snaps a four-game losing streak overall as the Johnnies remain at 4-10 in the Big East.
In addition, the win is the first in two tries for head coach Steve Lavin against his former employer, who still wasn't on the bench coaching as he recovers from surgery, but is doing what he can to help his program.
Said the 47-year old after the win, "The key defensively was the Johnnies' effectively swarming Josh Smith like bees on honey. The collective effort to collapse into the basket area forced UCLA to live mostly with perimeter shots. Offensively the fellas played with both a confident and intelligent approach."
The aforementioned Smith, UCLA's 6'10" 305 pound sophomore center, scored the Bruins first four points off of a pair of dunks but ended with just 13 for the day, despite the fact that no one on the Red Storm is listed within 70 pounds of him (Achiuwa being closest).
What St. John's lacked in height and manpower (only six played, five were freshmen) they seemed to make up for in heart and hustle. The shorter Johnnies more held their own on the boards with their 39 rebounds to UCLA's 40, while their proficiency at the free throw line (14/16) may have been the difference in the game.
Whatever it was, assistant coach Mike Dunlap was happy, "The fact of the matter is we didn't feel good about the Seton Hall game (94–64 loss on Tuesday)."
The Red Storm can certainly feel good about this one.