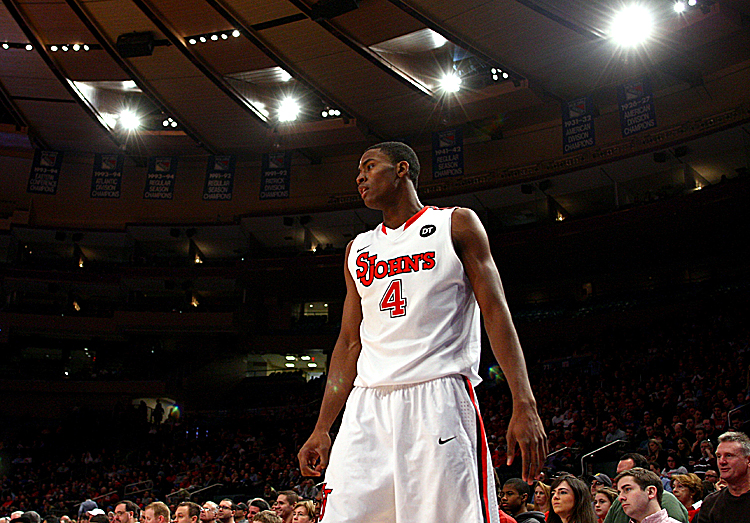 QUEENS—Amir Garrett posted career-highs of 18 points and nine rebounds as the St. John's Red Storm (12-16) defeated Depaul (11-16) Monday night at Carnesecca Arena.
The win is the Johnnies second straight following four consecutive losses and puts them at 11th in the 16-team Big East with a 5-10 record. Though they're not on course for an NCAA tournament bid the numbers are still impressive for a team that plays just six players, of which five are freshmen.
Add to that the fact that the five starters (all freshmen) each logged between 33-40 minutes just two days earlier makes this win a little more remarkable.
"Quick turnaround in less than 48 hours and the heavy minutes that we played tonight that's the story for us we played with a lot heart and we were able to play with them on the glass we took good care of the ball against a pressing team we were scrappier in the second half and that's why we won," said assistant coach Mike Dunlap afterwards.
Guard D'Angelo Harrison led the balanced scoring attack with 23 points, while adding six assists and five rebounds. Four players scored double-digits for the Red Storm who held a slim lead for most of the second half following a back-and-forth first half.
"With four people in double figures, that's lovely, and [Sir'Dominic Pointer] had nine which is balanced scoring. They can't focus on no one in particular when we're playing like this, so that makes us even more of a threat," said Harrison afterwards.
Freshman power forward Moe Harkless continued his stellar season with 14 points and 10 rebounds for  his 11th double-double of the season.
St. John's next game is Saturday at noon against Notre Dame (19-8) at Madison Square Garden.