Tourism dollars from the historic St. Augustine area help Florida's St. Johns Count fund its schools, roads, and bridges.
So when the CCP virus shut down the tourism industry in the United States and the world, the county faced the prospect of a devastating hit to its budget.
Instead, the opposite happened all thanks to the city's proactive measures. So what can businesses do to survive, even thrive, during a pandemic?
Irving Kass, the owner of St. George Inn and Suites, said they had to renovate and reinvent.
"I know it goes against every business model to renovate and spend money during a shutdown," he said. "Everyone thought I was crazy. But it worked."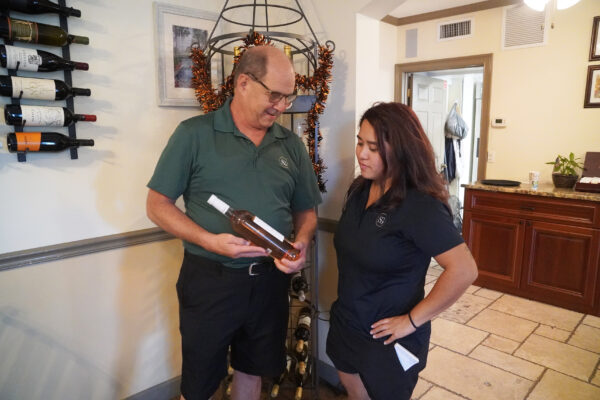 Kass said that St. Augustine was once known as a place that you "came in fourth grade to learn about the history."
Founded in 1565 by Spaniard Don Pedro Menendez de Aviles, St. Augustine is the nation's oldest European-founded city.
St. Augustine was not a vacation destination 25 years ago, Kass said, but that all changed through a combination of reinvention and changes in business models.  The 2008 recession had a lot to do with the progress the city has seen, according to Kass.
"This area is full of people—for whatever reason—maybe a downsizing from the 2008 recession, but there are a lot of professionals here that were once with Fortune 500 companies who had an idea and ran with it," he said.  "There are a lot of competent people here."
Kass said they came to St. Augustine and found a way to "build a better mousetrap," he said laughing.
"The days of buying touristy trinkets are gone. People are now buying upscale things and are being more selective about who they buy for—like someone who kept their dog, or picked up their mail while they were gone; they are buying more things like specialty wine, or a bottle of olive oil that is locally made. People want quality and they are willing to pay for it."
Kass said he noticed consumer behavior has changed since the pandemic thus creating a demand for what St. Augustine has to offer.

"People are reevaluating their lives," he said. "They're spending more flexible dollars because they have been conditioned to believe there may not be a tomorrow."
An August study of consumer sentiment, by the University of Florida, showed a marked drop in Floridians' confidence about the economy. It fell 4.7 points to 78.7 from 83.4 in July 2021. Nationwide the index fell more than twice as much, dropping 10.9 points.
While the state's confidence drop paints a bleak picture, the crowds that fill the streets on a weekday afternoon in historic downtown St. Augustine beg to differ, and it demands the question:  what is the city doing right?
The only thing that Kass can attribute this to is that people were "tired of being locked down" and wanted to visit an area that was safe where they had the freedom to move about as they pleased.  He attributed the success of not only St. Augustine, but Florida as a whole, to the leadership of Republican Gov. Ron DeSantis.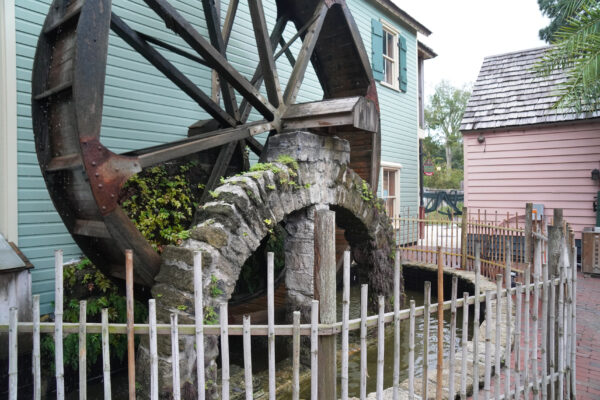 "I think the leadership of our governor had a lot to do with the fact that Florida is doing well," he said. "He gets it."
Barbara Golden, communications manager for St. Augustine, Ponte Vedra and the Beaches Visitors and Convention Bureau, said she was surprised at how the restaurants reacted to the pandemic.
"Most of our restaurants have outdoor seating and those that didn't – well they created it," Golden said.  She pointed to outdoor seating at The Floridian Restaurant that had converted an empty parking lot into outdoor dining. "These businesses not only opened during a very trying time in our lives with the pandemic, but they are thriving. It's just amazing."
A City Investing in Itself
A village population of 14,500 cannot support school and road projects, Richard Goldman president and CEO of the bureau, told The Epoch Times.
"It is the tourist dollars that help fund the county," Goldman said. "A town of this size with little industry cannot promote our good schools."
Goldman said that the city has exceeded pre-pandemic revenue from 2019.
"This is not even our biggest month," he said of the August figures. "Normally, we depend on snowbird season to make our profits, but we are seeing that we are exceeding anything we did in 2019."
Communication was the key to saving their revenue during and after the shutdown, Goldman explained. "That and a little help from St. John's County." Goldman also convinced the city to make "an investment" in tourism. The city gave Goldman and his staff $2 million in grants to achieve his goal.
"We realized that people needed to feel safe over this pandemic, but that needed to be communicated," he said.
Goldman and his staff worked to "get the word out" that St. Augustine was open for business, but above all that it was a "safe place to be."
"We reached out to people who had visited us in the past," he said. "We communicated effectively that way and explained that we had no major COVID outbreaks and that most of our dining venues were outdoors."
Goldman said the city has "put COVID behind them" and is moving ahead, but admits they watch the infection rates and are erring on the side of caution and safety.
Good Wages Keeping Staff Loyal
Recently, thanks to a 2016 constitutional amendment the voters of Florida approved, the minimum wage increased to $10 per hour a month ago, but Goldman said that didn't seem to be an issue with the hospitality industry in St Augustine.
"Mom and pop staffers are loyal," Goldman said. "They are paid well compared to larger entities where they are not, but they are catching on and paying people more, but it still has a way to go."
Goldman said that when things began to "open up again," mom and pop store employees came back and did not leave the area as most did who worked for corporate entities.
"They are loyal because they are paid well," he said. "The minimum wage increase has not affected them (businesses) because they already exceed what the minimum wage is."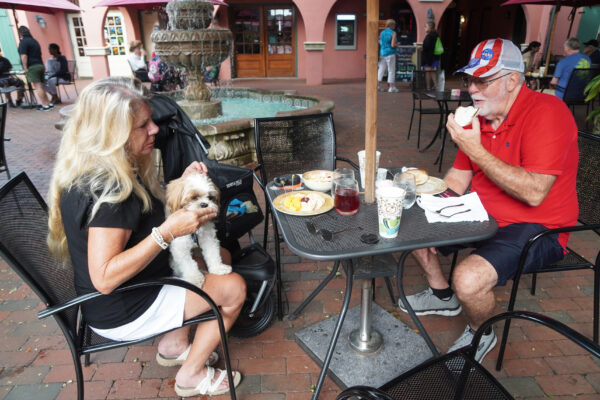 Pet Friendly
Marlane and Jack King are Navy contractors who live in Cocoa Beach and come to St. Augustine often to "unplug" from their busy lives.  They go nowhere, however, without their 3-year-old dog named Cocoa.
Along with their luggage, they bring everything Cocoa needs including her stroller.
After pandemic-related shutdowns, pet owners are returning to the workforce leaving their pets alone when the pet has been accustomed to having the owner home all day. The pers go through separation anxiety, or an intense dislike of being alone.
Lucky for the Kings then that St. Augustine embraces pets and their owners, as there are more than 79 venues that are pet friendly, including hotels, restaurants, carriage rides, and boat tours.
Pet water bowls line the sidewalks of businesses.  Most of the restaurants have outside seating where pets can sit with their owners while dining.
Each year, Marianne and Chet Pielow travel from Los Angeles to visit Marianne's sister in Melbourne, Florida, but they never miss an opportunity to visit St. Augustine.
"We visit every year and absolutely love it here," Marianne Pielow said.