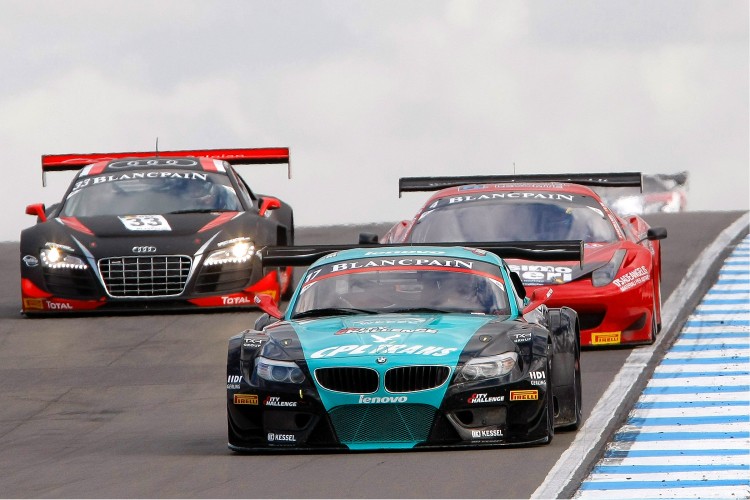 Stephàne Ratel's SRO Motorsport Group, organizer of the defunct FIA GT1 World Championship and several active European racing series racing including the very popular Blancpain Endurance Series for GT3 cars, has confirmed via press release the formation of a new sprint-format GT series, the GT World Series, to run in conjunction with BES.
The new series, first announced on July 27 at a press conference at the Total Spa 24 Hours race, will be scheduled so that teams can compete in both BES and the World Series. Teams choosing to compete in both series will amass points towards a combined title.
Several GT1 teams have expressed interest in joining the new series: 2012 champions All-Inkl.com, AF Corse, Hexis, Heico, Vita4one, Prospeed, Sunred, Reiter, and WRT plan to move from GT1 to the World Series.
The FIA GT1 World Championship, which started in 2010 with ultra-exotic GT1 cars and was reorganized around less-expensive GT3 machinery in 2012, proved to be too expensive. With the grid limited to two cars per team per make, SRO struggled to attract full fields. The series ran its last race Sept. 30.
"This has been the most difficult season in my career as a motorsport promoter," said SRO founder and CEO Stephane Ratel. "But I am glad that despite the cancellation of our overseas events we have been able to respect our commitment to the teams who have trusted us for so many years, who in turn were in a position to honor their contracts with drivers, sponsors and manufacturers. I am certain they all valued our effort and investment in doing so, and will stay with us to build together a brighter continuation."
The new series will allow up to three two-car teams per make, which should vastly increase the number of potential entries. The World Series will also have a Pro and Pro-Am classes, again broadening the potential entrant base.
One popular aspect of the GT1 series was its format, with two one-hour races per event weekend. This will carry over to the new series. BES will continue with its three-hour format.
The new series will alternate dates with BES, with at least two weeks between races, to give teams time to rebuild after events. With the exception of the season opening event in Abu Dhabi, the schedule consists of European tracks, so transport costs are contained.
Currently eleven races have been announced, six sprints and five endurance races; a seventh sprint race is in the works.