Political veteran Ranil Wickremesinghe, who has served as Sri Lanka's prime minister five times, has been reappointed to quell escalating unrest fueled by the country's worst economic crisis in decades.
Wickremesinghe, 73, was sworn in as the country's prime minister for the sixth time on Thursday, replacing Mahinda Rajapaksa, who resigned on Monday following violent protests triggered by his supporters.
Sri Lanka's President Gotabaya Rajapaksa, brother of Mahinda Rajapaksa, praised Wickremesinghe for stepping up to the challenge of steering the nation "through a very turbulent time," and said that he looks forward to working with the new prime minister.
My best wishes to the newly appointed PM of #LKA, @RW_UNP, who stepped up to take on the challenging task of steering our country through a very turbulent time. I look forward to working together with him to make Sri Lanka 🇱🇰 strong again. pic.twitter.com/ysIZGH3wfA

— Gotabaya Rajapaksa (@GotabayaR) May 12, 2022
Wickremesinghe is the leader of the opposition United National Party (UNP). His first stint as Sri Lanka's prime minister was in 1993 after President Ranasinghe Premadasa was assassinated by a suicide bomber, which the government blamed on Tamil Tiger guerrillas.
"The Party requested you to take leadership in parliament and help guide our country through this crisis which has crippled our economy," the UNP stated on Twitter while congratulating him on his appointment.
Some opposition party members questioned his legitimacy of assuming the position with a single seat in parliament and claimed that his appointment did not reflect the people's aspirations, local media Daily FT reported.
"[British Prime Minister Winston Churchill] had only four members with him back in 1939. How did he become prime minister? Because there was a crisis. I have done the same," Wickremesinghe told reporters.
The new prime minister also stated that citizen protests should be allowed to continue without interference from the police.
Thousands of Sri Lankans have taken to the streets to protest the government's mishandling of the country's economic crisis, calling for the resignation of President Gotabaya Rajapaksa and all his cabinet members.
At least nine people died and 219 others were injured after ruling-party supporters attacked anti-government protesters on Monday. The government enforced a nationwide curfew on Wednesday but was unable to contain the riots, according to local reports.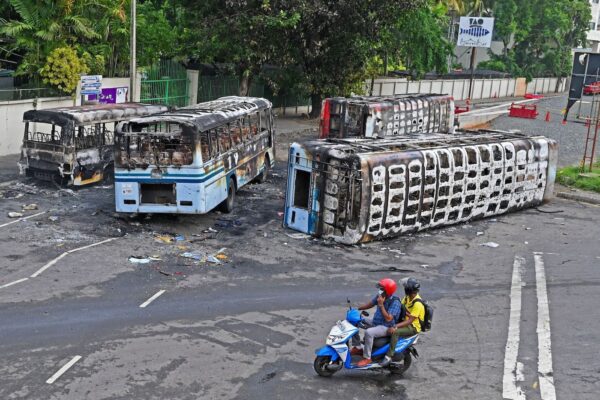 Defense Secretary Gen. Kamal Gunaratne said Wednesday that more than 130 residences and 41 vehicles, including police cars, were burned and "completely destroyed" by protesters after the nationwide curfew was imposed.
"One vehicle only had a driver and ASP [assistant superintendent of police]. They were forced out and the ASP was beaten before the vehicle was torched," Gunaratne said.
On Tuesday, the Sri Lankan Defense Ministry ordered its armed forces to shoot anyone seen looting public property or causing damage in a bid to quell the violent protests.
Ex-prime minister Mahinda Rajapaksa has reportedly gone into hiding on a naval base for his own safety. His son, Namal Rajapaksa, who resigned as sports minister in early April, said that his family will not flee Sri Lanka.
"Neither my father nor myself have any intention to leave [Sri Lanka] and will continue to remain here," Namal said in a tweet, promising his "fullest cooperation" in investigations into the protests.
U.S. State Department spokesperson Ned Price said Wednesday that Washington was concerned by the military deployment and would "closely monitor" the political developments in Sri Lanka.
Sri Lanka is on the verge of bankruptcy, with its foreign exchange reserves plummeting by 70 percent over the past two years, leaving it struggling to pay for essential imports.