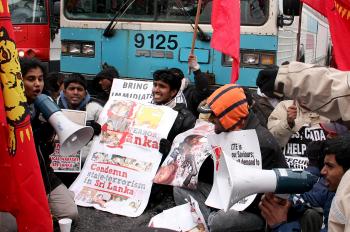 OTTAWA—When the Tamil community in Ottawa and Toronto heard rumours of poisonous gases killing 1,200 of their countrymen in Puthukuciyurucu in the northern part of the island on Saturday, they flocked to Ottawa seeking help from the federal government.
RCMP and local police had to close parts of Ottawa's downtown core Monday and Tuesday as hundreds of demonstrators carrying Tamil flags and chanting slogans swarmed the streets around Parliament Hill. Protests were resumed on Wednesday morning but did not block traffic.
Arul Ananth, a 21-year-old Ryerson student from Toronto, said the demonstrations are in response to "the genocide that is happening back home in Sri Lanka."
Ananth said the main goal of the demonstration was "to get the Canadian government to recognize that there is an issue happening back home, and hopefully for them to intervene and call a ceasefire and stop the fighting between the Sri Lankan army and the civilian LTTE (Liberation Tamil Tigers of Eelam)."
Eelam is the northeastern part of Sri Lanka that the LTTE wants recognized as a separate state. A civil war between the Sri Lankan army and the Tigers has been ongoing on for almost 30 years. The LTTE maintain they are trying to protect Sri Lanka's ethnic Tamil minority. Canada has classed the Tamil Tigers a terrorist organization.

With parliament closed this week, the protesters were unable to speak with any government officials, but hope to "make this a big enough issue that they are going to have to open."
As for whether blocking traffic could make people less sympathetic to the Tamils' cause, Ananth said, "We tried peaceful methods before such as the March 16 demonstration in Toronto [in which 120,000 people formed a human chain] to get public and government attention."
During the demonstration there was recognition, he said, but as soon as it was over "it was a thing of the past."
"We have tried everything from silent protests, fasting, the rallies—nothing happened. So this was our final solution to get attention from the federal government and to let them know that there is a huge population in Canada that thinks our government needs to get involved."
Clashes between the Sri Lankan army and the LTTE have intensified in recent weeks. Security forces say they are making a final push to defeat the Tigers and bring an end to decades of conflict. The Sri Lankan government disputes UN figures that 2,800 civilians have been killed and 7,000 others injured in the last two months.
According to news reports, the Sri Lankan government said on Tuesday that the army rescued 69 civilians who had fled rebels' territory to an area controlled by government troops.
A UN human rights expert warned Wednesday that a bloodbath in Sri Lanka is likely unless government and Tiger forces hold a ceasefire long enough to allow tens of thousands of civilians trapped in a no-fire zone on the island's northeast coast to escape.
More than 100,000 civilians are trapped along with the Tigers who have been cornered in the zone, putting the civilians more at risk, the independent UN expert said.
Worried about his family in Sri Lanka whom he hasn't heard from in months, Ananth is asking Canadians to call their MPs, MPPs, or the federal government urging them to intervene and promote peace talks between the two factions.
"At least make it possible for NGOs to give the people food, medicine, and shelter. These civilians are sitting there under constant attack and have now been bombed with chemicals. Huge numbers of people can be wiped out in a matter of hours."
He hopes that Canadian citizens will "tolerate us a little bit longer until the government acknowledges the problem."
"We are not going to stop until someone from the federal government talks to us and assures us that they will talk with the Sri Lankan government to stop the attacks." A number of protesters are prepared to stay in Ottawa until something is resolved for the Tamils in Sri Lanka.
There were reports of large numbers of Tamil supporters protesting in Oslo, London, and Paris over the weekend.