The 70-year-old bony elephant, Tikiiri, which was featured in viral photos during a parade, later collapsed, according to a local minister and an animal welfare group that posted the original photos on Facebook.
Sri Lanka's tourism and wildlife minister, John Amaratunga, said on Friday, Aug. 16, that an investigation was launched into the matter, NDTV reported. He is asking how the apparently emaciated elephant was forced to partake in a lengthy parade.
The organizers of the parade were blasted by users on social media after the photos were published on the Save Elephant Foundation Facebook page. Organizers later withdrew Tikiiri from the festival, according to reports.
"I have been informed that the elephant collapsed yesterday," Amaratunga said in a statement.
He added: "Considering what has transpired, I have ordered officials to initiate an inquiry and ascertain how and why an elephant in such poor health was used in the perehara (pageant) and to take necessary action against those responsible."
Amaratunga called on wildlife authorities to ensure that it doesn't happen again.
The Save Elephant Foundation, in a statement on Facebook, also said the aging pachyderm collapsed, posting a photo of the animal on its side.
"Please pray for her. It is too tiring for her to walk and work. On the day we met her the vet said she is strong and Ok to walk ???. Some people are blind in their hearts, and care less to others. Look at this poor old girl who has fallen down and the whole world can see her. We can not just let it go silent. Time to stand up and take action to protect the others who still suffer and are waiting for our voice," the post read on Aug. 15.
The foundation, earlier this week, wrote that Tikiiri is "one of the 60 elephants who must work in the service of the Perahera Festival in Sri Lanka this year."
"Tikiri joins in the parade early every evening until late at night every night for ten consecutive nights, amidst the noise, the fireworks, and smoke. She walks many kilometers every night so that people will feel blessed during the ceremony. No one sees her bony body or her weakened condition, because of her costume. No one sees the tears in her eyes, injured by the bright lights that decorate her mask, no one sees her difficulty to step as her legs are short shackled while she walks," the post added.
Boycott
Elisa Allen, director of animal welfare charity PETA, told CNN that elephants are regularly exploited in Sri Lanka.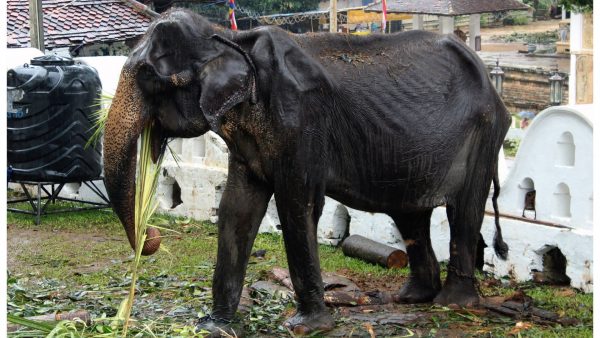 "Sri Lankan authorities must stop allowing such atrocious cruelty and send this poor elephant to a reputable sanctuary where she can be assessed by veterinarians and, if treatment is viable, live out her remaining years in peace," Allen said in a statement to CNN on Aug. 15. "Tourists visiting Sri Lanka can help elephants by refusing to ride them and by avoiding any attraction that offers or endorses elephant rides, keeps the animals chained, or forces them to perform," she added.
Jayantha Jayewardene, the operator of Biodiversity and Elephant Conservation Trust in Sri Lanka, told AFP that he is concerned about the pachyderm's health.
"Obviously, the animal is severely undernourished. It is close to death," he told AFP after seeing the photos. "This should never have been allowed."
An online petition has been circulated about Tikiri, which has garnered 12,000 signatures.
"We ask you the prime minister of Sri Lanka to end this barbaric torture and abuse," the petition says.