India has extended a $1 billion credit line to debt-ridden Sri Lanka, offering support to the island nation as it attempts to ease its worst economic crisis in years.
India signed an agreement to offer Sri Lanka a $1 billion short-term concessional loan facility during Finance Minister Basil Rajapaksa's visit to New Delhi on Thursday, according to the High Commission of Sri Lanka in India's statement.
The loan facility, which will be provided by the State Bank of India, will help the Sri Lankan government to procure food, medicines, and other essential items.
"Neighborhood first. India stands with Sri Lanka. US$1 billion credit line signed for the supply of essential commodities. Key element of the package of support extended by India," India's External Affairs Minister S Jaishankar said in a tweet.
The loan is on top of the $500 million credit line offered by India to assist Sri Lanka in purchasing fuel last month.
Sri Lanka's foreign exchange reserves have fallen 70 percent in the last two years to about $2.31 billion, leaving it struggling to pay for essential imports, including food and fuel.
Opposition leaders and citizens have launched protests around the country, blaming the government for the country's economic crisis, which has resulted in fuel shortages, power cuts, and increased food prices.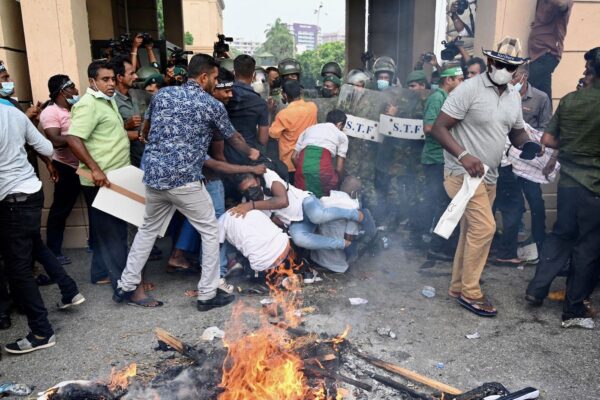 On Wednesday, Sri Lanka's President Gotabaya Rajapaksa announced that his government was in discussions with the International Monetary Fund (IMF) and other international financial institutions on deferring loan repayments.
"Through those discussions, we hope to find a way to pay off our annual loan installments, sovereign bonds, and so on. Subsequent to my discussions with the International Monetary Fund, I have decided to work with them after examining the advantages and disadvantages," Rajapaksa said in a televised address.
IMF's spokesperson Gerry Rice said Friday that the financial institution "stands ready to discuss all options for Sri Lanka."
Speaking to reporters, Rice said that the IMF had highlighted the urgent need for Sri Lanka "to implement a credible and coherent strategy to restore macroeconomic stability and debt sustainability."
Sri Lanka's government had also asked China to help restructure the country's debt obligations and requested that China provide a concessional trade-credit plan for Chinese imports, but it remains unclear whether Beijing will grant the request.
China is deemed to be Sri Lanka's fourth-biggest lender, behind international financial markets, the Asian Development Bank, and Japan.
Reuters contributed to this report.