Sri Lanka has ordered its armed forces to shoot anyone seen looting public property or causing damage in the aftermath of violent protests that killed eight people, including a ruling-party member of parliament.
"Armed forces have been ordered to open fire at anyone looting public property or causing harm to others," the defense ministry said in a statement on May 10.
U.S. State Department spokesperson Ned Price said Washington is concerned by the military deployment and would "closely monitor" the political developments and situation in Sri Lanka.
"We condemn violence against peaceful protesters. We call for a full investigation, arrests, and prosecution of anyone instigating and involved in acts of violence," Price told reporters.
At least eight people died and more than 200 people were injured after ruling-party supporters attacked peaceful protesters in Colombo on May 9. Protesters also torched several politicians' homes.
One of those who died was member of Parliament Amarakeerthi Athukorala, who reportedly fired shots at protesters blocking his vehicle in Nittambuwa and killed one of them before fleeing to a nearby building and committing suicide.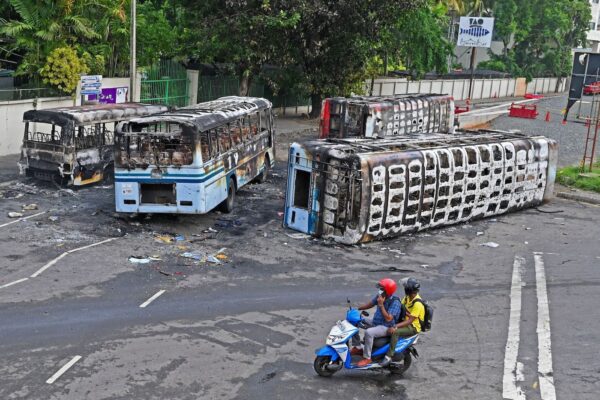 Former Prime Minister Mahinda Rajapaksa resigned hours after the violent protest erupted, and the government imposed a nationwide curfew until May 12, forbidding anyone from being in a public place without permission.
President Gotabaya Rajapaksa on May 10 called on the public to end the violence and vengeance against citizens, regardless of political affiliation.
"All efforts will be made to restore political stability through consensus, within constitutional mandate [and] to resolve the economic crisis," Rajapaksa said in a tweet.
Protests erupted in Sri Lanka, with the public blaming the government for mishandling the country's worst economic crisis in decades. The Private Bus Owners' Association suspended operations on May 6 to join the strike amid diesel shortages.

The country is on the verge of bankruptcy, with its foreign exchange reserves plummeting by 70 percent over the past two years, leaving it struggling to pay for essential imports. The government stated on April 12 that it was suspending foreign debt repayments.
On May 6, Rajapaksa declared an island-wide state of emergency for the second time since April amid sustained protests demanding his resignation.
Under state of emergency regulations, the president is empowered to authorize detentions without a warrant and amend any legislation except the provisions of the Constitution.