Squally Port Shelter to Mirs Bay Race in HHYC Typhoon Series
Yachting—Typhoon Series
July 31, 2013 10:36 am Last Updated: July 31, 2013 10:36 am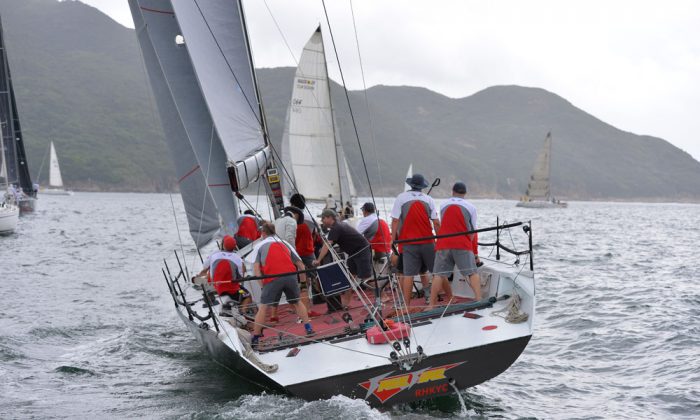 After heavy and persistent rains for over a week in Hong Kong, the Mirs Bay Passage race, Race-7 of the Hebe Haven Typhoon Series set off in squally weather with a good breeze on Saturday July 27.
Two courses were set for the trip from Port Shelter to Mirs Bay.
The IRC-A "big boats" were first to set off on their 21 Nautical Mile (NM) route and after rounding the Club Mark, headed for and rounded East Nine-Pin, before setting course for Gau Tau, the Mirs Bay Mark and the finish.
Except for the smaller Sports Boats, all other boats heading for Mirs Bay took a shorter 17NM course—after rounding the Club Mark, they then went via Basalt Island, Gau Tau, Mirs Bay Mark and finish.
The Sports Boats did not take the trip to Mirs Bay, but raced a 20NM Island course close to home—consisting of the Port Shelter start rounding the Club Mark and then rounding islands; Table and Bay before passing Bluff, rounding Steep and then passing Trio and Table to the finish at Little Palm Beach.

IRC-A
"Freefire" completed the 21NM in just under 2 hours 35 minutes to take IRC-A line honours ahead of "HuaAn" then "Signal 8", but on corrected time "Signal 8" won followed by "Mojito", "Walawala 2" and "HuaAn", respectively. "Mandrake", the series leader in this division, finished sixth, but did enough to retain first position.
In the series standings, "Ambush" has moved into equal first position with "Mandrake", but the next three places ("Signal 8", "Mojito" and "FreeFire", respectively) has not changed, although "Signal 8" has narrowed the gap between her and the two leaders to just one point.
With the top three boats all within two points the last two races will be exciting competitive events.

IRC-B
"Dexter II" had a good race day, taking IRC-B line honours and first place on corrected time finishing two minutes 41 seconds ahead of current series leader "Red Kite II". "Talking Head" then "Gearbox" were the next two to finish, followed "Whiskey Jack" then "Vixen". On corrected time it was "Dexter II" followed by "Red Kite II", "Talking Head" and "Gearbox", respectively.
"Gambit", currently in eighth place, lost a mast during the windy conditions and retired.
In series terms "Red Kite II" (8 points) still leads "Vixen" (14), from "Whiskey Jack" (18) then "Gearbox" (24).
IRC-C
The first three places in the IRC-C class (Impala boats) were taken by "Moll", "Boss Hogg" and "Taxi" respectively.
With series leader "Impala I" claiming fifth place, the gap between the top four boats in the series standings tightened with "Impala I" on 12 points, "Taxi" on 14 points and "Boss Hogg" and "Moll" both on 17 points. But "Impala I" is still in the driving seat as, when a second discard is allowed after eight races, she is set to gain a further point over her closest rivals.
HKPN

Ben Chong in "JeNa PaBe" jumped three places to fourth in the overall standings by winning the HKPN class race. "GA", "Pepper & Salt" and "Jil Jik" took the next three respective places.
Cutting Edge won line honours, but was relegated to seventh place on calculated time.
"Dea II", who came in fifth in this race, is still in a strong leading position in the series standings, while "GA" is in second place and "Ex Libris", who finished in eleventh place in this race, is currently third.
With a good performance in the next race, "JeNa PaBe" is expected to move into second place in the series standings when two discards are allowed. "Jil Jik" has a further 12 points to discard, which could see her move up the order as well. The race for third spot in the series between "Ex Libris", "JeNa PaBe", "Scintilla" and "Jil Jik" is very close and an exciting finish to the series is expected.
Short on crew and one member beginning to feel unwell, "Bits & Pieces" skipper Toby Jenkin-Jones decided to cut their losses. Summing up the experience Kay Patterson told the Epoch Times two days after the race.
"With only four of us [on board] and Andy [Andreas Konrad] wasn't feeling good, so when we saw bad weather we knew we would have problems with sail change and general safety. So [we] called it off while we could still get back okay.
"Very glad we did as we hit horrible stuff, but fortunately by then we had foresail down. Bit of a broach and I got in the sea up to my knees, but back safely," she explained.
"Going back was a good call and we knew it would have only got worse. As we came through back passage our boom was banging and crashing all over in the wind shifts. Accidental gybes and then unable to gybe when we needed to.
"Very tiring, I am suffering today!" Patterson concluded.

Sports Boats
Sports Boats completed an Islands course and did not take part in the Mirs Bay Race.
R2B2 notched up their first win of the series followed by "Catch 22", "Merlin" then "FreeFire It's My Pleasure".
"Merlin", "Fly By Wire" and "R2B2" are first, second and third respectively in the series standings.
Next event
The Hebe Haven Quest Yachting Summer Saturday continues this coming Saturday Aug 2 with two geometric courses in Port Shelter.