Espionage and foreign interference have become a more serious threat to Australia than terrorism, the boss of the country's spy agency, the Australian Security Intelligence Organisation (ASIO), told a Senate estimates hearing on Feb. 14.
This comes amid revelations that ASIO disrupted a plot by an agent, referred to as the "puppeteer," acting on behalf of an unnamed foreign power, thought to be the Chinese Communist Party (CCP), to bankroll potential Manchurian candidates for the Australian Labor Party (ALP) in the state of New South Wales (NSW) in this year's upcoming federal elections.
In his opening statement, ASIO Director-General of Security Mike Burgess said spying and foreign interference threats now outpaced terror threats in Australia.
"Threat to life will always be a priority for ASIO and our partners, but it's important to note that espionage and foreign interference has now supplanted terrorism as our most serious security concern," Burgess said.
"This is not to downplay the significance of terrorism. In terms of the scale and sophistication, though, espionage and foreign interference threats are outpacing terrorism threats, and therefore demand more attention and resources."
Burgess made his statement before a Senate estimates hearing, where he answered questions about his annual threat assessment speech on Feb. 9, when he revealed the foreign interference plot—though he did not name any specific country.
"I deliberately chose not to identify the election, jurisdiction, party, the individuals that were targeted, or the country attempting to conduct the interference," he said.
"As I stated in the speech, I'm not going to identify the jurisdiction because we're seeing attempts at foreign interference at all levels of government, in all states and territories.
"Attempts at political interference are not confined to one side of the politics, and you'd be surprised by the range of countries involved," Burgess said.
The revelations in the threat assessment speech prompted Defence Minister Peter Dutton to declare, during Question Time in parliament on Feb. 10, and repeat in an interview with the Australian Broadcasting Corporation (ABC) on Feb. 11, that the foreign country was China, and that the CCP would prefer to see the back of the Coalition in favour of an ALP government under Opposition Leader Anthony Albanese.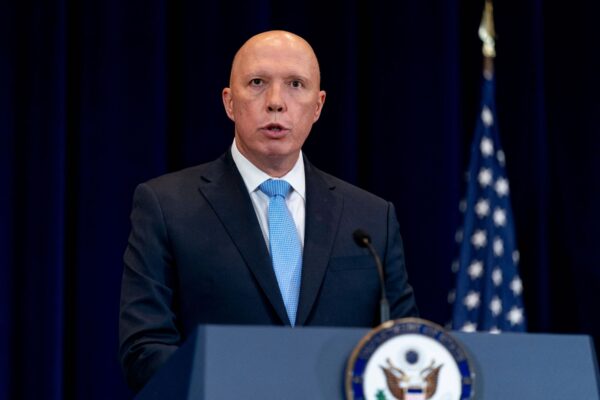 With Beijing's foreign interference in Australia and around the world well-documented, Dutton said the ALP needed "greater awareness" of those it engaged with who "don't have our national interests at heart."
"The U.S., at the moment, has 12,000 cases [of foreign interference by China] under investigation [by the FBI]. ASIO will be looking at matters themselves of [political] interference in Australia," Dutton said.
Dutton's Question Time outburst initially led to speculation by the ABC— who cited anonymous intelligence sources—on Feb. 10 that the source of the interference was Russia. However, on Feb. 11, a report from The Sydney Morning Herald and The Age, citing their own anonymous intelligence and security sources, declared the CCP was, in fact, behind the conspiracy.
This report led ALP leader Albanese to tell reporters on Feb. 11 that Burgess had informed that potential candidates were ultimately not preselected.

Further, Albanese said he had spoken to Burgess that same day, who Albanese said had "reaffirmed" that he "has not raised concerns" of foreign interference with any current ALP candidates in the upcoming federal election.
Burgess, who told the Senate estimate committee he wouldn't normally talk about his conversations with people, confirmed Albanese had given "an accurate account" of their conversation.
Sen. Kristina Keneally, Labor's deputy opposition leader in the federal upper house, sought to clarify with Burgess if the anonymous so-called intelligence and security sources cited by the ABC and The Sydney Morning Herald and The Age were ASIO staff.
"And what might constitute a quote 'security source?' Is it necessarily an ASIO employee or could it be anyone who had access to security material?" Keneally asked.
"I would take that in the broad," Burgess said.
"'In the broad.' So it does not necessarily mean it's an ASIO employee?" Keneally asked.
"Right. That's correct," he said.
"Right. So for example: people you brief, their advisors, people who have access to written briefings on secure servers, … and when we talk about 'broad,' is that the type of broad?" she asked.
"By its very definition: broad. There are many people, not just in my organisation, that fall into that category," Burgess said.
The Sydney Morning Herald and The Age also revealed that ASIO had brief Prime Minister Scott Morrison and Albanese on the conspiracy, but that the NSW Labor branch were left unaware of the alleged electoral interference.
"NSW Labor can confirm that no national security agency has ever raised these alleged matters with the parliamentary leadership or the organisational wing of the NSW Branch," NSW Labor General Secretary Bob Nanva wrote in a statement published on Twitter on Feb. 11.
Senator Seeks Confirmation on Name of 'Puppeteer' Behind Election Interference Plot
Australian Sen. Kimberly Kitching—a Labor member of the Inter-Parliamentary Alliance on China—used her parliamentary privilege to ask Burgess in the hearing if the "puppeteer" of the alleged foreign interference plot was billionaire Chinese-Australian political donor Chau Chak Wing.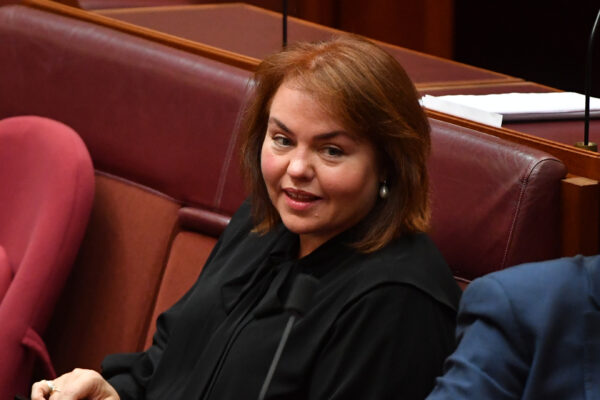 "I'm reliably informed that the puppeteer mentioned in your case study in your annual threat assessment speech last week is Chau Chak Wing. I believe it to be Chau Chak Wing. Are you able to confirm that it is Chau Chak Wing?" said Kitching, while protected by parliamentary privilege.
"Senator, as I've said before, I will not comment upon speculation of who is or who isn't targets, in general or in specific, as you're asking me there," Burgess said.
"I think it's unfair that you ask me that question in public."
Chau has won defamation lawsuits against the ABC and Nine newspapers over imputations in reports that he was a member of the CCP and its overseas influence body, the United Front Work Department, and that, among other things, he donated enormous sums of money to political parties to influence their decisions on behalf of Beijing.