SHERMAN OAKS, Calif.—Angela Marsden was unexpectedly thrust into the media spotlight when she went viral for her fiery grievances against Los Angeles County's COVID-19 restrictions, which prohibit outdoor dining, after an NBC comedy production was allowed to have a similar outdoor setup next to her restaurant, the Pineapple Hill Saloon.
To her, it was a clear display of the city enforcing the rules unfairly.
"Either they're not thinking, they're doing it intentionally, or maybe they're not doing it intentionally, but they just are so out of touch with the middle class and the lower middle class," Marsden told The Epoch Times.
For Marsden, the incident was a call to action. Amid uncertainty, she has become a vocal leader in her community, hosting brainstorming sessions to come up with solutions, organizing protests outside officials' homes, and filing lawsuits to reopen her restaurant.
As state-mandated restrictions persevere and the COVID-19 pandemic continues, stressed owners and employees of restaurants and small businesses, holding on by a thread, are joining her efforts and calling for local leaders to support outdoor dining and loosen restrictions on the local economy.
Creating a Think Tank
In an effort to brainstorm solutions with other struggling businesses across the Southern California region, Marsden held a think tank event on Jan. 7 outside of her restaurant in Sherman Oaks, with dozens of restaurateurs and small-business owners in attendance.
"It's not about politics, it's about our community," Marsden told the gathering. "It doesn't matter your color, your race, your belief. We are all in this suffering together, and we have to do something."
The attendees brainstormed different options to help their businesses: organizing more protests, hosting press conferences, and starting GoFundMe campaigns.
One commenter suggested putting up signs with a common catchphrase in front of all their businesses, hoping to get more media attention. In Stockton, California, a catchphrase has taken hold, with local businesses putting signs out front saying, "Sorry, We're Open."
Marsden belittled the $600 she and her staff had been given by authorities. "The ice cream in that … refrigerator was more than $600," she said.
The group appeared restless and expressed anxiety over the lack of resources available to them. Some asked what options they had to keep the lights on.
Hands shot up with questions. Others provided encouraging comments. The forum chimed to the tune of a protest, with voices echoing chants often heard at reopen marches.
"No violence," Marsden told the crowd. "We have to use legal tools."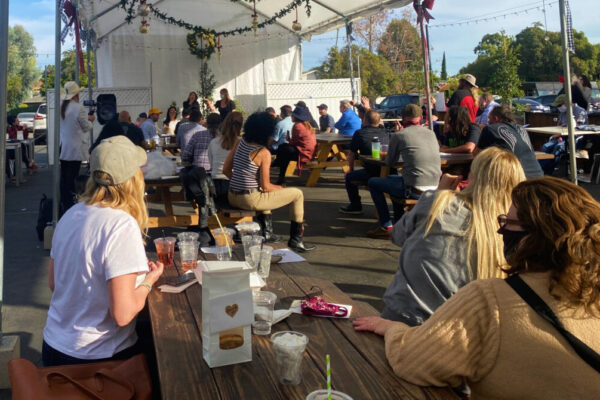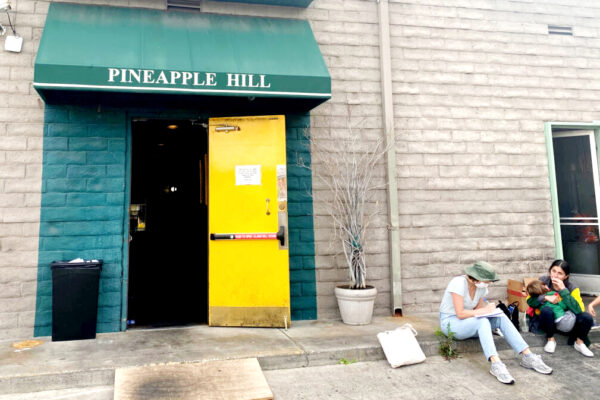 Restraining Order
Marsden announced she is in the process of filing a restraining order against the state to prevent officials from enforcing restrictions on all restaurants. Attorney Alexandra Kazarian from the office of Geragos & Geragos is representing her.
"If we win the restraining order, everybody gets to open outside," Kazarian told The Epoch Times. "Angela is telling the state that they can't make any more orders shutting people down."
Kazarian said the lawsuit is "just like a normal restraining order, telling someone else to stay away"—except in this case, "restraining the county from making everybody close down."
Marsden previously filed a federal lawsuit against the county in December, arguing that the county, "in a gross abuse of their power, have seized the Coronavirus pandemic to expand their authority by unprecedented lengths."
Like many restaurants, Marsden had created an outdoor dining setup at her restaurant to accommodate for mandated restrictions. Restaurants were allowed to reopen for a period with modifications, including takeout and delivery only, until local hospitalization numbers triggered new shutdowns in December.
That's when she saw the NBC production set up only a few feet away from her restaurant. "I'm losing everything, everything I own is being taken away from me, and they set up a movie company right next to my outdoor patio," Marsden said tearfully in the video that went viral.
Kazarian said criminal defense lawyer Mark Geragos, a renowned celebrity attorney who is president of the firm, owns five restaurants himself, so the case hits close to home. Geragos has previously represented Michael Jackson, Gary Condit, Chris Brown, and Winona Ryder.
"Obviously owners want to make money, but they don't want to fire their employees that they've been loyal to," Kazarian said. "Angela is talking about opening up so that the people that love you can come in, customers and employees and people that need the restaurant, because it's a sense of community."
Kazarian said the restraining order "is basically asking a judge to make a case instead of waiting until the end of the case."
"If we win the restraining order, the lawsuit doesn't go away, it still goes forward. But we get to stay open while the lawsuit goes forward," she said.
Kazarian said she believes they have a strong case, because Geragos previously won a lawsuit against LA County to allow one of his restaurants to open outdoors.
Kazarian and Marsden hope to attract more struggling restaurants to their cause.
"The more plaintiffs we have in Angela's lawsuit, the greater the impact and the easier we can show how damaging it is, instead of just having one restaurant," Kazarian said.
Yoga Studio in a Bind
"This is definitely more restaurant-geared—which is great, because they've gotten a lot of press, and there's a lot of support behind the restaurant industry—but our industry's gotten zero attention," Alexandra Del Gaudio told The Epoch Times.
Alexandra and her sister, Daniela Del Gaudio, founded The Wild Plum in 2017, a yoga studio in San Fernando, with money they saved for nearly a decade. They attended Marsden's think tank event hoping to find some answers for their business.
When COVID-19 restrictions shut down their studio, they wanted to apply for the Payroll Protection Program through Chase, their primary banker. But the bank sent them an email stating they weren't ready for applications.
"They said they will backlog and let us know. A follow-up email never came," said Alexandra.
Eventually she called them again. "I finally get on the phone with someone and they tell us, 'I'm sorry, miss, there is no more funding.' They didn't even give us a chance."
Alexandra said she was frustrated that Gov. Gavin Newsom's Napa Valley winery received $3 million in federal assistance "because he had an entire team of people, lawyers, accountants, and great financial analysts."
"It's like the most privileged and the ones that have the most resources" received the most assistance, she said. "All of us that really need it, we literally are at the point where, do we close?"
Daniela told The Epoch Times the two tried moving their yoga business online, but didn't make any money through their Instagram Live accounts.
"There's no takeout version of yoga and wellness, or even facials," she said, adding that people are now conducting business under the table to avoid the binding restrictions.
"They're forcing people to do things in an illegal way. … People are now doing treatments in their homes," she said.
"It's so easy for them to sit on Capitol Hill and make these declarations when they're not suffering in any way. Nothing's changed in their life."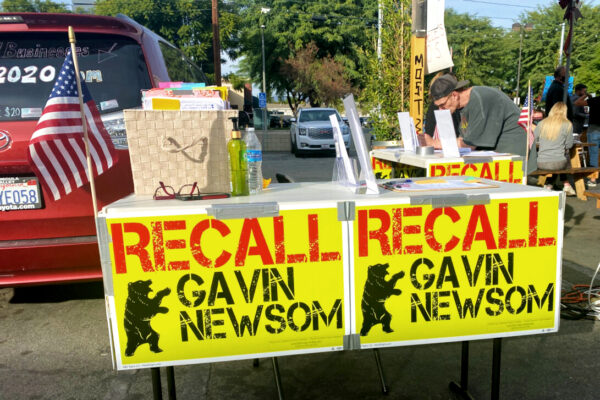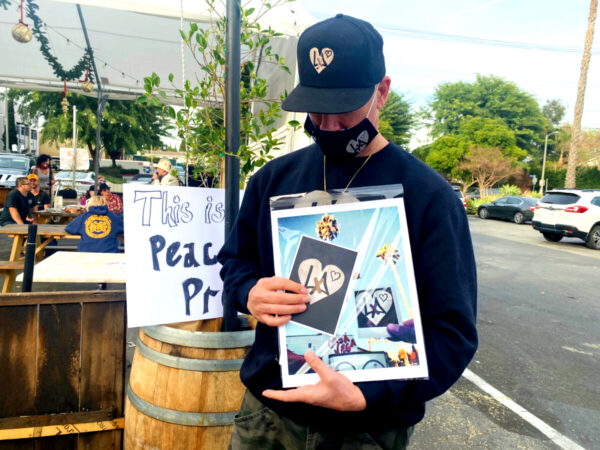 Life of an Artist
Also attending Marsden's think tank was Ponti Lambros, the owner of Art Rebel, in Thousand Oaks, who told The Epoch Times, "I don't know if I'll survive."
His 14-year-old art studio has been closed since March 2020 due to the restrictions.
"It's been a very humbling experience. I haven't made any money since March. I've been bleeding, and mental health was the biggest issue that I faced," he said.
Lambros is preparing to introduce mental health resources and activities for people stuck in quarantine. He has already launched a campaign called the LA Love Project, where people can pick up artwork stickers and take them to their favorite spots in the city to support local business owners.
"I started with my city of LA because I felt we had a broken heart, and the whole idea is to reconnect with the city," Lambros said. "We also launched a whole line of [merchandise], and all proceeds go to small businesses."
As he gets ready to relaunch a modified version of his brand, Lambros hopes he can make a positive impact through his projects to support other struggling businesses.
Meanwhile, Marsden said she'd be spending more money keeping her restaurant open for takeout only—so she has decided to close the Pineapple Hill Saloon until she can reopen for dining.
Shortly after her viral video, she created a GoFundMe campaign, hoping for $10,000 to keep the lights on. She's now raised over $200,000.
The outdoor dining ban on restaurants, breweries, and wineries was set to expire on Dec. 27, but has been indefinitely extended as the pandemic continues to rage throughout Southern California.