Cale Gundy, a long-time assistant head coach for the Oklahoma Sooners, announced his resignation on Aug. 7 over an unspecified word he "read aloud" during a film session.
The 50-year-old coach said in a
statement
on Twitter that he "should never—under any circumstance—have uttered" the word after he picked up a "distracted" player's iPad and read aloud the unspecified term displayed on his screen.
"I instructed my players to take notes. I noticed a player was distracted and picked up his iPad and read aloud the words that were written on his screen," Gundy said, noting that the words displayed had nothing to do with football.
"I want to be very clear: the words I read aloud from that screen were not my words," he declared. "What I said was not malicious; it wasn't even intentional. Still, I am more mature enough to know that the word I said was shameful and hurtful."
Gundy, who had been with the program as an assistant since 1999 and is also the brother of Oklahoma State Cowboys head coach Mike Gundy, apologized in the statement, saying it's the "unfortunate reality" that someone in his position "can cause harm without ever meaning to do so."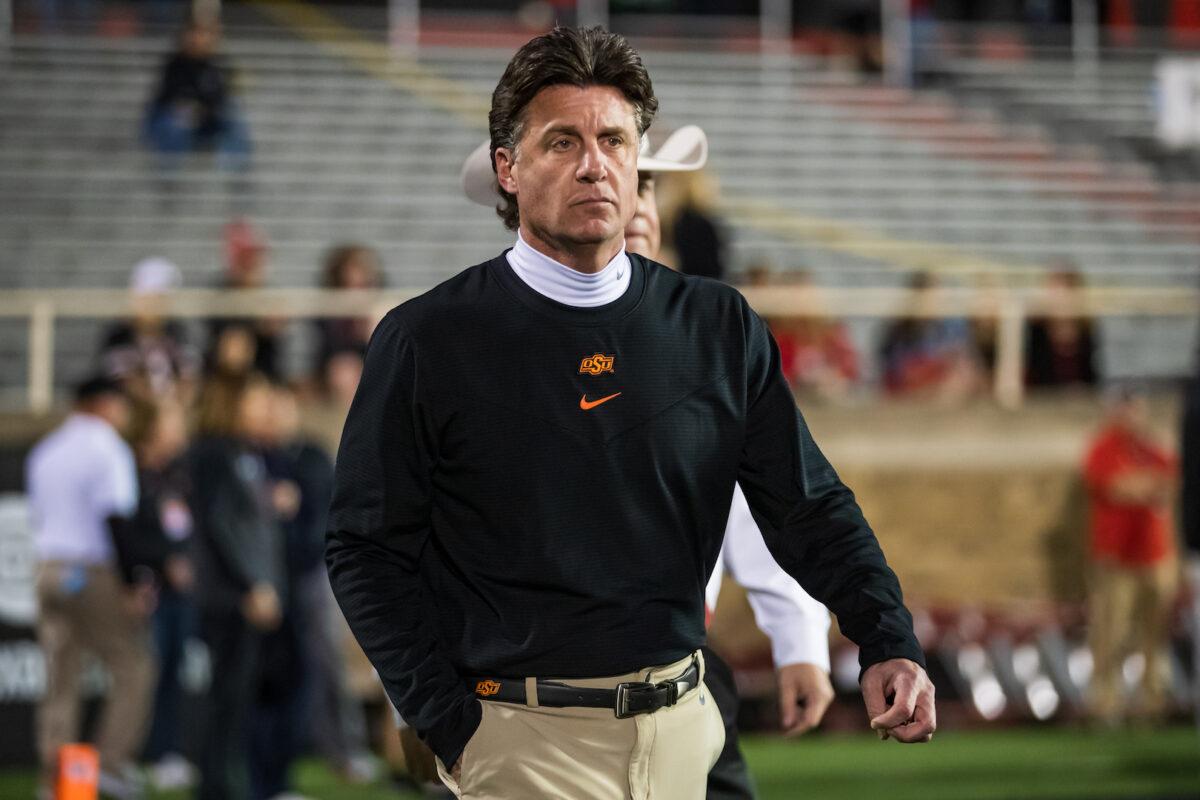 "In that circumstance, a man of character accepts accountability. I take responsibility for this mistake. I apologize," Gundy said. "In the moment, I did not even realize what I was reading and, as soon as I did, I was horrified," he added.
The word itself and the context around its use have not been revealed.
Brent Venables, head coach of the Sooners, released a corresponding
statement
on Aug. 8, saying anyone associated with the program is "accountable" for his or her actions.
"It's with sadness that I accept coach Gundy's resignation," Venables said. "He's dedicated more than half his life to Oklahoma football and has served our program and university well. We're thankful for that commitment."
Gundy noted in his post that a second factor for his resignment is due to him not wanting to be a distraction for Oklahoma football.
"I recognize this is a critical moment for Oklahoma football," Gundy wrote. "This team—its coaches, players, administration and fans—do not deserve to be distracted by off-the-field matters while working to continue the tradition of excellence that makes me so proud to be a Sooner."
Venables revealed that L'Damian Washington, an offensive analyst, will replace Gundy and coach the team's wide receivers on an interim basis.
Gundy has been part of all the Sooners' Big 12 titles and its national championship season in 2000,
ESPN reported
. He spent the last seven seasons coaching wide receivers after spending the previous 16 seasons coaching running backs. He was among the holdovers when Venables took over as head coach in December 2021.
He played quarterback for the Sooners from 1990 to 1993, setting nearly every school record by the time he graduated.
Joe Mixon, a former running back for the Sooners whose currently a starter for the Cincinnati Bengals, supported Gundy in a
lengthy letter
, explaining he owes his professional career and education to him, describing the coach as a "caring," "experienced," and "selfless" man.
"Most importantly ... Gundy is not, and I repeat, is not a racist in any way nor has a racist bone in his body, mind, or soul," Mixon said, noting that the coach was always there for him and all of his teammates.
"No favor was too big, no ask too small, no advice too meaningless," he added. "He is a father figure, a mentor, coach, and best friend to me. He always had my best interest at heart and spent every moment enrichening my life, educating me, mentoring me, and making sure I was the best version of myself."
"Without him, I am not the person I am today, the player I am in the NFL, or the teammate I am," Mixon went on to say, concluding that he would be "extremely disappointed" with the football program if Gundy would not be allowed to continue as coach.