Spitzer Brings National Attention to Local Comptrollers Race
July 9, 2013 6:05 am Last Updated: July 9, 2013 12:29 am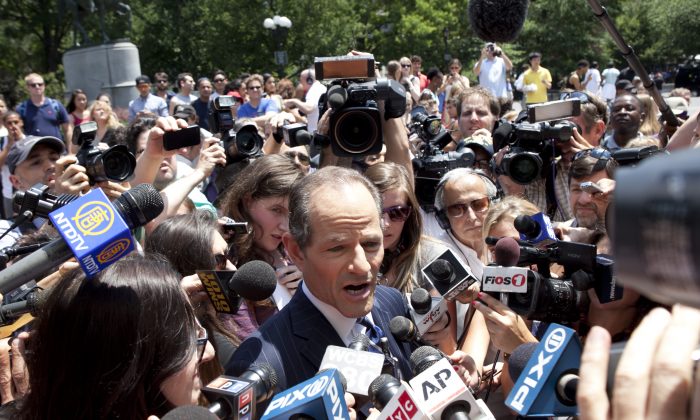 NEW YORK—The race for city comptroller, which had garnered little local relevance for months, gained national attention on Monday with former New York Governor Eliot Spitzer making his first media appearance after jumping into the race on Sunday evening.
Spitzer, who resigned his post as governor in 2008 after articles surfaced he was a client of an escort service, said he had debated entering politics again, and after a mulling it over this weekend, decided to go for it.
"It was a moment when I was sitting there saying, 'I want to serve.' I think the public is willing to give me a second shot," Spitzer said.
On Monday over 50 members of the press surrounded the newly made candidate, grilling him on his illicit affair five years ago and on why he deserved to get a second chance to serve New Yorkers.
Joey Boots from the Howard Stern Show called "Ba-ba-booey" repeatedly, heckling Spitzer about sleeping with someone other than his wife. Spitzer, surrounded in the media crush, never seemed to break stride, or acknowledge the comments.
"I have skin as thick as a rhinoceros. That is what you need in this town," Spitzer said with a laugh.
Not everyone was spiteful, with some even willing to forgive.
"He was a good governor; as attorney general he has done a lot for the community as well, said Cleonie Simplair, of Brooklyn. "I can't just take one mistake he made and turn it against him because we all make mistakes."
This is the second time this election season New York voters have been asked to forgive the sexual transgressions of a candidate. Anthony Weiner, who announced his candidacy for mayor in May, spent the first several weeks of his candidacy facing a media circus.
In 2011, Weiner was caught in a scandal after he lied about sending lewd photos of himself via Twitter. He resigned from Congress and stayed under the radar until May of this year.
Much like Weiner, Spitzer hopes voters are willing to look past his personal behavior and remember his record as a tough-as-nails attorney general and governor.
"I think the public will look at my record as attorney general, as governor, as a prosecutor in the D.A.'s office, my writing, my teaching, and perhaps give me an opportunity to serve once again," Spitzer said. "If I am afforded that opportunity it would be a great honor."
 A few miles uptown, on the city's Upper West Side, Scott Stringer held his own media availability later in the afternoon. It was not close to the circus the noon session with Spitzer had been, however, there was a noted uptick in press interested in the comptrollers race.
"I heard you guys were looking for me," Stringer joked, as he stood side by side with his wife Elyse.
Spitzer, who was married at the time he solicited the prostitute, did not have his wife by his side, saying she was at work. The New York Post has reported Spitzer had split from his wife Silda, however, he refuted the claim, saying she would be by his side during the election.
Stringer appeared unfazed by the new competition in the comptroller race.
"I never believed this would be a walk in the park. It shouldn't be," Stringer said. He said his campaign believed Weiner or Spitzer would try and enter the comptroller race after hearing of polling calls with the disgraced politicians names in them.
Despite persistent questions about Spitzer, Stringer preferred to talk about his record of 20 years in government service, which most recently includes his post as the Manhattan Borough President.
"This is not a race about Eliot Spitzer," Stringer said. "This is a race about how we will fight for a city."
Media focus will continue to be on Spitzer, at least through Thursday as he must gather 3,750 petition signatures to be included on the ballot. He did not believe it would be a problem, especially considering all the press coverage.
Assuming he gets on the ballot, Spitzer and Stringer will duke it out for a short race to the September 10 Democratic primary. The winner will face Republican candidate John Burnett, who also recently announced his candidacy, assuming Burnett gathered enough required signatures.
The race certainly has changed for the position of comptroller, which is the Chief Financial Officer for the city, with duties including auditing city contracts, and managing pension funds.
But for Stringer, it appears business as usual. "The only thing that changes is more of you follow me around," Stringer said.