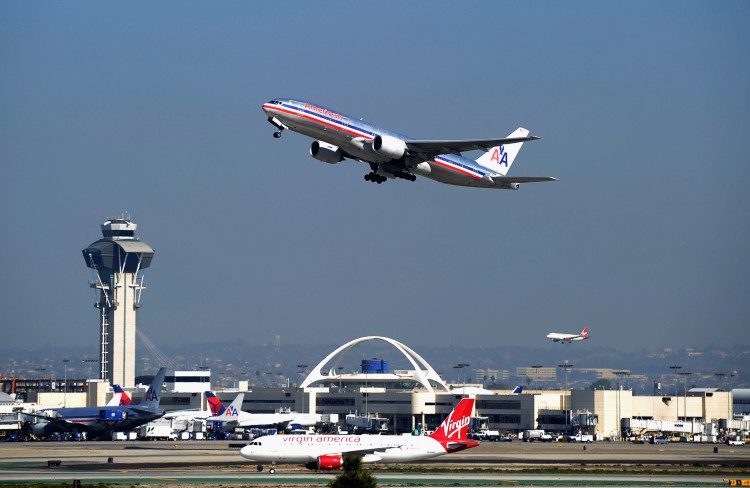 If you visit the Spirit Airlines website looking for a flight you might be surprised by what you see.
A prominent banner on their homepage reads: "Warning! New government regulations require us to HIDE taxes in your fares."
The overtly political message on the discount carrier's website has been up for two weeks since new rules from the Department of Transportation (DOT) went into effect. In addition to some basic-sounding provisions—like refunding luggage fees for lost luggage and making sure lavatories are available after two hours stuck on the tarmac—the new rules also require that airlines advertise the final flight price, including both taxes and fees.
The regulations could put an end to the sometimes shockingly low fares advertised by Spirit, including flights under $10 to specific destinations. (Though Spirit is still able to list generic $9 flights with fine print explaining you must sign up for their Fare Club for $59.95 a year.)
The DOT sees it as a matter of transparency, benefiting consumers. Transportation Secretary Ray LaHood said in a release, "The Department of Transportation's new passenger protections will help ensure that air travelers receive the respect they deserve before, during and after their flight."
Spirit, and discount carriers Southwest and Allegiant, are crying foul. They have filed a lawsuit against the DOT, saying the new rule actually moves away from transparency, since the advertised price now hides the taxes imposed by the federal government.
"It is essentially less disclosure than consumers used to have and it hides what they are paying the airline versus what they are paying the government in tax," said Spirit CEO Ben Baldanza in an interview with the Heritage Foundation, a conservative think tank, on Feb. 4. "We think that that is not consumer friendly."
The message on Spirit's website charges: "If the government can hide taxes in your airfares, then they can carry out their hidden agenda and quietly increase their taxes. (Yes, such talks are already underway.) And if they can do it to the airline industry, what's next?"
Sen. Barbara Boxer (D-Calif.) quickly shot back with an open letter to Spirit posted on her website, stating: "I have been shocked by the failure of your airline to tell the truth."
"What the rule says is that you have to tell your customers the full cost of a ticket … And despite Spirit's claim that the airline must now hide relevant information, the rule 'allows carriers to advise the public in their fare solicitations about government taxes and fees …'" wrote Sen. Boxer.
Prior to the new rules, airline customers could quickly learn the real cost of an alluringly priced ticket by visiting an airline's website. Conversely, now that the rule is in effect, it is equally as simple to find out the taxes imposed and protest them—as Spirit has done.
For Spirit, the reality is more of a communications campaign than a political one.
Baldanza admits that Spirit's offensive against the DOT is a way of communicating with their customers.
"If they haven't bought travel for a few months or maybe a year in some cases, it would just look to them like the airfare increased dramatically and we want to make sure they realize the law has changed," he said.
24-Hour Rule
Less talked about, but more significant, is another new rule from the DOT requiring airlines to hold a reservation or refund it for up to 24 hours, as long as it's more than one week before the flight.
Baldanza opposes the hold. "People love the idea of not having to commit to a reservation, but this regulation, like most, imposes costs on consumers," he said in a release.
The CEO claims when a reservation gets held for 24 hours and then not booked or is refunded, that's less time when someone else could buy it, increasing the chance that it won't be purchased and costing the airline business.
Spirit is imposing on each flight a new $2 DOTUC fee, which stands for "Department of Transportation Unintended Consequences Fee." The airline says the fee is to compensate for the increased cost to business imposed by the 24 hour hold.
"Regulators like to try to sell the idea of this rule, but have ignored the cost impact to consumers," said Baldanza.
On his blog The Travel Insider, David Rowell calls the reasons for the fee "invalid," and counters that all airlines will have to conform to the 24-hour rule, and the customers Spirit loses will be made up for by customers that Spirit gains from other airline shoppers.
"Cancellations are nothing new to the airlines. This is why airlines oversell seats—to reflect the reality that not all passengers travel," Rowell explains.
But Baldanza says that low fare carriers like Spirit depend on "discretionary" travelers, as opposed to corporate travelers and travel agents. Discretionary travelers might simply not buy an airline ticket if the opportunity isn't there at the moment.
"We tend to sell direct to consumers more than most airlines," he said.