Special Agents Assault Gao Zhisheng
July 10, 2006 12:00 am Last Updated: July 10, 2006 12:00 am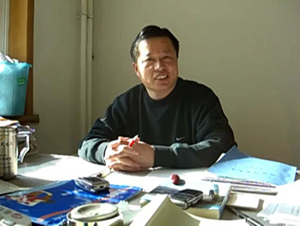 On July 9, renowned Chinese human rights attorney Gao Zhisheng encountered over 30 minutes of a special agent's physical and verbal abuse as he was leaving his home. This is the second time the Chinese Communist Party (CCP)'s special agents have publicly harassed Gao within a period of less than a month.
The authorities also have agents to infiltrate the petitioners' villages in Beijing and spread rumors about attorney Gao. The rumors accuse Gao of hiring people to go to Tiananmen Square and attack the governmental departments. The CCP is aggressively sowing seeds of false evidence in order to one day bring charges against Gao and send him to prison.
A Special Agent Outside Gao's Home Assaults Him
On July 9, as attorney Gao was walking down the stairs of his building, a stout special agent, about 5 ft. 6 in. tall, intercepted Gao, stepped on his shoes and said, "You insane lowlife, who are you going to write about and scold in your article today?"
Though Gao ignored the intrusion, the special agent began to slap Gao's left cheek repeatedly with his right hand and bawled out a string of curses.
After Gao pushed away the special agent's hand, the agent reached for and grabbed Gao's neck. Gao responded by grabbing the agent's neck. This continued for roughly half an hour in the courtyard. Gao said, "I couldn't leave. As soon as I tried, they would block me."
Gao said, "I can't even bear to repeat the insulting words those special agents used. He said, 'Calling you an insane lowlife is even being too polite because in the communist world, people like you can only be a [dirty word omitted].'"
During the conflict, the agent threw bricks at Gao, and Gao returned the same. There were over one hundred people watching the dispute at the scene and from their windows. Gao suspects that other special agents were taking pictures of the incident from a distance. Gao finally withdrew.
Gao said, "If I didn't leave, he could have plagued me for the whole day, since it is his job anyway."
Neither Gao nor the special agent were injured in the affair.
Special Agents Assaulted Gao Less Than a Month Ago
On June 21, Gao heard the news that the CCP special agents had surrounded the mother and son of the blind human rights activist Chen Guangcheng. When Gao dashed out of his house to call a taxi to visit them, several special agents assaulted him.
That day, Chen's mother and son were kidnapped and sent out of Beijing. On June 22, Gao and others passed out flyers about Chen's situation on the streets of Beijing. The agents following them appeared worried and called the police. While the police and the agents stood aside waiting for orders, Gao and his friends passed out five to six hundred flyers.
Both Assaults Related to the Case of Chen Guangcheng
Normally, when the special agents follow Gao around, during his morning workout or his daytime activities, they never speak to Gao except when abusing him. Gao told the reporter, "It is obvious that those agents were ordered not to talk to me. From this I can see that whatever these agents do to me is ordered by higher levels of authority. Therefore, the special agents at the scene can only stand by and watch our proceedings because they do not dare to decide how to deal with me."
On July 9, after Gao Zhisheng was assaulted by the special agents, he said, "When Chen Guangcheng's mother was abducted, I told my friend on the phone that I wanted to go and stop it. When I ran downstairs, the special agents cursed me loudly and spat at me. Yesterday, I discussed with my friends over the phone that I would go to Shandong Province to audit the court hearing of Chen Guangcheng. I think the abuse happened because the agents overheard these phone calls."
Gao Zhisheng told the reporter that people who have contact with him are also harassed. For example, the Hui (an ethnic minority group in China) representative, Ma Jianshe, was arrested by authorities because he "made contact with Gao Zhisheng, who defends Falun Gong", as the police put it.
For the incidents that he and other Chinese people encountered, Gao Zhisheng appealed to the world, "We hope the outside world would pay attention to our situation. The Chinese Communist Party has already gone out of their minds."
The CCP Is Trying to Frame Gao and Send Him to Prison
A petitioner revealed that in the recent week, the CCP has hired people to infiltrate petitioner circles and spread the rumors about Gao, saying "Gao Zhisheng would pay a lot of money to hire petitioners for a gathering in Tiananmen Square. Whoever wants to join can sign up. Attorney Gao said no matter how many people join, he can afford it." A petitioner warned Gao Zhisheng of these rumors.
Gao Zhisheng said, "This is obviously another incredibly despicable means of framing me for an accusation."
For a long time, the special agents have been videotaping Gao. They videotaped when the female special agents danced and exposed themselves in front of Gao, when male special agents verbally abused Gao, and even when the agents knocked Gao down with the car.
The CCP police and officials call the videotaping "accumulating material." They often intimidate the victims, "Don't be too happy now! After accumulating enough material against you, we will send you [to prison]."
The CCP authorities always use videotapes and the CCP officials' accusation as evidence to send people to prison. Gao Zhisheng knows clearly about this, "They will surely use part of the videotapes in the court as evidences against me; but they will never publicize the scenes in which they assaulted me."