Sparrows Found Dead in Chinese City Where Bird Flu Claimed 2
April 7, 2013 5:53 pm Last Updated: April 8, 2013 10:45 am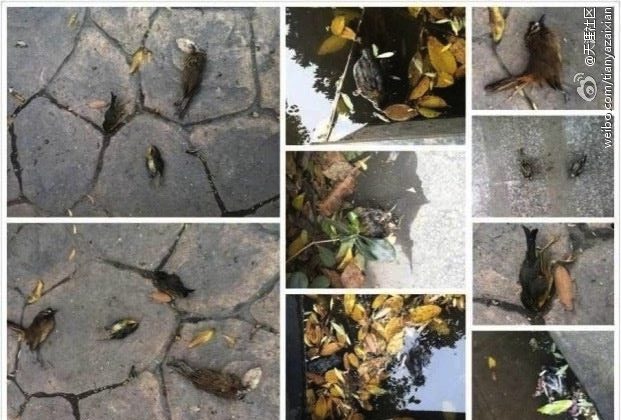 Numerous dead sparrows were discovered in Nanjing on Friday, the same day that two new cases of the H7N9 bird flu were confirmed in the city. The Jiangsu capital has now banned all live poultry sales.
Photos of the dead birds were circulated online, and a Nanjing netizen said locals are very worried. They don't know why the sparrows died, but fear it could be linked with the deadly bird flu outbreak, which has claimed six lives in eastern China, according to the latest official reports.
A Nanjing local government spokesperson said at a press conference Saturday that experts had collected samples from the dead birds for analysis at the Center for Disease Control and Prevention.
Also on April 5, netizens to the west in Huang'gang, Hubei Province, and Chengdu, Sichuan Province, said they had seen dead birds lying on the ground or heard about them from other locals.
Liu Yan, a reporter with Chengdu Television, asked about bird deaths in Sichuan Province on her Weibo microblog: "I heard there are a lot of dead birds along the Funan River. Can anyone help to verify the situation and find out what is causing the problem?"
Jiangsu is the second mainland city to close live poultry markets, after Shanghai, where over 20,000 pigeons were culled after the virus was detected at Huahei wholesale agricultural market. Four people have died from the new bird flu strain in Shanghai, according to official reports.
In Hangzhou, a farmers' market was shut down after live quails there were found to be infected. One of the current casualties had eaten quail purchased from the market, the South China Morning Post reported. The city has now also suspended its live poultry trade.
Read the original Chinese article.
The Epoch Times publishes in 35 countries and in 21 languages. Subscribe to our e-newsletter.