Spain's official mortality rate from COVID-19 reached 10 percent on April 9 as new cases stayed flat, but new hospitalization admissions rose.
Spain's Ministry of Health reported 683 deaths, bringing the total to 15,238. The number of new cases rose by 5,756 to 152,446.
The official mortality rate calculated from those two figures is one of the highest in the world, though countries' true rates are lower, as people with few or no symptoms aren't usually tested.
Death rates in most other countries are far lower than Spain's, reaching below 1 percent in some areas.
Spanish authorities have said the country appeared to reach its peak days ago, and hospitals in some of the hardest-hit areas have seen a drop in new patients, bringing the health care system in Madrid and nearby areas back from the brink. Madrid saw a drop in those hospitalized and in intensive care units (ICU) overnight, while Catalonia, the second-most-affected region, saw slight upticks.
Overall, total hospitalizations rose by 3,363, and ICU admissions ticked up 239 to 7,371. The region with the largest increase was Valencian Community, where hospitalizations about doubled.
The number of "cured," or hospital discharges, also jumped by more than 4,000. More than 52,000 Spaniards have been discharged from hospitals during the pandemic.
Prime Minister Pedro Sánchez told lawmakers in Parliament in Madrid that the latest data showed that Spain was close to the start of a decline in cases of CCP (Chinese Communist Party) virus, commonly known as novel coronavirus.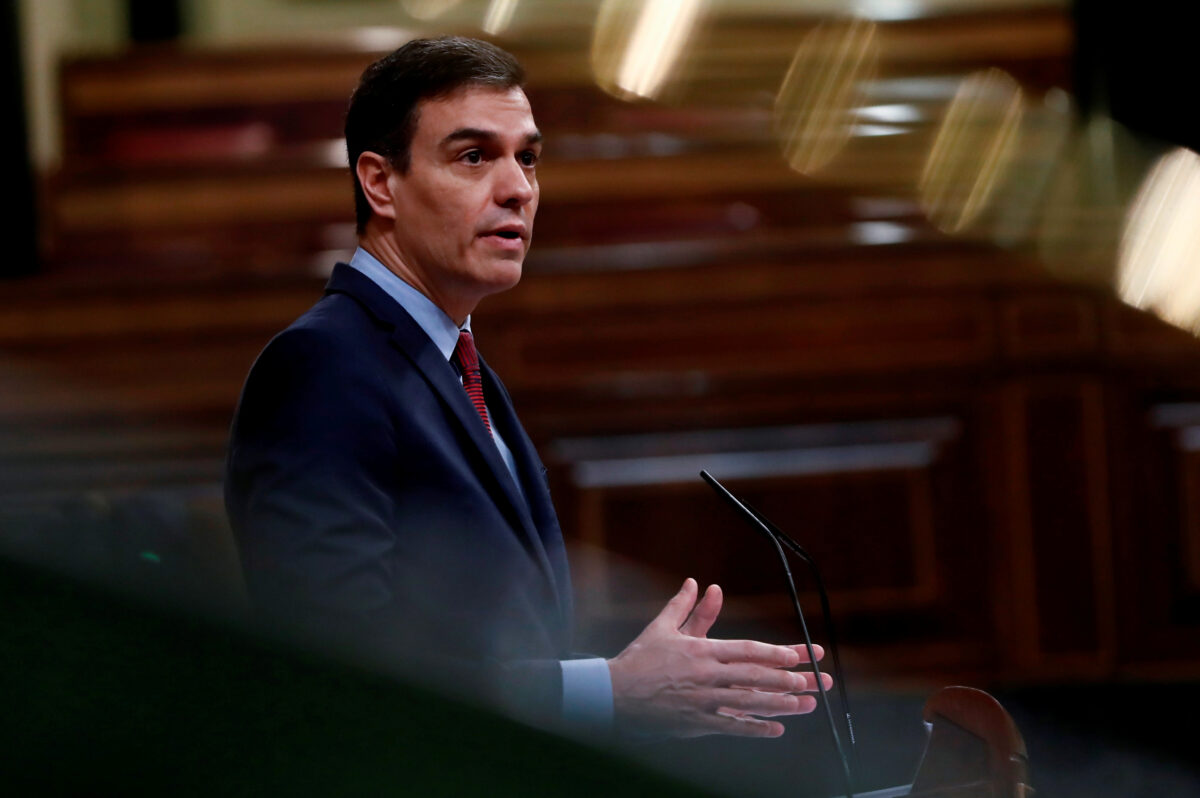 Referring to the virus as a fire, Sánchez said it has begun "to come under control."
But lawmakers were poised to approve a two-week extension to the state of emergency declared last month. Lockdown orders would be extended to April 26.
"We are starting to see the end of this long road to the new normal," he said, while warning that normality wouldn't be complete until a vaccine was found against the CCP virus.
Spain has implemented strict social distancing measures, keeping large portions of the populace at home except for essential trips.
Sánchez asked lawmakers from all sides in the politically-fractured nation to join an economic revival pact as they did after dictator Francisco Franco's death in the 1970s.
The plan seeks to unite political parties, unions, companies, and regions behind a common economic reconstruction policy and state welfare funding as Spain, like other western nations, piles billions of euros into aid and stimulus.
"I propose a great pact for the economic and social reconstruction of Spain, for all the political forces who want to lend their shoulder to take part," said Sánchez, a socialist who leads a leftist coalition government after a series of inconclusive elections.

The leader of the main opposition People's Party, Pablo Casado, said Sánchez didn't have sufficient moral authority. "The appeal for a pact doesn't seem sincere," he told Parliament.
However, his party would support an extension of the state of emergency, Casado said.
Spanish authorities on April 8 offered a new drug trial that will look at preventing COVID-19 in health care professionals, announcing the enrollment of 4,000 workers across 62 hospitals.
"This is the largest clinical trial of this nature in Europe and one of the largest in the world," Health Minister Salvador Illa said in a statement.
Initial results are expected in about a month. The trial is looking at HIV drugs emtricitabine and tenofovir disoproxil.
Spain and Italy are the European countries most affected by the CCP virus, officially having the highest death rates in the world. Figures from China, though, have been heavily manipulated, while experts have widely questioned the official numbers from Iran.
Italy on April 8 saw its daily death rate decrease by 10 percent, with 542 new deaths. The number of new infections in the country surged by more than 26 percent, bringing the total number of cases to 139,422.
Italy has also been on lockdown since last month. Authorities mandated the closure of businesses deemed nonessential and forbade people from leaving home, with some exceptions.
Reuters and Tom Ozimek contributed to this report.