The number of new infections and deaths from the CCP virus in Spain appear to be falling from the country's peak, though authorities are expected to keep lockdown measures in place in an ongoing battle against the new illness.
The total death toll rose to 11,744 on Saturday from 10,935 the day before, Spain's Health Ministry said, representing a 7 percent increase in total deaths after a 9 percent rise on Friday. That is less than half the pace of the around 20 percent increase registered a week ago.
The country reported 809 deaths on Saturday after recording 932 on Friday, 949 on Thursday, and 864 on Wednesday.
The number of new infections—7,026—was also down from 7,472 on Friday, 8,102 on Thursday, and 7,719 on Wednesday.
Only 116 patients entered intensive care facilities overnight, another drop from previous days, while the over 3,700 patients discharged from hospitals took the total number of "cured" to 34,219.

Spain is under lockdown and Prime Minister Pedro Sanchez was expected to announce a new extension to the strict measures.
Only employees deemed essential are allowed to go to work and restaurants, bars, and many stores are closed, while social gatherings are banned.
The measures are an attempt to control the spread of the CCP (Chinese Communist Party) virus, commonly known as novel coronavirus, which causes a disease called COVID-19 that can prove deadly for some, particularly the elderly or those with underlying health conditions.
Spain's mortality rate of 9.4 percent is one of the highest in the world after the country neglected to close its borders to travelers from China, where the virus first emerged last year. Hospitals in Madrid are still struggling to deal with the influx in patients and the healthcare system in Catalonia, the country's hardest-hit region behind its capital, are at "maximum stress."
Two makeshift morgues were opened in Madrid to help handle bodies while Catalonia's separatist government is seeking the help of the Spanish military as cases and hospitalizations surge.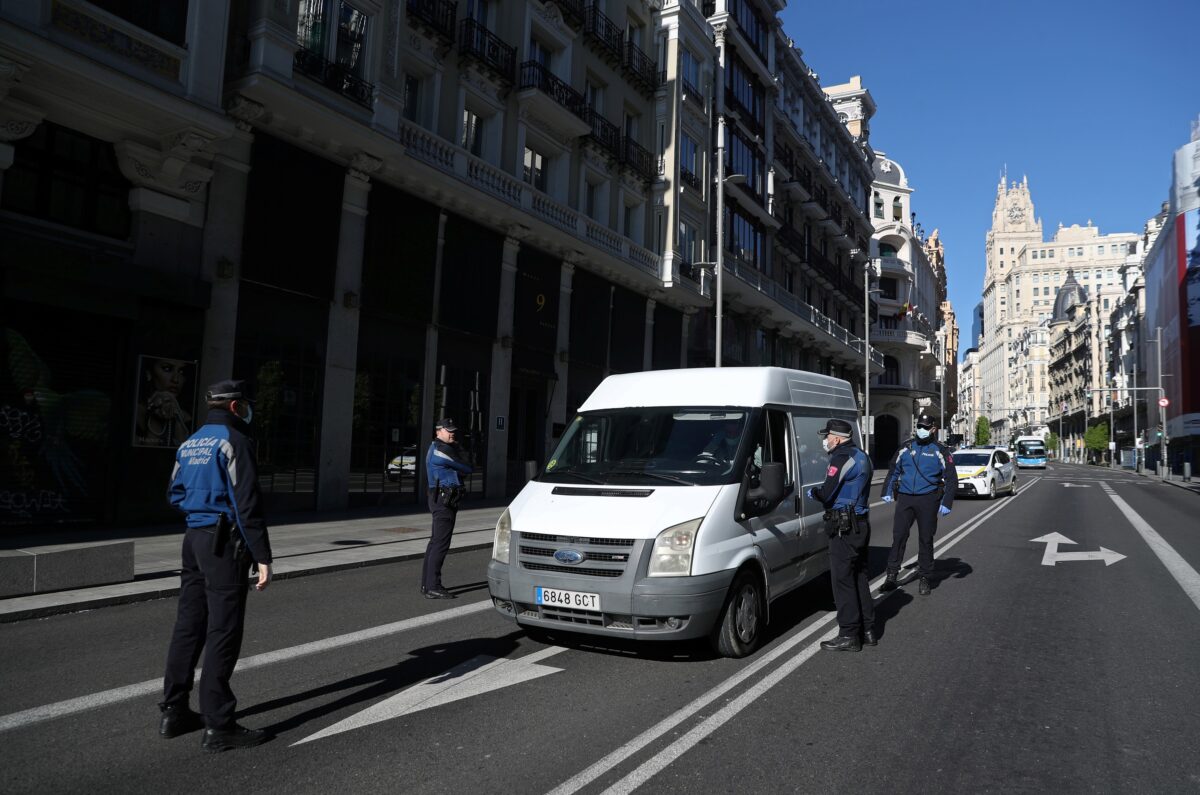 "We need hands. Hands also means that if [the military] has doctors and nurses that they make them available to us," Alba Verges, a senior health official in the northeastern region, told Catalunya Radio.
Infections in Catalonia climbed to 24,734 on Saturday, with 2,108 patients in intensive care units. Madrid reported an increase in cases to 36,249, with 1,498 patients remaining in ICUs. Over 15,000 patients have recovered in Madrid and over 8,600 in Catalonia, though the regions also have by far the highest death tolls in the country.
Madrid's dead rose to 4,723 while Catalonia authorities have reported 2,508 deaths.
In a press conference on Friday, Health Minister Salvador Illa said Sanchez, the prime minister, would call opposition leaders following a meeting of his virus task force on Saturday to let them know his decision on extending the lockdown from the current end date of April 13.
Health officials say the slowdown in new infections proves the effectiveness of the lockdown in place.
Reuters contributed to this report.