Spain has reported its lowest daily death count for the CCP virus infections in five weeks as its strict lockdown restrictions begin to pay dividends.
Spanish health authorities said Sunday that 288 people died from COVID-19 in the previous 24 hours, taking the total to 23,190 since the start of the outbreak. It is the first time the daily death toll has fallen below 300 fatalities since March 20.
The daily number of confirmed new infections also dropped. Spain counts 207,634 confirmed cases overall, but authorities say that the true number of infections is unknown due to limits on testing.
The daily rate of infection fell to 0.8 percent, down from over 20 percent a month before.
"The magnitude of today's decrease is important," Spanish health official Fernando Simón said. "As of tomorrow, our goal is no longer to reach the peak of the contagion curve, we are already there. Now we need to consolidate (our position) and think about how to safely move into the next phase of scaling down our restriction measures."
Prime Minister Pedro Sánchez is to give details on Tuesday on further moves to reduce the lockdown after children were allowed out for the first time in 44 days on Sunday.
"Maximum caution will be our guideline for the rollback," Sánchez said Saturday evening as he announced that Spaniards will be allowed to leave their homes for short walks and exercise starting May 2. "We must be very prudent because there is no manual, no road map to follow."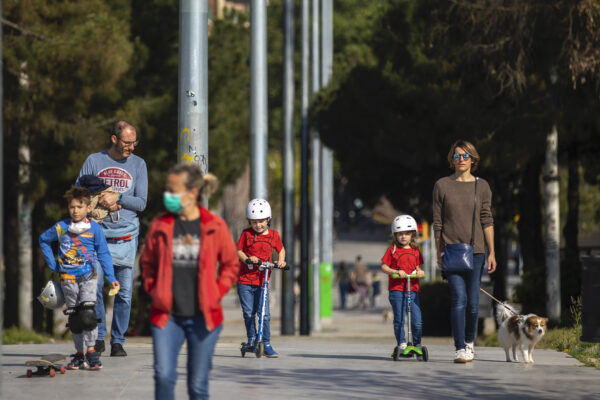 So far, Spanish adults were allowed out only for essential shopping or to go to work. Children under 14 have been in complete seclusion, but as of Sunday morning they were allowed to take walks with one parent for up an hour.
Those weren't the only restrictions. Spanish youngsters must stay within 1 kilometer (0.6 miles) of their homes, take only one toy out and are not allowed to play with other kids.
"This is wonderful! I can't believe it has been six weeks," Susana Sabaté, a mother of 3-year-old twin boys, said in Barcelona. "My boys are very active. Today when they saw the front door and we gave them their scooters, they were thrilled."
In Barcelona, Sabaté's sons wore child-size face masks as they went out. "Now we will see how long they stay on!" she said.
Spain, Italy and France, which have Europe's highest death tolls from the virus, all imposed tough lockdown rules in March. All have reported significant progress in bringing down infection rates and are ready—warily—to start giving citizens more freedom.
Sánchez will present a detailed plan Tuesday for the "de-escalation" of the lockdown in coming weeks.
The Epoch Times refers to the novel coronavirus, which causes the disease COVID-19, as the CCP virus because the Chinese Communist Party's coverup and mismanagement allowed the virus to spread throughout China and create a global pandemic.
The Associated Press contributed to this report