Spacious Units in Riverside South Draw Mix of Buyers
April 4, 2014 5:11 am Last Updated: July 26, 2017 1:22 pm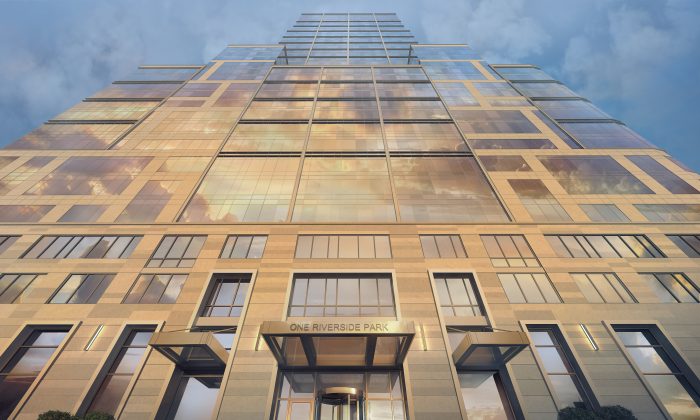 Earlier this year, the final piece of Manhattan's waterfront neighborhood Riverside South started coming together. Extell Development Company's construction of Riverside Center started last year and now construction has begun for the centerpiece at One Riverside Park.
One Riverside Park, a 35-story condominium building, has units larger than most buildings in the new neighborhood. "Homes of that scale have not really been part of what's been offered in the past," said Beth Fisher, senior managing director with Corcoran Sunshine Marketing Group, which is exclusively marketing the building. 
The Upper West Side, with many buildings built before the last world war, has seen an increase in new construction the last 10 years. 
The 75-acre Riverside South community will include around 10,000 housing units and 21 acres of public space. The area Extell developed was formerly a vacant rail yard.
Range of Units 
Large apartment units have been in high demand on the Upper West Side. At One Riverside Park, the 6,000-plus-square-foot penthouses were the first to sell. One-bedroom units also sold out "almost immediately," Fisher said. 
Sales for the building opened last fall, and the developers were able to set prices higher than originally anticipated. The 219-unit building overlooking the Hudson River is now over 50 percent sold.
The building has a variety of unit sizes and price points to cater to people in every stage of their life cycle, Fisher said. There are as many younger couples coming in with their baby carriages as there are empty nesters looking to entertain in a large, luxurious residence.
"It's really the interior design and the sense of luxury that's resonating with our buyers," Fisher said.
Spa-Like
Goldstein Hill & West Architects designed the exterior with a limestone base. The building transitions into a tower of glass, which provides penthouses with 360-degree views of the waterfront and skyline.
The units range from one to seven bedrooms and all have floor-to-ceiling windows. Shamir Shah designed the interiors.
Amenities give the building a spa-like feeling. The building features its own athletic club and spa with a 75-foot swimming pool, a 38-foot rock-climbing wall, and other sports facilities. "[It's] a self-contained resort on the water," Fisher said.
Open Space
When complete, Riverside Center will include over 100,000 square feet of retail space, room for a public school, and 3.2 acres of green space including a plaza, playgrounds, piers, and green space just steps away from cultural destinations like Lincoln Center.
The master plan covers five sites from 59th to 72nd Street and underwent numerous reviews and design tweaks before final approval.