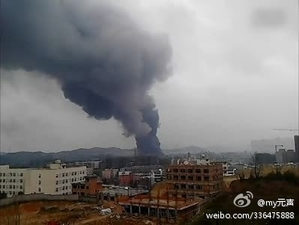 At least six people were hurt in a chemical plant explosion in Guizhou Province on Feb. 25, and nearly 30,000 residents were evacuated from the area.
A preliminary investigation revealed that a methanol and toluene leak triggered the blast.
The incident occurred around 10:20 a.m. on Feb. 25 in a factory belonging to pyrethroids manufacturer Bestchem Co. Ltd. in Baiyun District of Guiyang, Chinese media reported.
The resultant fire was still burning at 2 p.m., and six injured factory workers were sent to two hospitals in Guiyang, according to reports.
The main road to the plant was blocked. Around 30,000 residents near the factory were evacuated, including students at Baiyun Campus of Guizhou Normal University, Chinanews.com reported. 
A university student wrote on his blog: "I was just notified of a chemical plant explosion near the campus. Courses this afternoon have been cancelled, and we were asked to stay in the dorm. Black columns of smoke have darkened the sky above the school. What if the air is actually poisonous?"
According to the U.S. Environmental Protection Agency, pyrethroids are widely used for controlling various insect pests, and do not pose unreasonable risks to human health, wildlife or the environment, but are toxic to fish and bees.
Read the original Chinese article. 
The Epoch Times publishes in 35 countries and in 21 languages. Subscribe to our e-newsletter.