Southwest Airlines CEO Gary Kelly said in a Sunday letter to employees that, for the time being, the carrier will not furlough any employees.
"We have no intention of seeking furloughs, layoffs, pay rate cuts, or benefits cuts through at least the end of this year," Kelly wrote in the letter, in which he said Southwest has "scrambled" to cut spending and raise cash in response to reduced travel due to the CCP (Chinese Communist Party) virus pandemic.
So far this year, Southwest lost $1.6 billion, with almost 95 percent of that coming in the second quarter, he said. According to recent reports, the company's second-quarter revenues fell 82.9 percent to $1.01 billion.
"That amount of losses for only one quarter almost wipes out our profits for an entire year," Kelly wrote. "Because of the pandemic, almost no one flew in April, as you all witnessed."
Kelly said in the letter that Southwest was burning through around $20 million per day and that the company "is in intensive care." Vowing that cutting staff would be the "last thing we do to keep Southwest financially healthy and viable," Kelly acknowledged the threat of layoffs and furloughs remains, noting that he "can't guarantee it will never happen, especially during these dark pandemic times."
The number of new daily recorded COVID-19 cases has accelerated in the United States since the end of June, Worldometers data shows, although the count of new daily deaths attributed to the potentially deadly bug has dropped since its April peak of around 2,500 per day to around 1,000 a day, on average, in recent weeks.
Airlines have tried to reassure passengers on the safety of air travel during the outbreak, with large U.S. carriers recently announcing tougher policies on the wearing of masks. Southwest told customers last week that if they can't wear a mask, including for medical or disability reasons, they should not fly, with exemptions only applying to children under the age of two.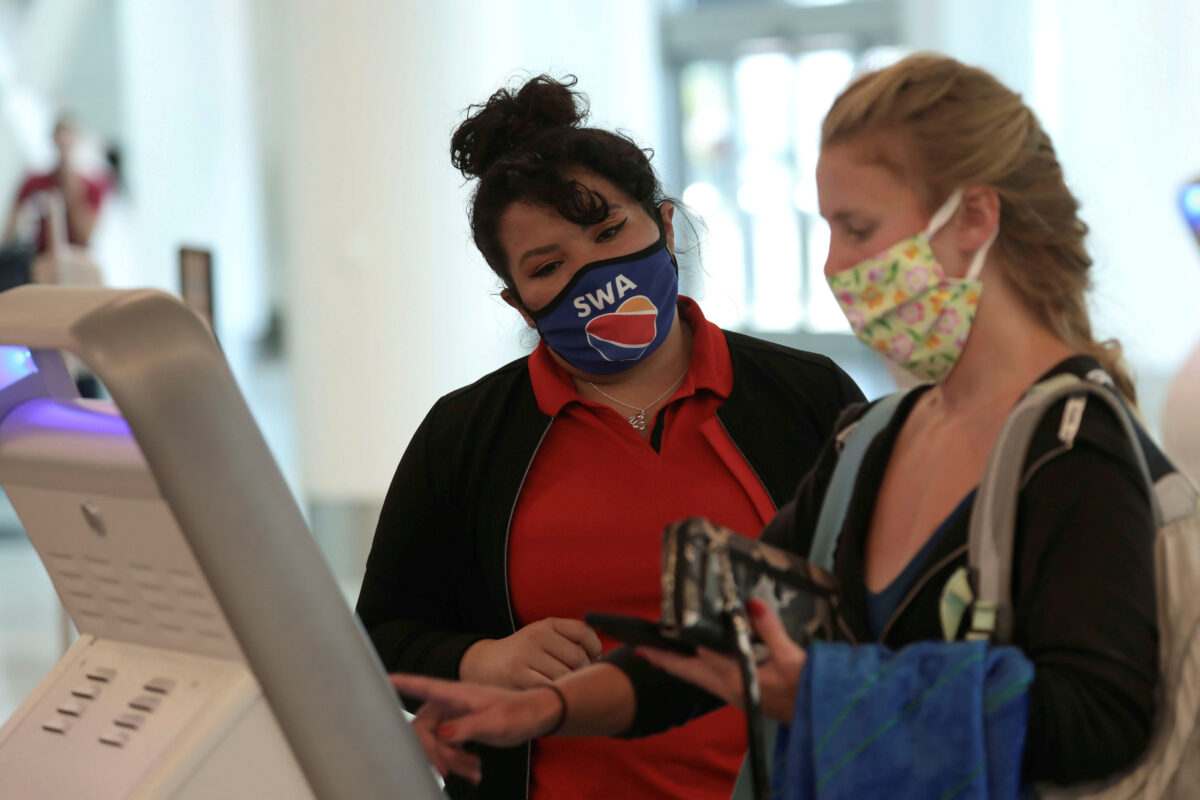 Southwest's stricter mask-wearing mandate goes into effect July 27, with the company announcing it "regrets that we will be unable to transport the individual" in the event of passengers not meeting the new criteria. Travelers on the airline are allowed to remove their facial coverings to eat, drink or take medicine, but Southwest said it expects those instances "to be very brief."
Analysts expect Southwest to weather the pandemic better than bigger U.S. airlines thanks to the company's domestic focus, lower-cost structure, a low debt-to-capital ratio, and a cash surplus from 2019's strong profit. Southwest had $15.5 billion liquidity at the end of June.
"We were prepared for the unexpected, once again," Kelly said in the letter. "This time 'the unexpected' turned out to be the worst crisis by far in our history, and, for the world and our country, the worst crisis since World War II."
To help cope with the crisis, Kelly said the company raised cash by obtaining $3.2 billion in cash proceeds under the CARES act, sold common stock to investors for $2.2 billion in cash, and borrowed another $12.2 billion from lenders.
Southwest also expects to save more than $1 billion in 2021 thanks to the high number of employees taking early retirement or extended time off.